Internships give students opportunities to pursue passions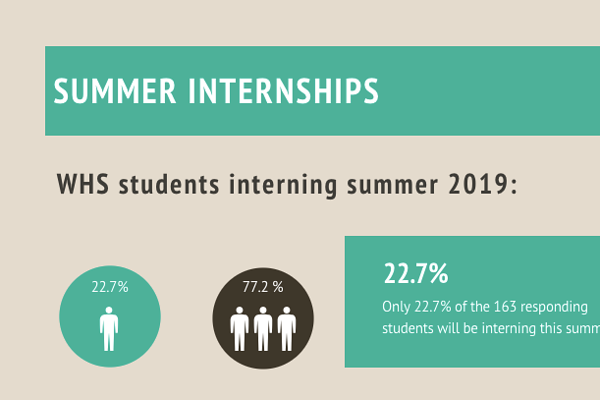 While trudging through the depths of quarter four, many students are desperately daydreaming of their summer plans. Most are counting down the days to a summer full of relaxation and fun. Some students at WHS, however, have taken the initiative to get involved in internships this summer. Working at an internship has many benefits for students and is said to be a valuable experience.
"My internship is for United Way in Framingham," junior Gabriella Rostler said. "I'll be working in their graphic design and marketing department, which basically means I will help design posters, visuals that go on their website, t-shirts [and more]."
There are many different ways for students to get involved internships. Some students are able to seek out opportunities from connections with families and friends.
"My parents' friend is a co-owner [of Boston Realty Advisors] and gave me the chance to go into Boston and have an interview," junior Mason Bolivar said. Bolivar secured the interview and will work there this summer.
Other students have found opportunity through school and outside programs.
"I got my internship through [The Education Cooperative], which I found out about through Wayland High School," Rostler said. "I really liked the program because it walks you through the steps of getting an internship in basically any field you want without needing previous experience – [that] was really appealing to me."
For many students who plan on interning, college is the motivating factor. Adding an internship experience to your resume can be an asset in the college admissions process as well as aid in future endeavors.
"My parents told me it would help me get into a better college and give me more possible job opportunities after college," said Bolivar.
Rostler sees the opportunity as part of a greater picture. She hopes her summer internship will help her experience the possibilities of a future career.
"I chose to intern this summer because [I am] getting closer to college, and therefore choosing my future career," Rostler said. "I find that it's really important to explore everything I'm interested in."
However, some might be hesitant to intern during the summer, fearing that it could interfere with their much-valued summer fun. In the cases of Bolivar and Rostler, sacrificing their summers isn't necessary in order to intern.
"I'm working from 6 a.m. to 12 p.m. and I'll be free on the weekends," said Bolivar. "I have football every day during the week, so I'll do my internship, do football and have free time at night."
Although she will be interning, Rostler has still made plans for a fun summer ahead.
"I don't think it will be that hard to balance my internship with the rest of the summer because it is only three days a week for five hours each day for four weeks," Rostler said. "I'll still have time to work, hang out with friends and relax. It also leaves me the last couple weeks in July, and I'm planning on going to California then."
The most valuable part about a summer internship is the unique experience it gives students. Students are able to learn about the field they're interning in and about themselves as employees.
"Internships obviously give kids real-life experience in a field that they're interested in, which school doesn't do," Rostler said. "What I find to be the most valuable thing that internships teach you is important information about yourself. By this I mean discovering whether you're truly passionate about the field you're interning in allows you to narrow down future career paths and hopefully have a more clear idea of what you want to study at college."