Spring sports playoff update (5 teams)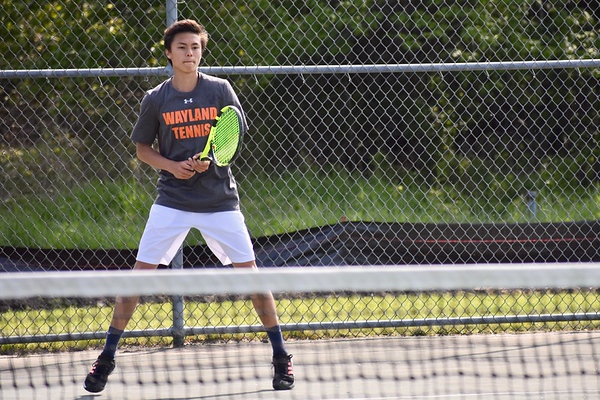 Girls Lacrosse
The No. 1 seeded girls varsity lacrosse team defeated No. 9 Holliston in the second round after receiving a bye in the first round. Last season, the girls made it to the state semifinals but ultimately fell 10-13 to Bromfield. After falling just short of the state finals last year, the team is hoping to make it even further this year.
"I think we can always hope to make it further than we did last season," junior girls varsity lacrosse player Ciara Murphy said. "We were only one game away from making it to the state finals [last season], so I'm going to cross my fingers that we can make it there [this season], but I think we're going to see some very tough competition this year."
The team will be advancing to the sectional semifinals where they will face No. 4 Foxboro on June 11. The girls went 16-4 this regular season after graduating their entire starting defensive lineup at the end of last season.
"As a team, we still struggle with our weaknesses, but I think our overall improvement has changed significantly," Murphy said. "We came into the season thinking it was going to be a rebuilding season, not knowing where we were going [to pick back up] after we lost five great seniors. But, through great leadership, captainship and coaching, I think that the Wayland girls program as a whole has taken lacrosse back to our original expectations [for the season] and possibly even further."
Boys Volleyball
The boys varsity volleyball team surprised many people when they went 15-9 in what was supposed to be a "rebuilding year." The boys were ranked top 10 in the state with three first team all-stars in juniors John Stafford, Ryan Fuller and junior captain Gavyn Davies and two second team all-stars in sophomores Porter Moody and Michael Long.
Led by Davies and senior captain Jack Flagg, the team went through a very successful year of development. Boys volleyball suffered a tough loss to Boston Latin on Monday, but the boys are already looking ahead to next year.
"It was a loss, but I can't emphasize it enough that it was a team loss," Davies said. "We all came together. I think that was great for our program for next year. I think going down fighting as a team, working as a cohesive unit and not collapsing really asserted that we're going to be great next year."
Davies emphasized how young the current team is and how much potential they have to go really far in the tournament next season.
"Our whole conversation [after the loss] was just the mindset of, 'The offseason starts now, we're working and we're thinking state championship next year,'" Davies said. "We're really bringing back a lot of talent, and I think as everyone progresses into juniors and seniors, their role on the team will step up, and people will become more calm and developed. We're thinking state championship, we're really pushing for that."
Baseball
2019 has been a historic year for the boys varsity baseball team. The boys have claimed their first playoff berth since 2013 after a 9-11 regular season. Not only did the team qualify for the playoffs, but they also upset Weston in the first round of the playoffs, marking their fourth straight victory over the Weston Wildcats in this year alone.
"We swept Weston in the regular season," junior Zeke Betancourt said. "We knew that we could beat them again once we saw the bracket. We had a really good fourth inning which [played] a huge part in the win."
The Warriors started off slow by letting up three runs early in the game. The team eventually settled down and found their groove in the fourth inning. Wayland scored all seven of their runs in that inning, which was led by the team's strong hitting. Senior captain Nate L'Esperance was key in the win with 11 strikeouts through seven innings.
The No. 19 seeded Wayland Warriors ultimately fell to No. 3 Lynnfield on June 8.
Boys Tennis
After a very successful season last year, the boys varsity tennis team is back in the playoffs and feeling confident about their chances to win the state championship.
The team had an impressive season, finishing 13-2. They were also Division II champions and received the No. 4 seed in the  DCL North.
"I think we all had high expectations for the season with this group, and I think we performed well," sophomore Noah Lee said. "[We have] tough matches. We fulfilled our expectations for the season and hope for a great playoff run."
On Wednesday, June 5, the boys beat Arlington in the first round of the Division II North playoffs.
"We won that match 4-1. We lost third singles, but it was a close match," Lee said. "We really cherish that playoff opportunity, especially for the young guys. We have two freshmen playing second doubles. It was really good for them to get playoff experience and gain some confidence going into this run."
Wayland beat Marblehead 4-1 in the Division II North quarterfinals. Next, they will face North Andover on June 10.
Boys Lacrosse
The boys varsity lacrosse team had a fairly successful season despite many claims this would be a "rebuilding year" as well. The Warriors earned themselves an 11-7 record and qualified for the playoffs as the No. 6 seed, ultimately falling to the No. 3 seeded Hopkinton on June 5.
"We started off strong, but we went down in the second half because Hopkinton's offense turned it on, and our defense couldn't communicate," junior boys varsity lacrosse player Brett Morris said.
For the team, this was a year that saw many ups and downs. One high point was senior captain Michael Lampert breaking his brother Jimmy Lampert's career points record that was set four years ago. Lampert has since committed to the University of Denver.
"We had a good season. In my opinion, it was a rebuilding year, and we have a lot of young guys that are still learning to play certain positions," Morris said. "We're going to be coming back stronger than ever next year."
Spirits are high for the 2020 season surrounding the lacrosse program, and for good reason. Despite losing seniors Lampert, Jake Tyska and John Paugh, the Warriors will be returning with a lot of key players in key positions.
"Next year will hopefully be a runoff of this year," Morris said. "We had a lot of things going on this year like losing our head coach, and hopefully next year we'll be a lot bigger and better than we were this year."