Boys soccer back-to-back state titles: Putting another in the books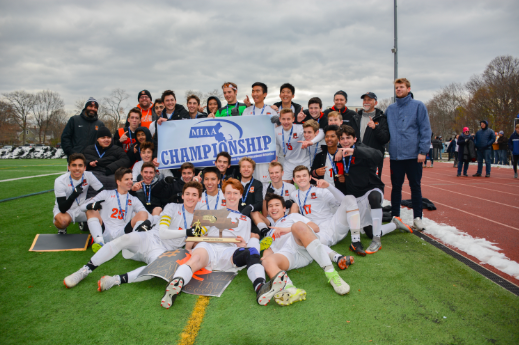 For the 2018 boys varsity soccer team, the dream of winning a state championship became a reality when they took home the Division III state title. With more than half of the team gone, this year's squad is working to relive this moment with its many new players.
"I think our biggest challenge [this year] is that we are a very young team [since] we graduated 15 seniors, and just building the team chemistry [overall] is also a challenge," senior captain Kyle Mabe said. "Also, finding the best style of play where everybody can mesh together."
This year's roster is composed of two freshmen, eight sophomores, five juniors, and seven seniors. Having more than a third of the team being in tenth grade or younger, the team is focusing on bonding to help its performance on and off the field.
"I think our biggest challenge is getting over a strong senior-heavy team to an emotionally young, sophomore-heavy team," junior player Zach Campana said. "We have [eight] sophomores, so it should be a big change. We need to just build up from the bottom."
Despite the larger age gap between the players, the upperclassmen on the team are looking forward to playing with their new younger teammates and working with their different playing styles.
"I'm honestly excited that we have such a new group of guys," senior captain Josh Brient said. "I'm not gonna act for a second [like] there isn't gonna be growing pains in these first couple of weeks, but having this many new guys that are so willing to work and put everything out there is a great thing, and I think we can really make something amazing from it."
For the majority of high school sports teams, the goal is to make it all the way to state playoffs. The team this year is not only looking to make it to that point, but it also aims to repeat last year's end to the season and bring home a championship plaque.
"[I hope to accomplish] winning a state championship by working hard every practice and every game," sophomore player Jackson Dresens said.
While winning a state title is the ultimate dream, it requires more than just skills to accomplish this goal. With such a difficult objective, high expectations are needed.
"To accomplish [our goals], we just need dedication from the whole team," senior captain Alex Kashian said. "It's not just the solo players, it's not just the seniors, it's the whole team. We just have to find that drive within them, so hopefully that'll just flare up this huge peak for the team."
Although the endgame for the team is to maintain its reign, they are also concentrating on their development for this season and working hard to get better.
"[We can improve] through lots of practice and in season and out of season staying in shape," Campana said. "The coaches help us with our formation, and hopefully they'll have some things to keep the same from last year to this year so that we can have that institutional knowledge to build off of."
As the season is just underway, the team is ready to take on all the challenges that come their way. The players are hopeful and ready for the journey to come.
"Now, the attention is all on us this year," Brient said. "People expect big things, and we have shoes to fill following last year. But, again, this motivates me more than anything."