Paws for a Purpose: guidance department searches for new therapy dog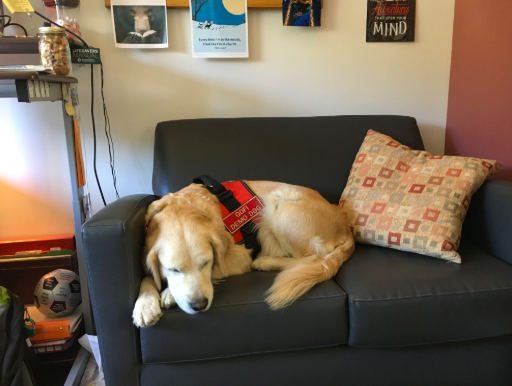 Walk into the Wayland High School front office, and you'll often be greeted by a wagging tail and friendly smile. The guidance department is working towards finding a new therapy dog to take the place of Bella, WHS's previous therapy dog who passed away just last year. Bridget, the temporary therapy dog, belongs to Golden Opportunities for Independence (GOFI), an organization that breeds and trains dogs to become service and therapy dogs. 
WHS is currently on two other waitlists, NEADS and ECAD, to help secure a dog for the school. Each of these organizations serve a variety of people including the physically disabled, individuals with PTSD, anxiety or depression and people on the autism spectrum. 
"Both [of our past therapy dogs] have helped numerous students and adults through their periods of anxiety, sadness and grief here at the high school and in the community," guidance counselor and coordinator Marybeth Sacramone said.  
The role of a therapy dog is to react and respond to people and their environment. Studies have also shown that therapy dogs play a role in increasing school attendance, helping students gain confidence, decreasing anxiety in students and creating positive changes towards learning and improved motivation.
"[Therapy dogs] seem to relax people, put people at ease, make people smile and often allow a person to focus on the calmness of the dog rather than the difficult issues they may be dealing with or need to talk about," Sacramone said. 
Bridget, the temporary dog, was only at WHS for a few days, but a permanent dog should soon become a reality for the guidance office. Training a therapy dog can take up to two years, but Sacramone hopes to secure a new one within the 2019-20 school year. 
"We have seen day-to-day what a difference an animal can make, and we are very lucky and truly grateful to our WHS and central office administration for allowing us to offer this incredible service to our students and families," Sacramone said.