Golf team drives out competition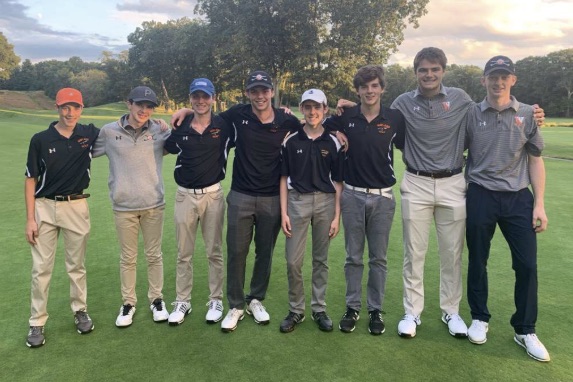 Junior captain Liam Gill steps up to the tee, gripping his driver. Gill stands on the 17th hole of Leo J. Martin Memorial Golf Course as his opponent, who is Waltham's best golfer, watches him intently. Gill has put up 20 points once again for the Warriors in their match against Waltham. He steadies his wide-legged stance, lines up to his ball and cranks the white Titleist toward the middle of the fairway. 
The WHS golf team has seen a revitalization of their season in recent matches. Beginning on Wednesday, Sept. 18, the Wayland golf team scored a season-high 113 points in their match against Waltham. They followed this match with a victory over Cambridge Rindge and Latin on Monday, Sept. 23.
"We put up 113 points," golf coach Ben Buffa said. "I haven't been able to find a record of scores [from before] I started coaching, but it was the most that we have put up by a lot, by 20 points or so. We just had almost every person on the team put a personal record. Jay Provost had 20 points."
In the following week, Wayland faced Cambridge Rindge and Latin school, beating them handily though producing a modest 85 points. 
"We played Cambridge on Monday, [but] it was not our best match. We put up 85 [points], but Cambridge is not great," senior captain Gavyn Davies said. 
Buffa echoes Davies' sentiment.
"We had Cambridge on Monday – we beat them, [but] we didn't have the strongest performance against them," Buffa said. "They aren't one of the strongest teams, and I think our guys kind of lowered their performance a bit."
Wayland took on DCL Small rival Bedford the following Wednesday. Bedford's golf program is of a similar strength to Wayland's, and the match served as an important test for the Warriors. Despite posting 98 points, Wayland fell at home to the Buccaneers.
"We had a heartbreaker of a loss to Bedford. We put up 98, and they put up 104," Buffa said. "That one will sting for a while, [but] what I told the guys [was] if we put up 100 points and lose, there is no shame in that because that's a good day. But I know that was one of those matches they really wanted to win."
Despite falling to Bedford on Sunday, Wayland golf has been posting high scores in their recent matches. The team has a revitalized chemistry which allows each player to find success on the fairways and greens. 
"I feel like, in each match, we've stepped it up in some manner," Gill said. "Not necessarily in golf, but [in] each of us contributing just to be a better teammate to one another, even the guys who don't start every match. We just try to bring the spirit up, because, in practice, they always have the opportunity to play."
"I do think we have more confidence in our abilities this year," Buffa said. "That big match against Waltham kind of puffed all of our chests up a little bit, and, reflecting back on it, part of me wonders if we let [us] get a little too far ahead of ourselves. I was excited after that match, and I let the guys know that [if] this is how we can perform, I don't think many teams are going to be able to touch us."
After graduating six seniors from last year's squad, this team is heavily concentrated with juniors and freshmen, a sign that the future of Wayland golf is bright. 
"There [were] a lot more seniors than there [are] now, and I think our chemistry is a little bit better," Gill said. "We didn't have that chemistry that we have with each other." 
Wayland's recent success is in part credit to junior captain Liam Gill's personal success on the course. Gill, who is a -4 handicap, consistently scores more than 20 points a match, allowing his teammates to relax and play their game. 
"There's no jitters with him, [and] that's really calming to the whole team," Davies said. "He's probably going to put up 18-25, and that's a solid number. That takes the pressure of numbers 2, 3 [and] 4 and lets everybody relax. Having Liam as a constant, anchoring us down and leading us, that's a huge bonus. He's really brought a work ethic to the team." 
"Liam is no doubt our strongest player – he puts up 20 points every time, if not 23 or 24," Buffa said.
Although Gill is a junior, the 2019 season marks his last year of eligibility for the golf team. Wayland must soon look to other juniors such as Jay Provost, Joe Tardif and Jimmy Paugh to fill the void Gill will leave behind.
"It's going to be big shoes to fill, and I don't know if we'll necessarily have one guy filling those shoes, Buffa said. "What I do know is that a handful of our juniors are putting up 13, 14 [or] 15 points plus pretty consistently. If we can get them to be more consistent, I think a number of them combined can fill that void. We also have a number of freshmen who have been really playing well. [Freshman] Max Nelson has been starting in almost every match."
Wayland will now look to make a push for the playoffs, comparing their record to the likes of Weston, Bedford and Boston Latin in the DCL Small. 
"The short term future has four matches left – one of them is very gettable this year, but we need to win at least two to make the postseason," Buffa said. "That [means] either beating Bedford away, Weston at home, or Boston Latin at home. So those matches became a little more important after losing to Bedford because we need at least two of our remaining four matches to make the postseason."
Davies contextualizes the strength of the DCL.
"The DCL is very difficult in most sports. We have to play teams like Westford, who are top in the state, [and] Lincoln-Sudbury, who, in terms of Liams, have two or three Liams," Davies said. "They're state champion contenders every year, so they are really hard to play against. Weston's always a formidable opponent, [and] so is Bedford. We have a rivalry with Bedford. It's always one of our last matches, and [playing Bedford] comes down to making playoffs or not, so that's a big match for us."