Lilly Brooks: I like the creativity that comes with making bracelets
The average teenager may earn their money through babysitting, working at a cash register or running errands, but senior Lilly Brooks makes her own salary from her self-run online jewelry company: Avocado Avalanche.
It didn't take long for Brooks to find her passion for jewelry making – she was in sixth grade when she was first introduced to the art. It was only after a short period of time where this "activity" soon became a life-long hobby.
"I was actually taught how to make the spiral bracelets by a family friend in middle school," Brooks said. "She makes [a wide variety] of jewelry for her friends, but she started out by showing me how to make the spiral bracelets."
Throughout years of rigorous practice, Brooks soon realized that she could turn her talent for art into paying job. By the end of June of this year, Brooks decided to create her own online business.
"My mom was nagging at me to get a job, and I had been making jewelry at the time and had a lot of it," Brooks said. "So, I was like, 'Why don't I just start my own website.' I just thought it was really fun, and it was something that I was pretty good at at the time, and I wanted to get better at it."
Unlike most businesses, Avocado Avalanche is completely run by Brooks, with no additional help. Although running the website by herself comes with many challenges, the freedom is just as rewarding.
"First of all, I love running my own business. It's actually really fun to be in charge of your own thing," Brooks said. "But, it's hard to balance the business and school because I have to make the products, put them online and take the product pictures."
The online store allows for a variety of types of jewelry including bracelets, necklaces and earrings. Along with the many options to choose from for the customers, all of the products are handmade by Brooks.
"I make mainly bracelets, but I'm trying to make necklaces and earrings, and I want to explore more with those," Brooks said.
Brooks continuously restocks her website with new pieces she's created and popular ones that are usually sold out. With having to constantly make her products, Brooks has become a professional in the process of her jewelry making.
"The spiral bracelets that I make out of just memory wire and beads – I've gotten pretty fast at those – don't take too long," Brooks said. "I can get a bunch of those done during one of my jewelry sessions."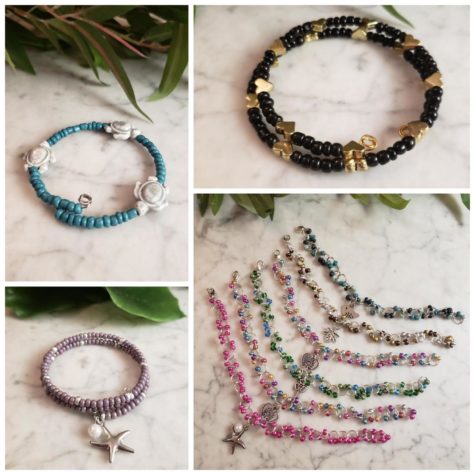 Although her crafting skills have become almost perfect, Brooks has to work hard in terms of supplying her customers with new and different pieces.
"Depending on what beads I have or get, it could be any combination, and it's really satisfying when I find a pattern that I like because I have to start over multiple times until I find a style that I'm going for," Brooks said.
For Brooks, creating her own jewelry has both financial and personal benefits. Not only does she sell her creations as merchandise, she also wears them as an accessory to go with her own clothing.
"I get to wear [them] myself too, so I like making my own pieces that'll go with my own outfits," Brooks said. "But then, I also like making things that the public might like better. I try following some of the trends – I have some pear-accented bracelets coming out soon and some tortoise shell earrings coming out soon."
With the business being relatively new, Brooks is looking for more recognition for her website. As of now, her top shoppers largely include her close friends and family.
"I've sold mainly to people I know so far," Brooks said. "A lot of my friends find the site and then share it with their friends and everything, so I get sales that way right now."
Brooks is hoping to expand her business both online other stores. In doing so, Brooks is seeking out for opportunities to sell her jewelry, including craft fairs.
"I really want to go to some craft fairs at some point," Brooks said. "I think there are some in the fall to get my information out there with other places that could possibly sell my jewelry."
As of now, Avocado Avalanche may just be a hobby for Brooks, but she has opened up her eyes to see this as a life-long career. Brooks' passion for jewelry-making is a dream that she plans on pursuing in the future.
"I'm taking a gap year next year to work on it and maybe do a bit of traveling, [so] we'll see," Brooks said. "I think it's something that I want to do in the future as a career, but there's a lot to learn about business."
Avocado Avalanche's Instagram and Facebook handles are both @avocado.avalanche123. For any questions, email [email protected]