ACT to offer single section retakes starting September 2020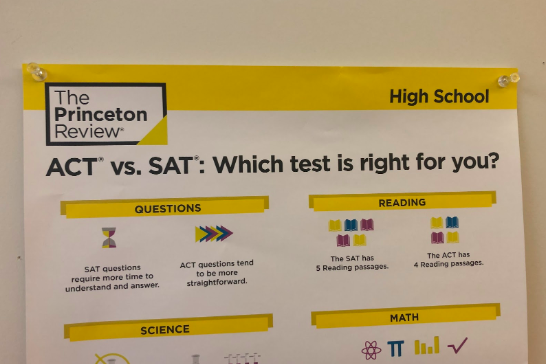 The intense pressures of SAT and ACT standardized testing have tormented high school students for decades, but now, the ACT is trying to make the testing a little bit more convenient for students. Earlier this month, officials for the ACT test announced that starting in September 2020, students will be allowed to retake single sections of the ACT as opposed to having to retake the entire test.
This decision aims to help students who are looking to attend a university that "superscores" their test because they will be able to focus and study on one specific section instead of having to take the entire test again.
"I think it's a benefit for students who struggle in one area [because they will be able] to target their studying to prepare for a retake of that one specific subject rather than having to take up however many hours it takes to study and then retake the entire test," English teacher Kelsey Pitcairn said.
The decision to allow students taking the ACT to retake single sections has brought about mixed reactions from students who have taken the test, in addition from students who have not. 
"I think it's very helpful for those of us who will be boosting our scores," sophomore Finn O'Driscoll said. "Although I haven't put much thought into taking the ACT, I know that this is going to be a very helpful change for those students that will be taking the ACT starting next September."
While the decision aims to help students go through the rigorous testing process, others believe that being able to retake single sections on the ACT but not the SAT is unfair.
"As someone who's taking the SAT, I find it really unfair because the SAT does not have that option," junior Marley Miller said. "I would like to retake single sections for the ACT if I had the option, but I've been studying for the SAT for many months, so it would be a hassle to change the test I'm taking."
Other concerns entail the costs of the new format and how it serves as an advantage to those who can afford to pay to take the test multiple times and for specific tutoring.
"I worry about the equity issues involved in how much it costs to retake those parts and how students with more financial means have an advantage in being able to take it as many times as they need to in order to get the score that they want," Pitcairn said. "However, I'm not sure that that equity issue is made any worse by being able to take sub-sections than being able to take the whole test again because that cost will be there regardless."
Most students who have recently taken the ACT or plan to take it before September 2020 are upset that such an option was not available for them. 
"I'm pretty mad that it wasn't in place for people in my grade, but I would've loved to do that," senior Zeke Betancourt said. "I do think that this is good for the kids [taking the ACT] because they're going to be able to make their scores better. I mean, you can technically do the same thing now by just only trying on one section, but people don't really do that, and you would still have to take the rest of the test. I'm really just jealous of them because I wish I could do it."
Though some believe this change is a bit unfair, others believe that there's no avoiding making people upset and that you can't make everyone happy.
"I wouldn't call it unfair, but I can see why older students might be annoyed with the decision," O'Driscoll said. "The change was going to happen at some point, it's just the timing that made many upperclassmen annoyed."
One concern students have is how this change will affect colleges in how they look at and compare SAT and ACT scores. They fear that students will not be looked at accurately by colleges if they were to take the SAT because it doesn't have the aspect of retaking a single section.
"I think it's very unfair," Miller said. "I don't know that colleges will see that someone took a single section on the ACT which is obviously an advantage to the test taker, and for someone taking the SAT, the colleges will see that a student who took the SAT may not have as good of a grade as the person that took the single section retake of the ACT. So for someone that's taking the SAT and did a little bit worse on it than someone who took the ACT multiple times, it's really not fair, and I'm upset about it."
After officials at the ACT decided to make this change, several students and teachers suggested that it might have been a business decision. 
"I think a lot more people will now take the ACT," Betancourt said. "It's just so much more convenient being able to retake single sections."
Despite a lot of negative takes on the change, for the most part, students and teachers believe that this will eventually be very helpful to students in very strenuous times. 
"Overall, I think this is a really good thing for students taking the ACT and that it will help students a lot," Betancourt said. "I just wasn't so supportive of it because I'm a bit jealous."
Students also offered alternatives for how they think that this change can benefit all students instead of just a select few.
"I think that [allowing students to retake single sections is] a good idea if they apply this to both [the ACT and SAT] tests; however, I think it takes away a lot of the difficulties from the test, and colleges should hold the test to a lesser degree now with this new accommodation," Miller said.
Despite the hullabaloo surrounding the change, students and teachers alike agree that there's nothing that can be done about the change, so they may as well embrace it.
"You can't always take into account the experiences of those who have gone before when making progress to better the experiences of those who are taking it now," Pitcairn said. "We can only move forward and try our best to do well by the students that are coming up now."