Field Hockey team makes playoffs for the first time in five years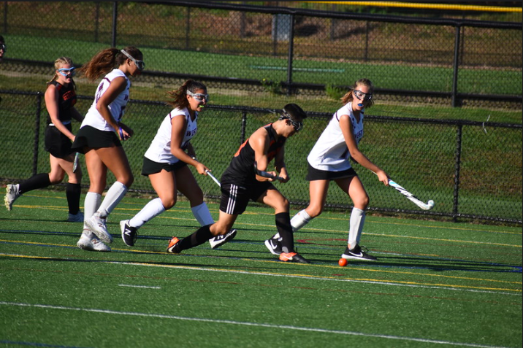 The varsity field hockey team has just reached the peak of its breakthrough season. After not making playoffs in five years, they were able to end the cycle with new captains, additions to the team and many other changes. 
According to senior captain Fatma Sayeh, after two consecutive seasons with few wins, she and her fellow captain, senior Arden Knapp, implemented changes in hopes of making it to the Division II playoffs for their final high school season. 
"Having lost every single game one season and then having the next season [with three wins], Arden and I [became] so passionate about this sport that we wanted to do everything we [could] to make [the playoff] tournament before we graduate," Sayeh said.
Players have noticed a difference in attitude in this crucial season for improvement, and some think this attitude change is the reason for the team's 11-5-2 record.
"I definitely think the morale is much more positive and motivated," field hockey player junior Marley Miller said. "In past years we would kind of [accept] our losses and got used to the fact that we were a losing team and learned to be okay with that. Now, there has been a new-found feeling of optimism, and we've all been working really hard to get where we want to be and that's in playoffs."
This season, the team has cultivated an increase in motivation, hard work and dedication. Players on the team push each other to do their best work every single day. 
"The boys have an effect on everyone's attitude [and] they work really hard and are really athletic and push everyone to work a little bit harder," Miller said. "Along with that, we have captains who are tired of losing and have pushed us all to work a little harder. I think our coach has addressed that this is a year where we can make a difference and get some more [wins]."
As a captain, Sayeh made sure to create a stronger reputation for the field hockey team. As part of her goal to organize a team with a strong mentality, she made sure that players knew what they had dedicated themselves to. 
"We made sure this year that we set a precedent that if you're playing, you're playing because you're passionate and you're in it 100 percent and you're in it to win, not just because it's something to do in your afternoons," Sayeh said.
In addition to a change in morale, the team incorporates lots of conditioning and strength training into each practice in order to keep skills fresh and keep the players in top shape. 
"We condition every day, usually for the first half of practice," field hockey player junior Emmie O'Shaughnessy said. "Then, the second half is working on drills etcetera."
Although there has been an increase in intensity in this transformative season, the team still manages to bond and have fun together in order to strengthen its dynamic. 
"I think our whole team really gets along well," O'Shaughnessy said. "We have a really fun time off the field, but we know when it's time to be serious and bring it on the field."
Along with all the hard work the team has done, strong captains and good leadership have contributed to the team's success. Both Sayeh and Knapp exhibit dedication to their team with each practice and game. 
"Something [Arden and I] do is deliver speeches to the team after every single game," Sayeh said. "Our coach has to coach the JV team [as well], so she's never been able to deliver a post game speech. We really have to pay attention to how our team works and how everyone is working together and communicating. I think everyone has devoted so much time and energy into this team that it's finally paid off."
As part of her legacy as captain, Sayeh hopes to build the foundations of a strong work ethic and level of respect for the sport. 
"Field hockey is not a joke [and] it's not a sport you should play just because you want to do something," Sayeh said. "It's something you should do because you are passionate about it and you want to win. Just like every other sport, everyone is so win hungry and I hope that [attitude remains], and I hope that everyone works hard."