WHS Fine Arts enjoys increased representation across the board at Senior Districts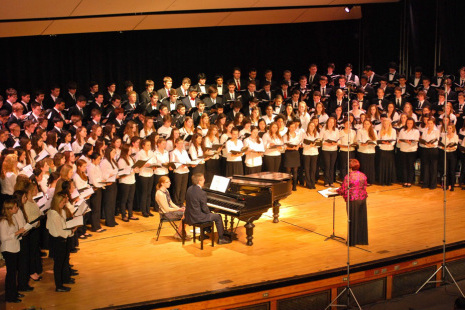 With Senior Districts coming up, students who participate in music are busier than ever. Although Wayland students typically perform well when it comes to representation at the event, many WHS students are unaware as to what Senior Districts is.
Senior Districts is an "all-star" group of musicians from the MMEA's Eastern District. To get in, students have to prepare for an audition. The audition process is generally the same for band, orchestra, chorus and jazz.
"There is a district list of what the prepared selection is for each instrument or voice part and who prepared the piece," Fine Arts Department Head Susan Memoli said. "There are scales that are part of the audition as well as a sight-reading component. Sight-reading is [literal], you get a piece of music you have never played, sung or seen before, and [you] have to boom, perform it on the spot."
If the auditionees' scores for each section meets or exceeds the standards, they get accepted into Senior Districts and can begin preparing for the actual performance. However, just practicing by themselves isn't enough. Attendees meet as a large group on Jan 10-11 at the Boston Latin School to rehearse.
"[Senior Districts] brings in professional conductors who will be conducting each ensemble. Those conductors have selected the repertoire of music for each of the groups," Memoli said. "When they gather, they will be rehearsing from basically [9 a.m.] to [5 p.m.] on Friday, and they'll go again on Saturday."
After preparing for almost two days, the ensemble performs right after the Saturday rehearsal. While the entire Senior Districts festival is a total of three days, these top-tier performers have a chance at playing at an even higher level.
"The top players from [Senior] Districts get recommended to audition for All-State," band director Joseph Oneschuk said. "I think last year, we had 10 students make All-States, which is kind of unheard of. Then, it goes beyond that: All-Eastern, All-Nationals, and we've had students attend those as well."
While WHS is a relatively small high school, the relative level of success and representation at Senior Districts is high.
"In all three groups, we've had increasing levels of interest and students who have been selected. I want to say last year, I think from Wayland High School we had 33 kids participating in all groups and somewhere around 12 kids for orchestra, which [are] really great, really high percentages across the board." Memoli said.
But students don't try out just for musical purposes. There appears to be a social aspect within the environment of rigorous training and the long performance.
"It's a really amazing experience for the kids," chorus instructor Rachel Carroll said. "I think the fun part for them is meeting kids from all over the Eastern District."
With tough competition and a strong legacy, the musicians of Wayland High School have their work cut out for them.
"It is a lot of opportunity, a lot of pressure and a lot of really top-shelf musicianship," Memoli said.