Wayland 7th Grader Maya Noyes Wins 'Chopped Junior'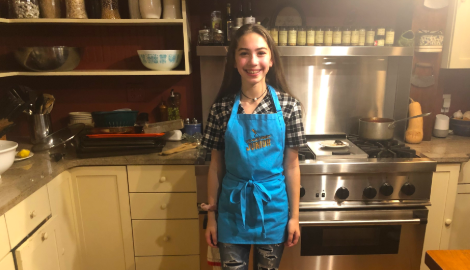 WMS seventh grader Maya Noyes officially won the grand prize of $10,000 following the airing of the Food Network's "Chopped Junior" Thanksgiving special on Nov. 12. Noyes watched the episode while surrounded by friends and family on Tuesday night. At just twelve years old, Noyes was crowned victorious after defeating three other adolescent chefs in the award-winning reality-based TV cooking game show.
"[Winning "Chopped Junior"] is pretty crazy – it's been a dream of mine my whole life," Noyes said. "It's just been something that I've thought, 'Maybe I could compete on [Chopped], but I don't really know.' So, winning it really means so much to me."
Noyes began to cook at a very young age after being inspired by "Chopped Junior."
"I started cooking when I was five years old," Noyes said. "I was watching TV when I came across 'Chopped Junior,' and I fell in love. From then on, I would always watch my parents cook dinner and just practice, and eventually, I became really good."
Though being a contestant on 'Chopped Junior' had always been a dream of hers, actually performing and cooking on the set of 'Chopped' surpassed all expectations.
"It was really amazing," Noyes said. "There are so many things that you don't see on TV that you see while you're there. It's really just so different because you're there in real time just trying to take in everything that's happening around you. Getting to meet all of the people and celebrities that I grew up watching is just amazing, and it's an experience I will absolutely never forget."
Even after winning such a huge competition with millions of people watching, Noyes has stayed humble and hopes to deliver a message to anyone trying to achieve their dreams.
"Don't give up," Noyes said. "Achieving your dreams will take many tries, but if you keep at it, something good will come out of it."