FLIP: New Class to Debut Next Semester for Freshmen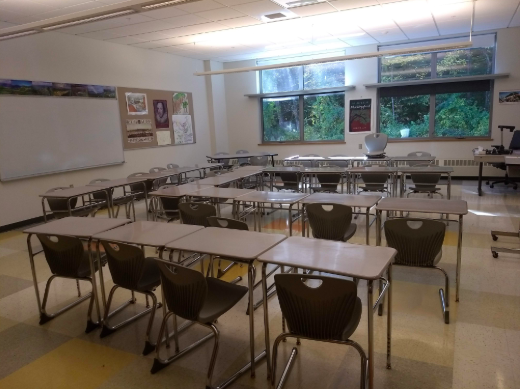 A new class for freshmen at WHS called FLIP will debut next semester. FLIP, or Freshman Life and Identity Practicum, will be part of the new freshman seminar schedule and aims to offer students meaningful conversations.
"It's an opportunity for a class to engage in skill-building around communication and the ability to express yourself and talk about difficult conversations," drama teacher and FLIP developer Aidan O'Hara said.
O'Hara wants to incorporate a space for freshmen to have face-to-face discussions about identity into their first year at high school.
"Senior year wellness engages in discussions about race and identity and people, and people were really having great conversations, and wouldn't [it] be great if we could have those conversations at the beginning of high school?" O'Hara said. "Especially for the freshmen, it would be like, 'This is how we do things at WHS.'"
Freshman Emily Campos thinks these conversations will help students with how they think about identity.
"I would say [FLIP] is necessary in order for people to figure out what type of people they'll become," Campos said.
O'Hara believes that in the age of social media, high schoolers miss out on the learning experience that comes with interacting with others in person.
"I think it's really important in this culture of one-to-one devices to revisit these skills about eye contact and of being human with one another as the world beyond WHS really values those skills," O'Hara said. "Social media has replaced some of those human interactions that people learn from."
Guidance counselor Benjamin Buffa also believes this trend is present in the broader context of American society, as well.
"It will be a time to have important conversations about big and relevant issues of our time," Buffa said. "The public discourse in our modern world has deteriorated to the point where many people have simply forgotten how to be nice to each other, especially if they have opposing viewpoints, and especially if they are engaging in conversations online, so I think this course is one small step towards finding a solution to that problem."
O'Hara hopes to alleviate the trend by reintroducing deep conversations in personal settings.
"I think that a class that celebrates human interactions and communication and skill-building is really a great way to celebrate what it means to be a teenager today," O'Hara said.
Subjects for discussion include identity, current events and the question of who you are.
"I think a lot of classes start with the question, 'Who are you?'" O'Hara said. "I think I'm excited to ask that question, and then talk about identity in a more adult way to really meet high school students where they are. [We] also will [talk about] more complicated concepts around identity and how that impacts a community, like what brings a community together and what divides a community."
The class will help prepare students for such conversations by giving students a chance to engage in drills and reenactment scenarios.
"We've really been playing around with the idea of role-playing and case studies," O'Hara said. "So, we might look at a certain scenario and play out different paths of how it might have gone down. Role-playing, when done thoughtfully, can be really fun and engaging for the class in a fun and safe way, but can really produce diverse results."
O'Hara said he thinks students will react positively to the new program.
"My hope is that students will engage within that class period and that the skills will start to feel transferable to everyday life," O'Hara said.
The idea for the class came to O'Hara after years of seniors expressing appreciation for electives with similar themes. O'Hara said he wanted to give students the opportunity to have those same experiences as early as possible in their high school career.
"We got this feedback that these [richer class discussions] were happening second semester senior year when you get all these fancy electives that are fun and interesting topics," O'Hara said. "We really wanted to make sure all of the high school benefited from the ability to converse with classmates."
Ultimately, the class aims to make students more comfortable opening up to each other.
"So much of our curriculum at the high school is so rich, and it could be even deeper if students have deeper conversations and have the ability to express your point of view and be heard," O'Hara said. "And then in turn when you're having this debate or conversation to have the ability to listen and hear the other persons' point of view that creates this discourse that makes the class even stronger."