Basketball Loses Players To Private Schools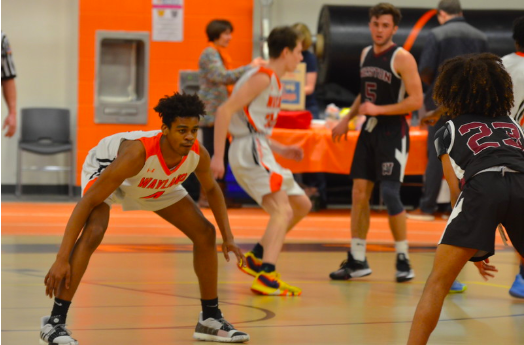 Some of Wayland's most talented basketball players are leaving WHS before their senior year is up; switching to private schools as they look to put themselves in the best recruitment positions possible. Four varsity players from last year have left, with more potentially following.
"I sort of started to go through [the process of switching schools] but I decided to stay," girls varsity basketball captain senior Abi MacDonald said. "If you go to a camp, a coach can reach out to you and say 'Hey, [do] you wanna come to check out our school?' or if you are not happy [at WHS], you can go check out other private schools and talk to the coach and start admissions."
A player currently in the boy's basketball program at WHS, who also happens to be going through the process of going private, wanted to share his thoughts but wished to keep his identity anonymous.
"First off, you typically go for a visit to see the school," he said. "Then you get an interview with the coach and possibly a school official. Afterward, you do an entrance exam and also have to take an SSAT [placement test] and other tests to get in and see where you'd go for different classes [honors, college, intro]."
While MacDonald was only contemplating a move, considering out-of-state boarding schools like Choate Rosemary Hall and Taft, both boys and girls teams have lost varsity starters. For boys basketball, varsity players Jaden Brewington and Jabari Nurse have recently left the WHS program for private schools. The girls basketball program also has had similar losses.
"Lilly Stoller and Oralye Keifer have both left," Macdonald said. "Lilly Stoller went to Milton Academy, and I believe Oralye went to Beaver Country Day. Both of them were on varsity. Oralye was a post and Lilly was a guard. Both of them were starters, so they definitely impacted the team a lot, and we certainly are lacking without them."
These losses result in the girl's basketball team having to make some changes to accommodate the shift in playstyle and in the number of players. It appears that the coaches and captains have strategies to counteract those issues.
"The program is suffering a little bit this year as far as numbers, so we are trying to get as many people as possible to come in and play," MacDonald said. "But what we have been doing recently, and what we probably will do this year, is have swing players who play for both varsity and JV."
But even with the losses, the girls appear confident that they will still find success in the upcoming season. For MacDonald, chemistry and teamwork can solve any shortcomings that could result from the changes.
"Even with the losses, I think we'll make it pretty far," MacDonald said. "This group of girls have been playing together since first grade, even potentially younger. Although we may not be the most skillful team, because we did lose such valuable players, I think we are well-bonded and a good team together, so we should go far."
MacDonald may have only been considering a move, but the anonymous boy's basketball player previously mentioned is currently in the process of switching to a private school. Right now he is visiting schools and meeting with coaches.
"I'm looking at a few in the state, in our Middlesex County and also the Boston area," the anonymous source said. "Me leaving is not 100 percent set in stone yet. Part of it depends on if I get a scholarship or not, and also if I could see myself playing for their program."
Basketball is the main driving force of the move. While he respects the Wayland program, he hopes to receive further recognition in a private school to assist his dreams of continuing the sport he loves for as long as possible.
"Athletics are very good at these private schools, especially from a basketball standpoint," the anonymous source said. "At the same time, there is still a good educational opportunity that will benefit me. I'm very focused on basketball, and that is what's driving my move."
There are no hard feelings between the players that have left and those who have remained at WHS. This is not surprising, as the family culture of Wayland basketball transcends just what's on the court.
"I think they should go wherever they want to go, wherever they are happy, whatever best fits them," MacDonald said. "I'm happy for them, and glad they made a decision that was good for them."
Due to the sensitivity of the subject, both Wayland varsity basketball coaches declined to comment.