Miles leads Warriors within yards of comeback
The battle of the Warriors between Lincoln Sudbury (LS), and Wayland ended in a nail biting, 26-21 final with LS on top. LS looked to a sweep play to their fullback Owen Pagano who rushed for 200 yards and scored three touchdowns. The sweep killed Wayland early in the game, but as the defense picked up on the LS offensive patterns, Pagano and the rushing game was shut down.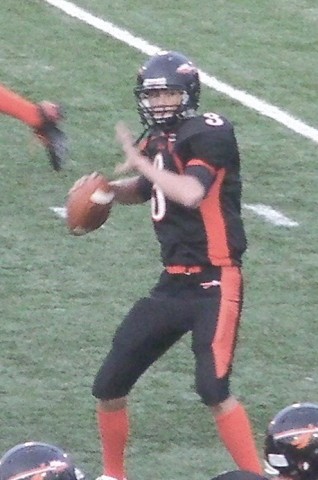 Wayland came out of the locker rooms with a bang, as they scored quickly on their opening offensive drive. Jeff Brewington, senior captain, led his Warriors down the field on a beautiful drive, which ended with Brewington scoring on a six yard run.
"We did what we had to do. We did pretty well. Once we got into the red-zone it was little bit harder," said Brewington. "We called a pass, and it took the middle line-backer out of the middle, and I just popped out and just ran it in."
Lincoln-Sudbury responded by scoring to tie the game, and then once more before the half's end to hold the lead going into the break.
As the teams came back onto the field after halftime, the Wayland sideline was missing a valuable member. Brewington, who had already thrown for 102 yards, was absent. He had gone into halftime with a minor concussion and a separated shoulder. He was brought to Metrowest Hospital in Framingham to get checked out, and was done for the game. But Brewington is still confident. "Yeah, two weeks, I'll be back," he told WSPN. In the meantime, Wayland turned to senior Zach Miles.
"Coach Cincotta came down the stairs. He was just in the trainers room with Jeff, and he pointed to me and said, 'Come with me.' That's when I knew," said Miles.
Miles, who had played at the varsity level last season, had never been in a high pressure situation like this, trailing to Dual County League (DCL) rival LS, with the game on his shoulders.
"I was just thinking, complete some passes, just complete some short passes. I wasn't ever really that nervous, I just didn't want to blow the game," added Miles.
Miles started the second half slowly, as he was sacked on his first two plays and eventually threw 3 interceptions on which LS scored a touchdown and a field goal to take a commanding 26-7 lead.
But Miles rallied as he found Dennis Kim for a 70-yard touchdown reception midway through the 4th quarter, a pass that gave the Warriors new life. The Wayland defense forced a turnover and Miles wasted no time.
He came back on the field and once again found Kim for a long touchdown reception, to put Wayland within 6 points of LS. Junior kicker Cogan Register was called upon to make a clutch onside kick to keep possession of the ball. Wayland recovered, giving the Warriors another chance.
Miles was finally clicking with his offense as he drove them down the field, and it looked like Wayland was about to complete a historic comeback when lightning struck for the fourth time. Miles threw another pick, and LS wrapped up the win.
"I saw Jon Bryant, and he looked open, and I just launched it, and I underthrew it. I just didn't get it there," said Miles of his final interception.
The bright side of the loss is that Miles, in a high pressure situation finished 7-16 for 180 yards and 2 touchdowns, and has found his go-to guy, Dennis Kim. Kim finished with 4 receptions for 161 yards and 3 touchdowns, two of which came in the fourth quarter from Miles.