WHS is second MA school to welcome 'Stop The Bleed' training course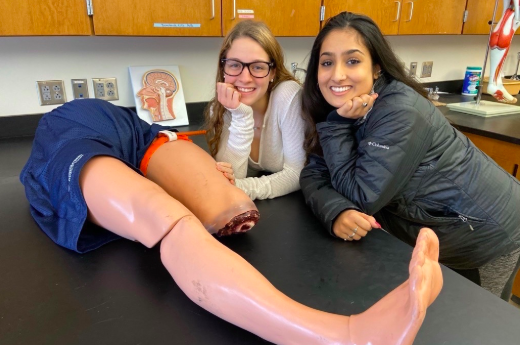 The trauma team at Brigham and Women's Hospital introduced a new Stop The Bleed training course at WHS. Seniors taking anatomy and physiology learned various techniques on how to stop a person from bleeding in an emergency situation. The course involved a slideshow presentation followed by a class where students had access to hands-on experience and practice to help benefit students in real-life situations.
"Brigham and Women's Hospital's trauma team actually reached out to us because one of the people on the team is a parent at Wayland High School," school nurse Amy Schoeff said. "They are starting to reach out to other schools as well, but this will be only the second high school in the state that offered the course to kids."
This classroom course was completely free because the Brigham and Women's trauma team is teaching voluntarily. Senior Ciara Murphy has already gone through a similar training course with the medical club.
"I think that we are really lucky to be one of the first schools to go through this training," Murphy said. "I do believe this will be a nationwide movement to have all schools have their students be trained in this program, just like CPR."
The first class took place on Monday, Nov. 18 and included a slideshow and presentation. It was followed by a second class that offered hands-on practice on Friday, Nov. 22.
"The first one is presented by the physician and nurses from the Brigham and Women's team," Nurse Amy said. "The second half will be hands-on, they have mannequins from the waist down, thighs, it will be hands-on learning: how to apply a tourniquet, how to pack a wound and apply direct pressure. Those are the three really best ways to stop bleeding."
Senior Mallory Leonard took part in the training and learned how to prevent the number one cause of death: bleeding out.
"We learned both how to pack a wound and how to use a tourniquet (a device which applies pressure to a limb or extremity to limit the flow of blood) in case of an emergency," Leonard said. "I really enjoyed the hands on experience our anatomy class was given because it's one thing to hear a lecture on how to do it, but it's that much better when you get to practice on models."
The course isn't mandatory to take, so students didn't do much preparation in class. Anatomy and physiology teachers, however, encouraged students to go through the course to get an understanding of how to deal with real-life scenarios.
"Sadly, I think this is a training that everyone should go through because in today's society, we face mass shootings every single day," Murphy said. "So, in case of a situation like that, all students should be prepared to have a life-saving technique."
The techniques are specifically taught in the class to prepare students for real-life situations. The trauma surgeons teaching the Stop the Bleed course want to educate students so they are aware of how to quickly help in emergencies.
"We never know when something is going to happen if we are out or when something will happen in our own lives, and I feel that this course has made me and my peers much more confident in case of an emergency," Leonard said. "The trauma surgeon that came in to present this course actually was in a real life situation where he had to use these skills to save a man who was bleeding out from a car accident."
The course simulated two different scenarios where students had to either pack a wound or put a tourniquet on the person bleeding out.
"We were able to see how much pressure we really had to use to stop a bleed and how to properly use the tourniquet device while putting it on different body parts," Leonard said.
At the end of the training, students were given supplies such as first aid kits that will be able to help in future situations.
"Our course gave us a first aid pack [including] packing supplies and a tourniquet [for our cars] so that in case of an emergency, we have the supplies we need," Leonard said. "I think that it would be amazing if everyone else had these supplies in their car if they have one so that they are ready for any situation that may happen."
The most crucial part of the course students learned was how to prevent death before the medics and ambulance arrive on the scene.
"The amount of time it takes for an ambulance or help to arrive isn't always short enough to get the victim before they bleed out, and if we can prevent a death from happening before help arrives, we could be able to save so many lives," Leonard said.