Madeline Maurer: Theater is a great way to learn empathy
Junior Madeline Maurer shares the life skills stage management has taught her
The red velvet curtains roll back on the WHS main stage, and the lights grow brighter. An actress croons the first line of the musical, then the band strikes up a tune. Behind the action onstage, junior Madeline Maurer sits in the sound booth, making every light, sound and curtain call during the show.
"The stage manager's job [is] to make sure everything runs smoothly, to be a resource for cast members and to be a means of communication between all of the moving parts of a show," Maurer said.
According to Maurer, an organized mind is a key characteristic of a skillful stage manager. Before every rehearsal starts, Maurer and her assistant stage manager, freshman Olivia Lappin, take attendance and round the actors into the theater. While the actors run lines, rehearse dances and learn songs, Maurer is hard at work filling in rehearsal reports, giving line notes and taking inventory.
"[During rehearsal], I'll be working on one of many, many spreadsheets," Maurer said. "We have a lot of spreadsheets like scene changes, props list, a microphone plot, a run sheet and those all have time limits as to when they can get done."
However, Maurer's real work starts during dress rehearsals. During vocal warmups, Maurer plants herself in the light booth and calls the entire show: light cues, sound effects and spotlight is up to her.
"I was really nervous when I first did it because I knew I was responsible for all of the light cues, but it's been a lot easier than I thought it would be," Maurer said. "[WHSTE Director Aidan] O'Hara said it would just be pressing go, and it is just like pressing go."
The musical "Chicago" was Maurer's first experience as a stage director, but her interest in the position started when she was in middle school when she saw stage managing interns at Weston Drama Workshop. Maurer acted at the middle school, WHSTE and Weston Drama Workshop, but wanted to try a hand at a new part of theater. Maurer scored an internship at WDW, where she was an assistant stage manager for Legally Blonde: the Musical. After the show closed, Maurer knew she wanted to bring her experience back to WHS.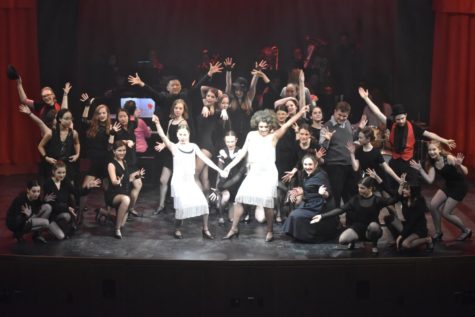 "I like helping the story be told, maybe not in the way I had been when I was an actor, but in a different way that's more leadership based than being in [the show]," Maurer said. "I'm making sure everything is going the way it's supposed to be, so the show can be as successful as possible."
Maurer relishes in the theater experience, and hopes to take it to the next level when she goes to college and starts a career. Her current goal is to bring theater to populations that haven't had access, namely children with developmental disabilities. Currently, she volunteers at The Charles River Center, a program in Natick that provides programs and services for children and adults with developmental disabilities. There, she brings music and theater to children on the autism spectrum.
"In my experience, theater is a great way to learn empathy skills, and it's a great way to create friendships," Maurer said. "I think bringing theater to that population would help a lot with a lot of different aspects of their life if not just to give them a hobby to do."
Although Maurer discovered that stage management is a beneficial way to learn how a show operates, she misses acting and will most likely be in WHSTE's winter one-act. However, she will always value the time she spent as stage manager and is likely to split her time between acting and stage managing.
"[Working on "Chicago"] showed me what stage management is supposed to look like," Maurer said. "It was a really cool experience to be able to work with some insanely talented people and experience the show as a stage manager."