Local Students Head to Youth Olympics for Curling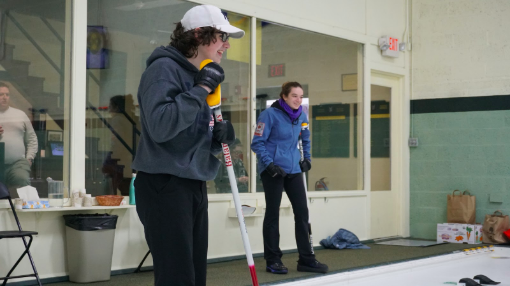 Many people know curling as a long-running sport in the Olympic games. This year, team USA will be represented at the Youth Olympics in January, by four youth athletes and their coach. The team consists of Coach John Benton (former Olympian), and Athletes Ethan Hebert, Alina Tschumakow, Katie Murph and Charlie Thompson.
This team is different than most, because the players are all from parts of the country. Before the trials, Hebert and Tschumakow had been playing together at the curling club in Broomstones, in Wayland. The team came together in a unique way in an effort to fill the roster.
"The age range for the Youth Olympic qualifications was quite tight and the curling community across the USA is quite small," athlete Alina Tschumakow said. "We had heard about each other through other curlers and from national events we had each attended."
In order to create the team, Ethan and Alina needed to create a team that was similar in ages, and had to contact lots of local athletes in order to do so.
"For the Youth Olympics, it was really hard to find players due to age limits and Alina and I were trying to find others," athlete Ethan Hebert said. "Then Charlie reached out to me and I told him I was planning on playing with Alina and he joined in. Then we got Katie recommended to us by a friend, and she agreed to play with us."
All this work hasn't come easily. These teenagers and their coach have been curling their whole lives and practice for many hours and days a week. For the team, Minnesota is the state where they all come together, because it's a neutral destination for their practices.
"I have been curling for about 10 years now, and practice as frequently as possible," Tschumakow said.
"I have been curling for 11 years, and normally practice three to four days a week," Hebert said. "When I go to practice [in Wayland], I go straight to the rink right after school for a two hour practice. [We] usually have a league game, which are about two hours long, and then another practice for an hour."
This team comes from all around the USA, so practicing all together can be challenging for them. While most of their work can be done individually, it's important for whenever they are free to go and practice as a team in Minnesota.
"There are always at least three people who need to fly somewhere in order for us to practice as a team," Tschumakow said. "Luckily, most of our practice can be done individually."
"We've really just had the three summer camp weekends, the Youth Olympic Games Trials, and one additional camp recently," Benton said.
Coach Benton competed as a curler in the 2010 Olympics in Vancouver, Canada.
"As hard as it might be to believe, I am more excited for this than I was to compete in one myself. Being able to see their faces during Opening Ceremonies, their first slides on the Olympic Ice, and all of the other firsts that are reserved exclusively for people who have this honor," Coach John Benton said. "It will be the greatest thing that has ever happened to me in my curling life, and that's saying something."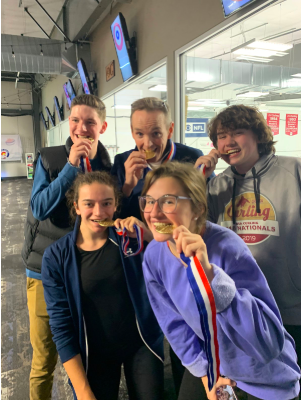 For the athletes, it is a great experience to have a coach who has played in the Olympics. He helps give them more knowledge about the game, and can prepare them with the right mindset.
"It is a really cool thing that our coach has been in the Olympics," Hebert said. "It definitely helps to have him prepare us mentally because he knows what to expect. He has been there before and can help us prepare for it."
Representing Team USA at the Youth Olympics is an honor for the players and their coaches. Many people don't often have this opportunity, and if they do, it's the most extraordinary experience in their lives.
"It's hard to describe how it feels to represent the USA at the Youth Olympics," Hebert said. "It almost hasn't set in yet. It is just mind blowing that I am representing my country."
Throughout the month of January, the players will be missing around a month of school to endure this special experience.
"We will also be missing three school weeks in January for this experience, but I think it is definitely worth it," Tschumakow said.
Over the next few months, their excitement continues to grow as the Olympics come closer. We wish them luck as they represent USA in Switzerland.
"I am excited to attend the Youth Olympic Games, if only to meet some international curlers and other athletes," Tschumakow said.