WHS students affected by closing of Panera in Wayland Town Center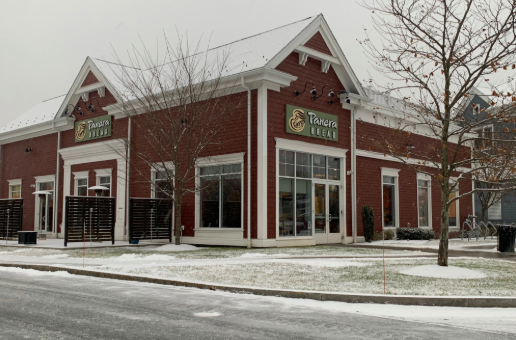 Panera Bread, one of WHS students' favorite places to spend their time after school, is closing in the Wayland Town Center. Panera is speculated to be getting replaced by Bagel Table after its six years of service.
Some WHS students will be affected greatly by Panera closing, as it will alter their current routines and lives. Among 161 WHS students surveyed, 83% of them responded that they go to Panera at least once a month.
"On average, I go to Panera one to two times per week," junior Julia Mele said.
Panera is currently one of only three restaurants in the Town Center, and it is some students favorite place to study, eat or just hang out with their friends.
"I go [to Panera] maybe once a week, [because] normally, it's a good spot to do homework," sophomore Sean Goodfellow said.
Even though 78% of students surveyed said that they are upset about Panera closing, many students are happy about another establishment taking its place. Many had speculated Caffé Nero to be Panera's replacement.
"I've never really heard about [Caffé Nero], but it sounds pretty good, so I'm excited to see what happens," Goodfellow said.
Panera's closing is a shock to some from a customer's point-of-view, since it seems as though Panera is generally very busy with a lot of customers.
"I'm annoyed, and I'm also kind of surprised because I thought they were doing at least marginally okay," junior Sam Goldstone said. "It's very abrupt. It wasn't like 'Oh, we're probably going to close in three months,' it's like 'Oh, we're closing in two weeks.'"
Within the Wayland Panera's final days, students are getting their favorite foods while the restaurant is still there.
"I really like [Panera's] grilled cheese, and, in general, they have really good food," Goldstone said.
Some students wonder how Bagel Table's food will compare to Panera's food and casual atmosphere.
"You can get mac and cheese in a bread bowl [from Panera], [but] you can't get that at [another restraunt]," Goldstone says.
Although the majority of WHS students surveyed don't want Panera to leave, it is not up to the students what stays in the Town Center and what doesn't.
"I think they should've kept Panera, but that's against my will, so I'm excited about Caffé Nero, and [to] see what happens," Goodfellow said.
Panera declined to comment on its closing.