Boys hockey adapts to goalie situation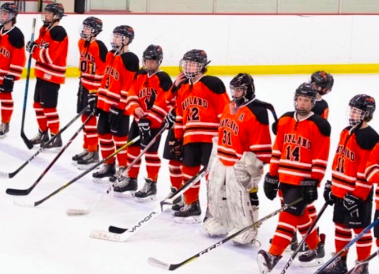 A goalie is one of the most important positions in hockey. After all, the way to win is to score, and the goalie prevents the other team from landing the puck in the back of the net. Coming into this season, the Wayland varsity boy's hockey team was without a single goalie on their roster after graduating Ryan Nolan and John Paugh in Jun. 2019. In a bleak situation, one former hockey goalie, freshman Jayme Nolan, and a current lacrosse goalie, Philip Koechling, stood up to fill the void.
New head coach of the WHS boys hockey team, EJ Nicholas, hopes to continue the system already in place, opting instead to assimilate the two new goaltenders. He has been with Wayland for seven or eight years as an assistant and understands both the challenges and opportunities this situation brings.
"Philip [Koechling] is brand new to hockey, and it's not just a sport that you can really just pick up– it's something that's definitely different, and he's taking it in stride and he's doing really well," Nicholas said. "Jayme [Nolan] converting back to a goalie after a few years is definitely a change for him as well, but the kid is picking it up and he is moving pretty well. Also, this is the first time since I was a sophomore that we've actually had a goalie-specific coach, so it's definitely given us an advantage."
Both players and coaches understand their duty to assist the new goalies as much as possible. That, combined with the experience and skill of the goalie coach, appears to be helping the goalies learn quicker than originally expected.
"They're picking up stuff very quickly," Nicholas said. "They're understanding their angles a lot quicker than expected. They're understanding how to push off and move back and forth a lot quicker than we really anticipated. It is really nice to see and has definitely given us a little bit more of a peace of mind knowing that these goalies are picking stuff up so quickly."
The speed of their learning and the growth of their abilities have instilled the whole team with confidence. They also bring a flair of competitiveness, heart and a winning mentality that can only stand to help the team.
"Coming in as a freshman for Jayme, the kid is recognizing that we have a major issue without a goalie, and knowing that he can bring something to the table for us shows lightyears of the type of kid he is, and also the heart he has for the team," Nicholas said. "It's definitely unmatched, and the kids, in general, have such a great competitive factor in them. I mean, Phil's been on the ice for maybe nine or ten hours with us, and the kid's getting upset when he's letting in easy goals. It's not something that you can just teach as a coach– that's something that both he and Jayme are bringing to the table [those] are unbelievable aspects. They are willing to do whatever they have to to make sure we get our 'W' whenever we can."
Even though there won't be any major strategic changes with the new goalies, the team's approach will shift. In the past, they have had experienced goalies who have allowed the team to focus more on offense. Now, though, their attention is on defense.
"We will be blocking a lot more shots, playing more defensively," senior captain Aidan Bonner said. "Definitely not flying into the zones as much as we want to on offense."
In practice, a couple of current and former players have tried to help out the new athletes. Through drills and captains practices, they have talked to the goalies and have given them a couple of tips to improve.
"We have a couple of kids who used to play goalie like Will Carr," Bonner said. "One of the goalies, Jayme Nolan, [had] an older brother [who] played goalie so we have a lot of help back there."
There are many reasons to want to play goalie. For Nolan, he wanted to try out the position because it would be easier to get playing time. It also happened to be convenient for him too, because of the resources already in his possession.
"I probably wouldn't have played [a lot of time] if the team didn't need a goalie, and my brother had the equipment so I tried it at a captain's practice," Nolan said.
To play goalie, there are a lot of skills players must learn, as it's one of the more technical positions on the ice. As a new goalie, you must learn all of those tough skills quickly in order to perform to the expectations of your peers. The team's goalie coach, Justin, has helped Nolan refine these techniques, and his overall comfort playing the position.
"The goalie coach has been helping me a lot with my edges," Nolan said. "[He has helped me] be able to push well and slide around well."
While Jayme played hockey at a different position prior to becoming the team's goalie, senior Philip Koechling had never played the sport before. He played football in the fall and lacrosse in the spring but originally wrestled in the winter.
"I enjoyed wrestling, but I kind of did it for Brooks Jones, who was a wrestler last year," Koechling said. "I didn't have much fun wrestling, even though it did have some benefits for football. I didn't really enjoy it all that much, and I wanted to try something new senior year and have a bunch of fun. I thought it would be better for my mental health to just mess around and play hockey."
Koechling does, in fact, have experience as a goalie. He's in net for the lacrosse team and will start next year with the title of captain. In Koechling's experience, being a lacrosse goalie shares similarities with being a hockey goalie.
"The reflexes involved [are very similar]," Koechling said. "There are a lot of differences, but there is also a lot of similarities, like tracking the puck is similar to tracking a lacrosse ball. The motions to actually do the saving, though, are quite different."
Koechling and Nolan's positive attitude and wish to help the team in any way is infectious. What they lack in experience, they make up for in work ethic and selflessness.
"I don't know exactly how I can help yet, but I know I'm better than no goalie," Koechling said.