WHSTE runs competitive play: 'Squirrel Girl Goes to College'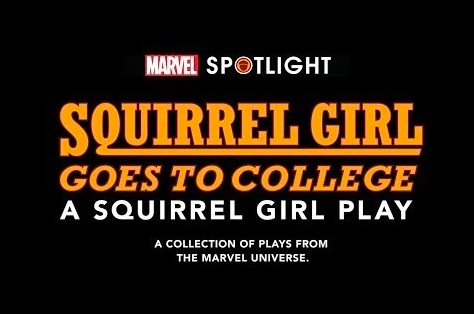 With the fall musical "Chicago" having been such a huge success, WHSTE looks forward to their next play, the one they plan to use for the Massachusetts Theater Ensemble Guild (METG) competition. This play, unlike "Chicago," is a much more lighthearted. Although it sounds like the title of the play reveals what occurs, there's more to the plot than one might think.
"It follows Doreen (Squirrel Girl) going to college to make more human friends instead of squirrel friends, but since she's only stayed with squirrels before, she doesn't know how to interact with humans normally," junior Kaiyang Zhang, who plays Tomas Lara-Perez in the play, said. "Also, Dr. Doom threatens to find her and destroy all her friendships, and she's really scared about that as well. She doesn't open up as much as she would want to, the main conflict is her getting over her fears, accepting her for herself, her friends, trust from herself and finally her friends accepting her for who she is."
"Squirrel Girl Goes to College" is part of a collection of screenplays, written by Marvel, called Marvel Spotlights. Currently, there are only three additions to Marvel Spotlights: "Hammered: A Thor & Loki Play," "Squirrel Girl Goes to College" and "Mirror of Most Value: A Mrs. Marvel Play." Not only that, but Marvel Spotlight stage plays are generally aimed directly towards young adults as the characters in the play experience problems that the audience might be able to relate to, such as adjusting to changes in the status quo, becoming true to oneself and understanding what responsibility is. These plays are being shown in high schools nationwide. The cast of "Squirrel Girl Goes to College" believes that this is special as these plays are only being shown in high schools around the nation.
"People should come and see this show because it is one of only a very small handful of recently released Marvel stage plays, and this presents something of a rare opportunity," sophomore Harrison Dietzius (MODOC) said. "Besides this, it is also filled to the brim with excellent jokes from amazing performers, and I think everyone will find at least some enjoyment from it, but probably way more than some if I'm being honest."
There are many characters in this play. The main protagonist is Doreen Green, or Squirrel Girl, and the main antagonist is MODOC – however, this play has many side characters.
"Tippy-Toe is Squirrel Girl's sidekick and narrator of the show," junior Katherine Deane, who plays Squirrel Girl, said.
The antagonists also have side characters.
"[There's] Freak, who acts as a kind of minion/assistant for MODOC, Little Georgie, a version of MODOC that existed before a horrible computer accident conducted by [his] first grade teacher [that] turned him into a cyborg and even Dr. Doom, an evil sorcerer who acts as the plays secondary antagonist [are other characters]," Dietzius said.
With so many intricate characters, the expectations for the final product is high as well. Just like how last year's play, "Pronoun," got to the finals in the MEGS competition, Dietzius expects similar results with this one.
"I'm excited for fellow performers, many of whom I know from this program last year and similar programs outside of school, to see this unique and new production," Dietzius said. "I think that we're going to do absolutely stellar when the competition rolls around. We may even make it to finals again, or at least semifinals."