Warrior Weekly: The Future of Tom Brady and the Patriots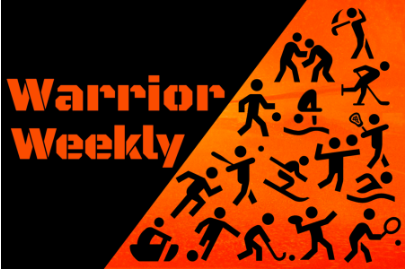 The Patriots 2019-20 season concluded with an upset loss in the wild-card round. With this disappointment, the franchise finds its future up in the air. The greatest number of questions center around future Hall of Fame quarterback, Tom Brady, whose contract will officially expire at the beginning of the offseason. Will he re-sign? Will he retire? Will he join another team? Here we consider potential paths for Brady, and how the Patriots can set themselves up for future success.
Option #1: Brady Leaves
Patriots fans are split on what will happen this offseason regarding Brady. Many think he will leave, and some even want him to leave. If that does indeed happen, then Brady will either retire or search for a new franchise. So, say he opts to not retire and the Patriots wish to move on, or they don't offer him enough money: luckily for him, Tom has plenty of potential suitors.
About one-third of the league will be in search of a new starting QB this upcoming offseason, either because their current starter's contract has expired, or because they simply didn't have a good starter in the first place. But this list of suitors can be narrowed down further, as we can eliminate teams that are almost certainly going to draft a QB early in this year's draft, like the Bengals and Dolphins. They don't have competitive rosters yet, so they want to start their rebuild with a young franchise QB. To get even more specific, we can remove destinations that we know he probably wouldn't go to, teams that are technically a possibility but in reality are too far from contention or have unproven management.
So assuming none of those teams acquire multiple offensive weapons before Brady chooses a home, that leaves us with four top options. Out of those four, the least likely home is New Orleans, which could be a surprising choice for some, who don't understand their current situation: all three of their current QBs are free agents, and it is not certain if any will return to New Orleans. Brees, like Brady, is mulling retirement while also remaining coy on whether or not he will re-sign. Their backup with starting-caliber ability, Bridgewater, is probably looking for a new team and a big-money contract. Lastly, you have receiver/rusher/passer Taysom Hill, who is a restricted free agent, but also isn't really a QB. He is at his best when passing sporadically, mainly in trick plays.
The Saints are smart enough to know that Hill probably shouldn't be starting. So a 13-3 team with insane offensive threats could possibly be looking for a QB, and Brady would be stupid not to consider them.
Then you have another interesting option in the Titans, but they will probably re-sign Tannehill. Tannehill fits perfectly with the team and was a top-five QB in the league. He knows that he may be successful only in Tennessee, so why leave? But if for some reason he does chase marginally more money elsewhere, and Mariota also declines to resign, then Brady should at least consider joining a team packed with former Patriots. They have the best running game in the league led by Derrick Henry, and a great young receiver in A.J. Brown.
While it would be cool, the Titans remain an unlikely option compared to Tampa. Another crazy-sounding option, but just remember that Jameis Winston somehow captained the team to a top-five offense. If Brady were to make his interest obvious to Tampa, he would get paid an absurd amount to lead an extremely exciting young offense with unimaginable potential.
But even with all of that promise, Brady would probably prefer a more mature team like the Chargers over the Buccaneers. The Chargers have multiple 900-yard receivers, one even being a running back, in addition to a young star tight end. They boast a young defense to carry the team when Brady is off the field, something not many teams can offer. If Philip Rivers decides to retire, or simply leaves the team, the Chargers are THE most probable destination for Brady.
In the case of Tom leaving, the Patriots would obviously have to fill their now-urgent need. They could try to trade for a quarterback, but better ones are going to be available in free agency. Bridgewater was great in the five games he started for the Saints, finishing with season totals of nine touchdowns and only two interceptions, but he doesn't fit the specific style of a Patriots offense as well as a Belichick signing. So while Bridgewater is definitely a possibility, it is unlikely. The same goes for Dak, who will most likely get re-signed by the Cowboys anyways.
The Patriots would also not go for an older QB like Brees, Tannehill or Rivers, as they would want a few prime years of whoever they spend big bucks to sign. A big pickup in free agency appears unlikely, which leaves Belichick the option of using his preferred method, which is to draft a new franchise QB. They drafted a solid QB last year in Stidham, who is one of the best options as of now to at least try next season.
With Bill's history for draft quarterbacks, it would be no surprise if he found a star, especially with multiple picks in the first three rounds of a highly stacked QB draft. The most likely scenario is the Pats drafting Fromm in the first round. Out of Georgia, Fromm is one of the best QBs in the draft and will probably fall to them at 23rd. He mostly fits New England's offensive style and has shown the IQ to adjust if needed. Eason is another option, but falls in a weird place between two Patriots picks, meaning that they would either have to use a more valuable pick to get him or pray that he falls to them.
If the Patriots strikeout in getting Dak or Bridgewater, you can be sure that they will draft a QB somewhere early on in the draft. With a newly drafted QB as well as Stidham, the Patriots have a great shot to replace Brady if he leaves. But what if Brady doesn't leave?
Option #2: Brady Stays
With Brady returning to the team, the Patriots offense will be focused on retaining players and retooling. Many of the issues with the offense last year stem from major injuries of notable players like fullback James Devlin and center David Andrews. With the return of those superb blockers, along with hopefully re-signing guard Joe Thuney, the Patriots blocking unit will be among the best in the league. This automatically improves the run game, allowing Michel to finally develop into one of the league's top running backs.
The passing game was doomed from the moment the Pats lost veteran receivers like Josh Gordon and Antonio Brown, as their absences put far too much pressure on rookies N'Keal Harry and Jakobi Meyers. They should both take a jump next season, however, with Harry potentially becoming a top target as he continues to earn Brady's trust. And of course, you still have Edelman, who will remain one of, if not the most, crucial pieces to the Pats offense.
So say the Pats resign all of their starters and role players, and the players returning from injury pick up right where they left off: now you have a perfect blocking unit, a good but inexperienced receiving core and a top 10 running game. All they really need is a good tight end to return their offense back to the top. Both Austin Hooper and Hunter Henry are available in free agency. Hooper is a top-five tight end when healthy, with Henry being top-ten. Both are only 25, and would not be too expensive. If they miss out on those two, there are plenty of solid options in the draft. As for the defense, all they have to do is retain key players like Collins and Van Noy to keep their league-best defense at the top. It could be difficult to keep all these players while bringing in that tight end, but certainly not impossible. Plus, they could still draft a QB early on in the draft, to begin developing the next starting QB with the assistance of Brady.
Whether or not Brady leaves, the Patriots could still find themselves in the playoffs next year even while facing improved divisional opponents. All it takes is some clever drafting, player retention, and a few key free-agent signings. While we may lose our QB, the greatest coach/GM in NFL history will still remain. We must once again put our faith in Belichick to get the job done and build a squad worthy of a Super Bowl and future contention.