WW' 20: The Brainchild of a Gamer
An emerging smash for students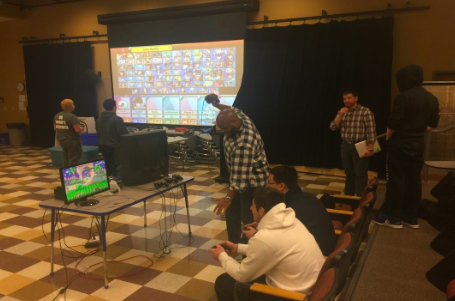 Senior Erik Swanke, an aspiring gamer, has carried on the legacy of his older brother and WHS graduate Ryan Swanke, who started a videogame event two years ago at WHS. This event introduced the world of gaming through a multiplayer game called Super Mario Smash Brothers to the students of WHS. Erik Swanke believes video gaming in general isn't taken seriously and that many people don't view it as a legitimate profession.
"[We] wanted to do something about it," Erik Swanke said.
Swanke believes that video gaming should be treated just like any other sport and emphasizes the similarities between playing video games and sports.
"You really feel competitive when you play. You want to win, but it's also like any other one-on-one sport: tennis, chess, anything like that," Swanke said. "It's all about outsmarting your opponent and outperforming them."
While video gaming is virtual, the skills one develops from playing video games are real. Former esports pro and Class of 2019 graduate William Barton corroborates that video gaming can help players in real life and should be taken seriously.
"Playing games, especially with a competitive mindset, can often develop people's critical thinking and expose [them to] things such as struggling under pressure," Barton said. "These are insanely universal skills that transcend gaming and apply quite aptly to many things within the real world."
Barton furthers that if someone enjoys playing video games, they should continue to do so without neglecting the present.
"I think people should, generally speaking, pursue their passions and what seems to give them meaning in the world," Barton said. "I'd encourage people to push hard for what they care about and love without regrets, but, at the same time, remain anchored to reality."
The esports club at WHS started one year ago, and, since then, has already received a grant for $14,000 from the Wayland Public Schools Foundation.
"We've got six gaming rigs, and League of Legends has taken off," special education teacher and club adviser Mark Nolan said.
The team went undefeated last year, losing in the second round of the league playoffs. Currently, the team is between seasons, but it typically hosts practices on Thursdays and plays games on Tuesdays.
"I strongly encourage students to join [since] we have spots on other teams," Nolan said. "They [also] just opened up Fortnite as something that people can compete in in high school."
Just like any other sport, video gaming presents many real-world opportunities to players and is vastly growing.
"One of my seniors just got essentially a full scholarship for esports," Nolan said. "So, it's like an emerging thing."
However, success in gaming isn't easy, and it isn't based on luck either. Gaming comes with many of the same hardships as other sports provide.
"It is incredibly difficult to actually succeed in the esports space," Barton said. "And it is insanely top-heavy in terms of success and influence."
For those students that are wary about joining for fear of getting addicted, Barton has some advice.
"While it is certainly possible for there to be negative outcomes for people associated with video game addiction and obsession, it is, for the most part, a highly engaging and very social experience," Barton said.