Hidden keystones: winter team sports managers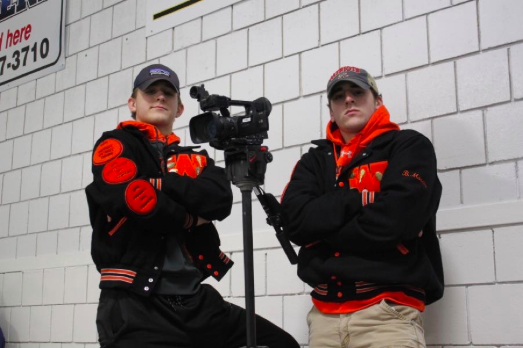 When talking about sports teams, everyone knows there are the coaches and players, but many forget the important role the team manager upholds. As their presence in the game may go unseen, their enthusiasm and hard work are often unnoticed.
For the WHS winter team managers this year, some are new to the job while others come with experience. In his first year as a team manager, senior Timmy Goodfellow took on the role of varsity boys hockey manager, which requires more than just cheering on the team.
"[We're in charge of] recording the games, [which] I don't think is going to be easy," Goodfellow said. "Also, I don't think it should be too hard, but it's definitely going to be a process we've got to learn."
Along with the process of learning new skills, team managers basically become the coach's assistant, taking some pressure off of their shoulders.
"I help run the scoreboards and timing systems for meets and do random things that the coaches need me to do," junior swim team manager Meghan Flathers said.
By volunteering as team manager, the role requires time commitment and devotion. Most managers are expected to attend all practices and games in addition to helping out in any way they can.
"It's a big time commitment considering I'm not a player, so I have to rearrange my schedule," varsity girls basketball manager and junior Maddie Yaffe said. "I've definitely learned how to manage my time because [there is] a lot on my plate with school."
Even though their time is mostly spent on the bench, players are grateful and thankful for managers' dedication to the team. In senior girls basketball captain Mary Shine's eyes, the team would not be the same without its manager.
"It's just a lot of fun to have another perspective on the team," Shine said. "Someone who can watch the whole game and tell us about what we need and kind of just holding the team together if there's any conflicts."
Whether it's dealing with an injury or not playing a winter sport, there are many reasons why someone would volunteer as team manager. For the nordic ski team manager, senior Sarah Davis, the decision was simply out of curiosity and excitement.
"[I decided to become team manager] because it always seemed like a fun thing to do," Davis said. "I've seen other people do it throughout my years of being on the team [as a skier]."
Unlike most team managers, Davis participates in almost all of the practices and team events, excluding the meets.
"I don't have to race, which is really nice because that's never fun for me," Davis said. "I still go to every practice and do the workouts with the rest of the team."
Although the role mainly includes tasks such as watching the clock, Yaffe takes on a bigger challenge of having to handle the book at games.
"I've learned to think [quickly] because in the games, when the refs say something, I have to write it down really quickly and they don't repeat themselves," Yaffe said.
Despite the challenges that come with being team manager, the reward of becoming part of the team is worth the work.
"I think I enjoy most the guys that are on the team," Goodfellow said. "They're a bunch of fun, and I'm really looking forward to how the season goes."