Ben Carpenter: The trail to the 2026 Olympics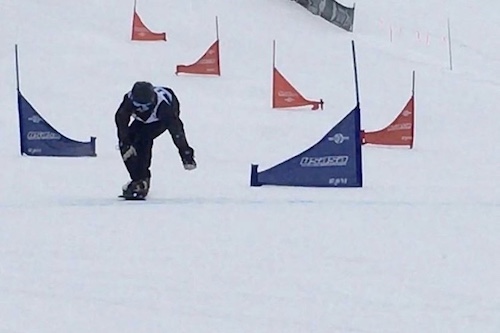 As he nears the frosted drop-off, the snowboarder finalizes the adjustments to his board and fixes goggles to his eyes. Seconds later, he plows down the mountain, gliding on the snow as he races to the bottom. Former WHS student Ben Carpenter, who is now a junior at Steamboat Mountain School in Colorado, is preparing to reach his goal of going to the Olympics. At the end of the previous school year, Carpenter made the decision to move to Colorado, where he can train every day.
"I decided to leave WHS because, through one of my best mates, I was able to find a school which specializes in the sport I wanted to pursue: snowboarding," Carpenter said. "It wasn't the easiest decision to make because it meant leaving everything I had ever known and then moving to a place I had only been once before."
Carpenter is unlike other athletes who found their love for a sport at a very young age. It was only a few years ago that he moved to the U.S. from London, England and quickly discovered his passion for snowboarding. In England, Carpenter was primarily a skier and wasn't introduced to the sport of snowboarding until his arrival in the US.
"At this point in time, I believe I've been snowboarding for about six years," Carpenter said. "This sport is very special to me because when snowboarding, I am able to destress and forget about all the many things around me and focus on one thing, my snowboarding."
Carpenter moved out west to Steamboat Springs, Colorado, so he could attend a school that allows him to continue his education while also following his passion for snowboarding. Steamboat Mountain School, a coeducational boarding and day school in Steamboat Springs, focuses on experiential education for students in grades 9-12.
"My new school provides me with a lot of opportunities to meet new people to learn about new cultures and focus on the sport I love," Carpenter said. "It also provides in the summer an amazing place to go mountain biking.
Steamboat Mountain School has many differences with Wayland High School. For example, Carpenter is able to snowboard every day around noon.
"I snowboard every day from 12:30 p.m. and start school at about 8 a.m.," Carpenter said. "I have three classes in the morning, [then I have] lunch, then I head up to the mountain for another day of training."
The transition to the new school was not the easiest thing for Carpenter – however, he was used to moving around. When Carpenter was eight years old, his family moved from England to the U.S.
"The transition to another new school was definitely very difficult because it meant for me to leave all my friends and family behind in Wayland," Carpenter said.
Starting with 2020, Carpenter reaches for new heights when it comes to setting his season goals. Along with daily practice sessions in Colorado, Carpenter will be training with Team Great Britain in Switzerland this summer.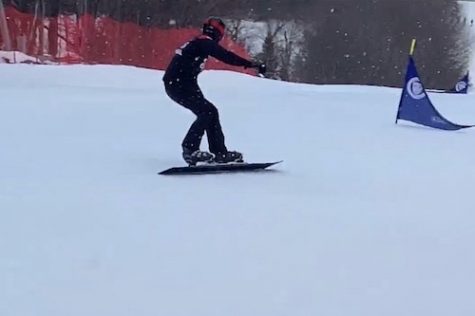 "As of right now, I have a couple of goals: my first one is to make it to the 2026 Winter Olympics and compete in the World Cups, either the end of next year or the year after that," Carpenter said.
Carpenter is undecided about whether or not college is going to be an option for him next year. His goal is to go to college while continuing to train for snowboarding, but it's a matter of when he'd do so. A gap year would give him time to train and compete in preparation for the Winter Olympics.
"At this moment, I am not sure what I am going to do covering snowboarding and college," Carpenter said. "I am definitely going to college, [but] it's just a question of if I take a gap year or not."
With years of practice, Carpenter has been able to perfect and improve his board skills. He competes amongst many other athletes striving for the same dream – however, competing was not always easy for him.
"When I first started competing, I was very nervous, but now I have learned ways to race stress-free," Carpenter said.
Carpenter has become very successful in competitions and has often scored high on the scoreboards. Competing alongside his teammates pushes him to take gold at competitions and inch closer and closer to Olympic success.
"So far, I have done quite well. There is still, of course, many people who are better than me, but every day I am able to learn something from the amazing athletes I am surrounded by and strive to achieve my possible Olympic goal," Carpenter said.