Warrior Weekly: Brady's best receivers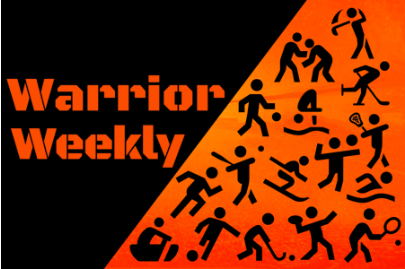 Tom Brady is undeniably the most successful player in the history of the National Football League. Yet, despite how skillful he is, Brady has always needed a strong supporting cast to contend for a title. This past year, there was a clear lack of trust between Brady and his receivers, which led to his worst season in possibly his entire career. Belichick has found many hidden gem receivers over the years, and they have formed some truly special connections with Brady. Here are the greatest receivers Brady has ever worked with.
6. Troy Brown
If you think back to the beginning of Brady's career and who he threw to, Troy Brown would probably be the first name in your mind. Brown retired from football as the Pats' all-time leader in receptions, second in yards and top 10 in receiving touchdowns. The reason why he is at the back of this list is that most of that was with Drew Bledsoe and not with Brady. He only played the back half of his career with Brady, when he was already starting to regress. Despite this, he still racked up 3,595 receiving yards and 19 touchdowns with Tom during the regular season.
Brown was a huge part of Brady's first season and could easily be considered the reason why Brady settled down so quickly. He presented stable leadership for Brady and was always available if Brady was in trouble in the pocket. In Brady's first year, Brown received his first and only Pro Bowl selection and even caught a spectacular 253 yards in the Patriots' championship run. While he never played at that level again, the next player on this list helped Brown carry the load.
5. Deion Branch
Deion Branch spent the first four years of his career with Brady, accounting for 2,744 receiving yards and 14 touchdowns. He won two rings with the Pats, before being traded to Seattle for a first-round pick. He struggled with the abysmal Seahawks before being traded BACK to the Patriots for a fourth-round pick. In his last few years with the Patriots, he added 1,553 receiving yards and 10 touchdowns to his total but failed to win a fourth championship.
That pushed his totals with Brady to 4,297 receiving yards and 24 touchdowns. He never won any individual regular season accolades, but he did win the 2004 Super Bowl MVP award with 11 receptions for 133 yards against the Eagles. Branch was never very flashy, but, like Brown, he was very reliable when it mattered.
4. Randy Moss
Randy Moss is one of the best receivers in NFL history, as well as a recent inductee into the Hall of Fame. He isn't rated higher because his stay with the Pats wasn't very long, with him only playing for three and a half years. It was quite a stroke of genius by Bill Belichick to grab Moss, as he gave up only a fourth-round pick for him in 2007. He only played with Brady for two-and-a-quarter years as Brady suffered a season-ending injury early in 2008. Together, they connected for 2,800 receiving yards and 39 touchdowns.
Just imagine if they were together for both of their entire careers! Unfortunately, they were never able to win a championship together, despite coming close in the 2007 18-1 season (they fell only to the Giants in the Super Bowl). The Pats dealt Moss and a seventh-round pick to the Vikings for a third-rounder in 2010. He didn't play well in the first four games of the season, and it ended his short but sweet stay in New England.
3. Julian Edelman
Edelman rose to success five years into his career after spending the prior four seasons primarily as a punt returner. He has remained one of, if not the, top target(s) for Brady since 2013. While he is special in the regular season, his greatest value arises in the postseason. Since he became a starting receiver, Edelman played in 12 playoff games and has more than 75 yards in 11 of them. He is also only second to Jerry Rice in playoff yards and receptions, plus inside the top 50 in playoff TDs. He even won Super Bowl MVP in 2018, where he had 141 yards in a low scoring victory against the Rams.
Julian's return game has also been very valuable to the Pats as he has the fourth most punt return touchdowns among active players. But his partnership with Brady is where he succeeds most, and it certainly shows with Edelman being seventh in Patriots history for receiving yards and 10th in receiving touchdowns. He was the one bright spot of the offense last year and was snubbed of potentially his first Pro Bowl selection. Hopefully, the Patriots get him help so Edelman can continue playing at a high level.
2. Wes Welker
Wes Welker came in at around the same time as Moss but stayed longer with the team. When he was acquired by the Pats, many thought they overpaid for him. The Patriots gave up a second and seventh-rounder for a guy who didn't even reach 700 receiving yards. But Belichick clearly saw something special as Welker proved everyone wrong by averaging 112 catches, 1,243 yards and six touchdowns per season.
With Brady, Welker had over 6,250 yards and 34 TDs. He ranks 3rd for yards and 8th for touchdowns in Patriots history. He was great in the playoffs like Edelman but never won a championship in six years with the team. Welker's connection with Brady was spectacular, but it still pales in comparison to number one on the list.
1. Rob Gronkowski
When looking at the partnership of Rob Gronkowski and Tom Brady, it is clearly the greatest. Gronk is the best red-zone threat ever, and while he may not unanimously be considered the greatest tight end of all time, he certainly is the most skilled. If Gronk didn't constantly deal with injuries and played another four or five years, he would easily be both the greatest and most skilled tight end of all time.
Despite those nine injury-riddled years, he's the all-time leading receiver for the Patriots, and his 79 career touchdowns are far more than any other Patriot in franchise history. There isn't much more that hasn't already been said about this NFL legend. If he stays retired, his 100 regular-season games started will still be enough for the Hall of Fame.