The freedom to create: Innovation Design and Thinking
Do you want a break from the daily pages of notes and the memorization of terms? Would you rather engage in a class that allows you to think for yourself and create innovative products to solve everyday problems?
If the answer is yes, then take a peek into what WHS calls the "Maker Space," and you'll see shelves upon shelves of raw materials, ready for student use. Colorful sticky notes line the walls to mount student ideas, and a state-of-the-art 3D printer occupies the corner of the room.
At WHS, this class is called "Innovation Design and Thinking," a hands-on design class that teaches students the process of "design thinking," a term coined by the Stanford School of Design.
"The first step in design thinking is to really deeply understand the people involved in the situation and how they operate," Innovation teacher Jay Moody said. "In the context of innovation, we're typically trying to solve a problem, so that we get a clear idea of what the problem is that we're trying to solve."
After the students obtain this deeper understanding, they must ideate a product that will solve the problem at hand. Students use sticky notes to document issues and ideas, then they are grouped together to make prototypes.
"Part of [the sticky note activity] is to learn to act differently than everybody else and to learn to view the world critically," Moody said. "There's a lot that can be improved in the world, and as an innovator, you really need to believe that."
Students like junior Alex Dennis are often attracted by the creative freedom the class provides in addition to the abstract ideas that differ from standard pen-and-paper classes.
"I took the first half of [Innovation] last year, and I really liked it," Dennis said. "Last year, I created a sweatshirt that charges your phone."
The main goal of the third quarter was to design functional tape dispensers. Moody's only requirement was that the dispenser worked, but otherwise, the students were left with a blank slate.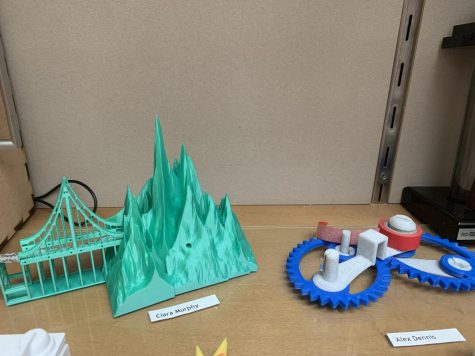 Depending on the size and intricacy of a design, student projects can take anywhere from three to 25 hours to complete using the 3D printer. Although the process is lengthy, students enjoy the process of creating a product.
"The [3D printer] is super awesome [and] super easy, and I really love the whole entire process," senior Ciara Murphy said. "I have learned so much about design thinking and how I view the world. [I've learned to] look at everything as something that can be improved, but also to question my thought process."
One of Moody's greatest beliefs is that he cannot force students to innovate, hence why the the requirements for the tape dispensers was only for them to dispense tape. Moody finds that students often love the liberties the class affords as it allows them to simply be creative.
"I really love how Mr. Moody gave us such easy boundaries [and] really let's creativity come out," Murphy said. "I love the class. [It's] one of my favorite classes I'm taking senior year."
As the year progresses, students will continue to gain experience in the design process, but will ultimately walk away with the ability to think critically and handle a vast majority of real life situations.
"This whole design process is very much an art in the sense that the level of experience you have with doing it makes a big difference," Moody said. "It's not like you learn it once and you're done, but it's more like learning to play the piano: the more you do it, the better you get."
Above all, Moody hopes that students can find happiness in what they're doing while still learning about the process of innovation.
"I'm looking forward to making something that can help more people, something a little bigger instead of an object that helps you in a class," sophomore Gavin Whitman said.