Determination & Incorporation: The math team's road to states
For the first time ever, the WHS math team – once only six people strong – has placed first in all four regional meets and obtained the first-tier rating.
"It's fantastic," math team coach Hannah Marton said. "[Before playoffs], I said to my students that it's already amazing that we are one of the best seven schools in the league, and, whatever we do, I'm so proud that we got in, even if we come in seventh."
The math team worked hard leading up to each meet. In fact, the team met until 5:30 p.m. each day, often practicing without the coach. Marton attributes the math team's effort and commitment to its recent successes.
"Our strength is their knowledge and determination," Marton said. "They teach each other, they practice and they just love math."
As the year progressed, senior captain Michael Liu and junior captain Jet Chung developed strategies and practice regimes modeled after the actual meets and famous math competitions as the American Mathematics Competitions (AMC) and American Invitational Mathematics Examinations (AIME).
"There are usually five topics per meet, and so we'll have the problems printed from past meets, and people can pick them up and work on those," Liu said. "And [afterward], we can usually determine meet assignments based on what people like and what people do well in."
Marton explains that this year's captains have been extremely devoted to the team, teaching the students material way beyond the high school level.
"This is like playing in the NBA to beat your high school league," Chung said. "Overworking and overpreparing is good."
With practices that are of a high difficulty level, students have become more knowledgeable in math than in previous years.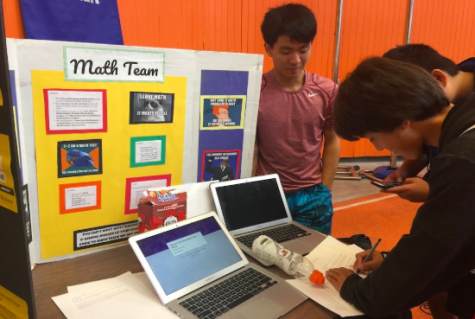 "I have found math team this year to be a really great experience," freshman Jeffrey Huang said. "And I feel like I've learned more than I have ever in previous years."
Despite their success, the team is still relatively young, with two sophomores and two freshmen playing prominent roles.
"All of them are hard workers," Chung said. "But we have to make sure they're consistent before the meets so [that] we can really make sure that they're going to do well in the state meet."
Although they are young, the younger students on the team are focused on doing everything they can do pull their weight.
"I'm sort of the newcomer, the least smart kid on the team right now," Huang said. "So I'm really going to have to practice a lot for the state competition in order to contribute towards the team."
Even with their recent additions, the captains aren't worried about the team's chemistry and feel that the addition of these students has actually benefited them.
"I think [the new students] are a solid part of the team," Liu said. "Kevin [Zhao] is a sophomore this year, and last year he was a really integral part of the team. And now, it feels like the freshmen have also been incorporated into the team."
Although the math team may seem very selective and an intense environment to be in, at the end of the day, all that matters to the team is having fun.
"I think [math team] was very welcoming," freshman Carson Whitehouse said. "I have a couple of friends on the team, so I had a good time hanging out and working on complex things with them."
Liu is a strong believer in the saying, "a journey of a thousand miles begins with a single step" and the belief that finding an activity that you like is the first step to your success. Even if it's just figuring out what that hobby is, at least you're taking a step forward.
"Even if math isn't your favorite [subject] or you're not super interested in it, there's something else as well," Liu said. "Focusing on that little bit is better than not trying at all."