Wayland wrestling competes in All-States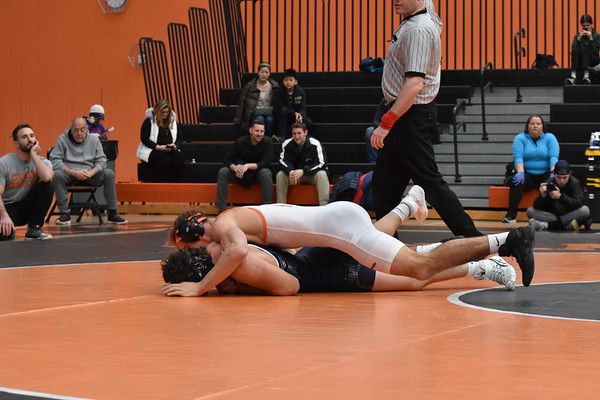 The Wayland varsity wrestling team has a very successful history, and this year was no different. The team ended their regular season with a 17-3 record and have been looking forward to playoffs. Once regular season matches end, playoffs become a brand-new season where the stakes are even higher. This year, Wayland is coming ready to win.
All-States is a tournament involving all divisions, where the top six wrestlers in each weight class come to wrestle in the hopes of advancing to New England's.
This year, Wayland had six wrestlers go to All-States at Methuen High School. All-States happened right after the Division III Central State Tournament, which was hosted at Wayland High School the previous weekend.
With the Wayland wrestlers' long season, it was challenging to find new ways of preparing for All-States. Furthermore, this tournament is so soon after the big Central State Tournament that the athletes needed to be careful not to injure themselves before All-States.
"It's so late in the season, so there's not much more to learn," junior captain Matt Morris said. "We try to keep up our conditioning, but also be safe, so we don't hurt ourselves in practice."
Many forget the intensity tournaments bring and the commitment that comes with wrestling. All-States is where the best of the best go to compete for top honors. The formidable competition lends itself to a highly charged atmosphere. The wrestlers who qualify for All-States have worked intensely to get there and are hungry to win.
"It's a really tough tournament and most kids are super serious about it because they want to win so badly," Morris said.
This year will be Morris' second time at All-States. As a team leader, his familiarity with the environment and pressure will be beneficial to newer wrestlers lacking the experience. At the event, it is difficult to anticipate how long the tournament will last, because there are many wrestlers who have to compete multiple times. As a result, the team works on mental preparation to stay focused and positive throughout the long day of competition.
"I liked how our team could keep the mood light and find the fun out of the long, treacherous hours," Morris said.
The Wayland wrestlers focused on enjoying the experience because, for many of them, it was their first time being at All-States and wanted to savor the moment. Senior Emma Sheehan made Wayland history when she placed third at Girls' States. She became the first female in the Wayland program to win a medal at the tournament.
For senior captain Cam Jones (170), he placed 5th at all-states while earning his 100th career victory and qualified for New Englands. Morris (285) placed 6th at All-States where he also qualified for New Englands. Both senior Marcos Pereira (182) and sophomore Greg Deeley (138) placed 8th at All-States
The Wayland wrestling team is excited to support Jones and Morris in their quest for success at New England's this weekend starting on March 7th. They are also committed to continuing their tradition of excellence throughout the upcoming year.
"I think it was a really fun experience to see how good the best wrestlers in the state are, and how determined they are to do well," senior Marcos Pereira said.