Emma Sheehan wrestles in girls all-states over boys sectionals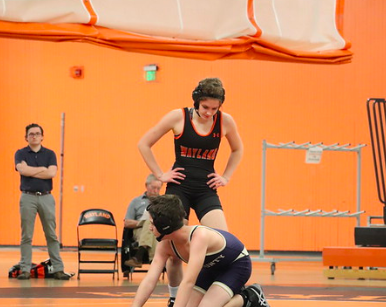 The WHS wrestling team was forced to compete at sectionals without its third seed, as senior Emma Sheehan made the decision to participate in girls all-states instead. Wrestling has historically been a sport WHS has dominated. Its Dual County League (DCL) title this past January marks the 39th in the program's history. The team won 2019-20 sectionals on the weekend of Feb. 15.
Sheehan began wrestling her sophomore year and after her first season came to an end, she did a full season of club wrestling to continue honing her skills. However, her junior season came to an abrupt end when she tore her labrum, which caused her to miss out on another season of club wrestling and was a major hit to her confidence. Nevertheless, she was eventually able to overcome her injury and achieve unprecedented success.
"Once I got into the flow of things and gained more of my confidence back, I started to have a lot of successes," Sheehan said, "I [had] at least thirteen or fourteen wins this season which is a lot better than the one win I had sophomore year."
Wrestling against boys is uncommon for most girl wrestlers, who usually prefer to stick with competitors of the same gender, but Sheehan chose to go against the grain and dominated regardless, which did not go unnoticed.
"I believe she had thirteen wins in the regular season, and that was all against boys," wrestling coach Scott Parseghian said. "That was a highlight to see her get that many wins wrestling boys. A lot of girls she faced in the state championship just listed that they were wrestling girls, but Emma did both and succeeded."
The improved performance was not the only change Sheehan experienced this year. Before last year, the Massachusetts Interscholastic Athletics Association (MIAA) had not sanctioned girls wrestling and there was no official girls states competition, but this season Sheehan was forced to make a decision as to whether or not she would wrestle in boys sectionals or girls states after competing against boys all season.
"For me, the decision was actually pretty difficult because I was a varsity starter the entire season," Sheehan said, "So I didn't really know what it would be like to wrestle girls."
Ultimately, Sheehan decided to step out of her comfort zone and compete on the girls' side in the hopes of finishing in a higher position than she would in the boy's competition.
"It was a choice of either I do okay in boys sectionals and then get out pretty early on at states, or I could have a real chance of getting on the wall in the wrestling room for girls states, which I did," Sheehan said.
Sheehan performed incredibly well at states, pinning the first seed wrestler and finishing third overall despite an error with the bracket. However, there were some downsides to her decision. By participating in the girls state tournament, Sheehan was completely barred from competing in any postseason events on the boys side from sectionals onward.
"In order for a boy to get to [states] they have to go through a sectional tournament," head wrestling coach Sean Chase said, "For the girls side, there is no sectional tournament, so in theory you could allow the girls to wrestle in the sectionals with the boys and be part of the team and then let them go to girls states, but the MIAA decided not to do that."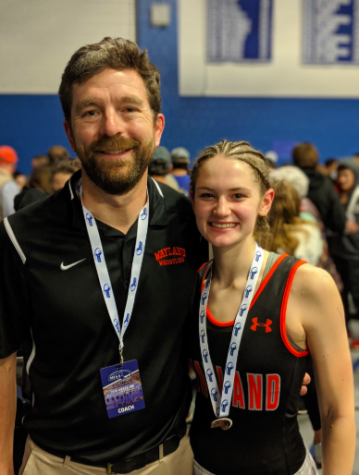 Chase believes that the MIAA decision was justified in that girls will always prefer to wrestle other girls. However, he thinks that the issue of what is and isn't fair when it comes to the gender divide in sports often doesn't line up with what seems intuitively correct.
"What's interesting about girls and boys sports is that what's fair is not always what's equitable, and so that's an issue teams have to grapple with," Chase said.
Sheehan agrees that there was some level of disappointment with regard to how the MIAA handled the situation.
"It was unfortunate that MIAA makes the girls choose between the team that we wrestle for all season and our gender," Sheehan said, "But they have their reasonings, so at the end of the day, I understand it."
Successful female wrestlers, while more common than they used to be, are still considered unconventional. Yet, Sheehan clearly won her share of matches, drawing praise from her teammates and coaches while also becoming one of the more well-known girl wrestlers to go through the Wayland program.
"We have had a couple of other girls come through the program," Parseghian said. "The only one that really stands out, that really committed, is Jess Hayward. Other than that, we've had a few girls that have tried it and maybe not committed fully for the year. Emma came out sophomore year and put three strong years into it."
The success of a girl in a predominantly male sport stands out as an impressive feat. It even draws comparisons to other recent memories regarding the breaking of gender norms, like the success of the three senior boys on the field hockey team.
"Throughout the season, she was on varsity starting for her weight class the whole season," sophomore wrestler David Luo said. "No one had any problems with her being on the team, with her being a girl. She beat most of the kids who went against her that were boys, and there were no complaints. It's kind of like the [Ethan and Zeke Betancourt] and Aiden Chitkara on the field hockey team, and them succeeding in a mainly girls sport."
Despite remaining focused on perfecting her craft, Sheehan still took the time to provide a source of leadership. This was especially the case when it came to first-year wrestlers looking to hone raw talent and athleticism into a winning style of play.
"She helped me learn and execute wrestling moves because I'm only just learning the sport and I'm around her weight class," Luo said. "It was hard to learn the game at first, but Emma made some things easier to pick up."
Thanks to her triumph in the tournament, Emma will now officially be on the illustrious "Wall," which wrestlers' photos get placed on if they manage to fit at least one of three benchmarks.
"I think her number one goal was to get on "the Wall", which you can see in the wrestling room," Parseghian said. "The criteria is you have to be a sectional champ, state finalist, or place in all states. I think her looking at her best opportunity to get on the wall was to compete in the girls all states, where she managed to get third place."
Throughout both low points and high points, from fighting back from an injury to capturing 13 victories against boys, Sheehan remained motivated and unwilling to give up. While she would prefer not having to make the decision between wrestling against boys or girls, she's pretty confident that she chose correctly.
"It was definitely the right decision because I now get to say that I am the first girl on the wall at Wayland High School," Sheehan said.