Wayland FBLA looks to grow despite Coronavirus cancellations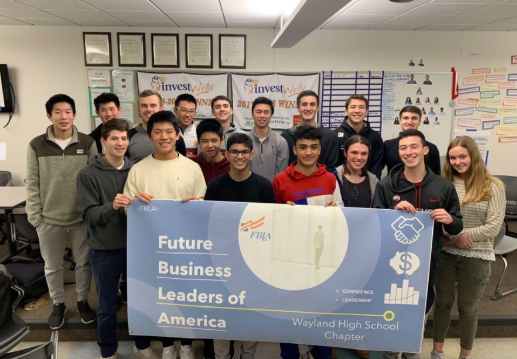 The Future Business Leaders of America(FBLA) club is a group of students designed to learn about all topics related to business. Students then take that learning into action at an annual conference. The club is a part of a national organization, which gives clubs built-in responsibilities. They had been preparing for an upcoming conference which was canceled due to the spread of Coronavirus, but the Wayland chapter is still hoping to grow as a club.
"[FBLA] is a national organization that helps teach students about topics in business and prepare them for careers in business," club member junior Matt Najemy said.
During a normal club meeting, the group of ambitious students join together to talk about and learn about all things business.
"In a normal club meeting, we would do some learning on both the stock market and how it works. [Also], the innovation design process in producing a product that solves a problem in the world," club member junior Michael Long said. "Then, we would move into a brainstorming session on the problems we face in our everyday lives, and potential solutions to those problems."
This club has been around for a while at WHS. However, this year the leaders decided to change the way it is structured. It has gone from being focused on solely economics to a wider range of all business topics. Junior Sashwat Das believes that this adds a more engaging factor to the group of FBLA students.
"In the past, it has been focused on economics," club leader junior Sashwat Das said. "But this year, we have decided to focus it on entrepreneurship, business and how to go from an idea to a small business, and continue to expand that business."
Throughout the year, the club has been focused on an upcoming conference in Natick, with most other FBLA clubs around the Metrowest area. However, the conference was cancelled due to COVID-19.
"We prepared for the conference mostly through the learning portions [about it] at the beginning of the meetings," Long said.
The conference itself is called the State Leadership Conference, led by the Massachusetts FBLA chapter. It is an important benchmark for all up and coming FBLA clubs to compete in various competitions related to skills necessary for business.
"It is a networking conference, but there are also a bunch of competitions involved, [around] 20 to 30," Das said. "Some of them are performance competitions where judges grade you on your performance on public speaking. Others are tests; you take a test and if you score high enough you move on to the next round."
If the club competed well at the state level, it would be promoted to the national level. Because the conference was ultimately cancelled, its members will look to continue to grow their skills on subjects that they were working to learn earlier in the year.
"So for the rest of the year, I am not a hundred percent sure how this works, but I think if you do well enough at this conference you could be invited to national events, so if that happens that would be cool," Das said. "If not, we will be thinking about entrepreneurship, the design process, and pushing a business up. Really putting ideas into reality."
Despite COVID-19 causing the cancellation of the conference, when school continues, Wayland's FBLA will strive to continue to learn about business and look to grow the club.
Since all of the club leaders are juniors, they will be back to run the club again next year. They will look to attend the same conference and to better the club through its biweekly meetings.
"We plan to keep the club running next year, and hopefully attend the State Leadership Conference as well," Najemy said. "After next year all of the officers will be graduating so we plan on passing it down to most likely a group of incoming seniors who we know will keep it running."