Taylor Hsu: Tennis helps me learn to treat everyone equally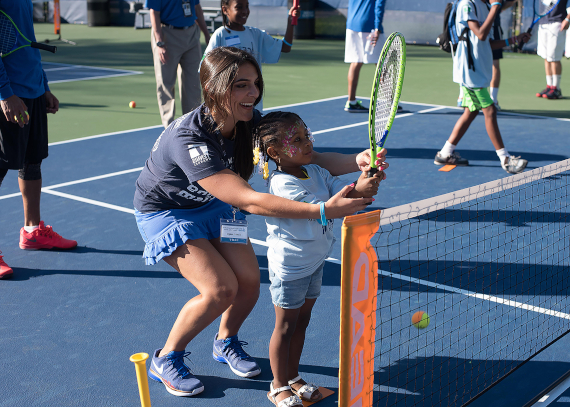 Many high school kids at this age can have trouble finding a job they enjoy that pays well. For sophomore Taylor Hsu, this isn't the case. For the past two years, Hsu has been working at the local Longfellow Tennis and Health Club. At Longfellow, he works with and teaches kids with autism how to play tennis.
Hsu works with an organization called ACEing Autism. Their goal is to connect kids with autism through different tennis programs and make a positive impact on these kids' lives. The Wayland Longfellow has teamed up with ACEing Autism to give kids in its community the opportunity to work with the organization.
Hsu decided to take his passion for tennis and his personal experience with autism in his life and work with ACEing Autism. There were a few components that made Hsu interested in doing this.
Hsu has a cousin with autism, but he doesn't get to see him a lot, so he decided to work with autistic kids. He wanted to connect with kids like his cousin and teach them how to play a sport that they don't know and probably would never get an opportunity like to learn. His brother, senior Jasper Hsu, who also did the program, influenced his decision to start working at Longfellow.
"My brother was a big part of me deciding to do this because he had done it and told me how much he loved working with these kids," Hsu said.
This was the perfect job for him and what he was looking for. After having worked there for two years, he has learned how good of an experience it has been to work with these kids and learn how to interact with them. He wants to continue learning from this experience and getting as much out of it.
"I want to help as many people as I can and make sure they are loving their experience with me," Hsu said. "I want to make kids better and give back."
The organization ACEing Autism has helped over 1,400 kids with autism with 73 different program locations in 29 states. It has impacted kids all across the country and has brought a lot of people together. It is a great way to give back to the community and help kids who may feel different be a part of something and learn the game of tennis. They get to connect with kids like themself and be taught by volunteers like Hsu.
Hsu intends to give back to his community and help kids that need help. He tries to make kids feel comfortable when they come to Longfellow and make them feel like they belong in their community. Playing tennis is a great way to connect these kids, and Hsu has changed a lot being able to work with them.
"I think it helps me connect with people and learn to treat everyone equally," Hsu said. "In the end, they are just kids and are looking for a place to fit in. This is a great place for them to go, and I try my best to make them feel comfortable and have fun while they learn how to play tennis."
In the beginning, Hsu was just looking for a well-paying job. After he started at the job, he has realized how amazing it is, and he absolutely loves it. Although this isn't a job Hsu sees himself pursuing in the far future, he understands how great it is and it has definitely given him a great life experience.
"It makes me feel like I am just doing a good deed," Hsu said. "I have loved it, and it has taught me so much about interacting with people who are different."