Boy Scouts: core values, life lessons and bankruptcy
In 1924, Wayland was no more than a small farm town, with dirt roads and a single police officer. There are very few organizations that were established in that year that are still operating, but Boy Scouts Troop 1 Cochituate is an exception: they have been serving generations of Wayland boys for nearly 100 years.
The troop was founded by a small group of Methodist churchgoers who dubbed themselves "the Group of Citizens," and used their church as a meeting place.
In the last century, Troop 1 has grown and adapted with the times: In 1952, the troop acquired its current clubhouse from a discontinuing summer camp. The original renovation tripled the size of the cabin, revamping the meeting room and adding a kitchen and restrooms. Merit badges have evolved to mirror the skills and experience that benefit the scouts. In the past, badges could be earned for raising cattle or beekeeping, and were often agriculturally based. Now, scouts can earn a merit badge in nuclear or computer science.
But, much remains the same. The troop is still committed to fostering their traditional values of independence, leadership and self-sufficiency.
"I think [the scouts] definitely shaped me into the person I am today," junior Sashwat Das said. "It taught me my core values [and] the boy scout pledge [to be] trustworthy, loyal, helpful, friendly, courteous, kind, cheerful, brave, etcetera. All those things have brought into my life and shaped me and made me who I am today."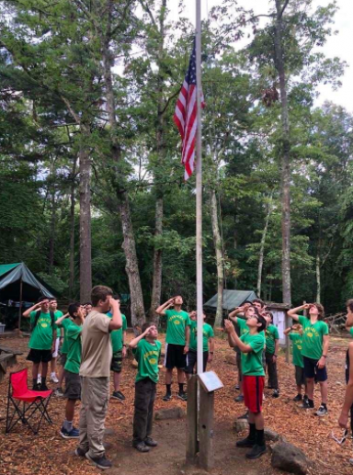 Junior Eric Cahaly has been a Boy Scout since the age of 10 and describes having a similar experience.
"Boy Scouts has had countless positive impacts on my life," Cahaly said. "I've done stuff I can't do anywhere else. I have also learned a lot of skills like how to lead, how to cook, first aid, how to camp, make new friends and much much more."
Troop members still participate in classic activities like camping, hiking, learning first aid and working with tools, which Boy Scout committee chairman Mathew Karpacz believes is especially important in a world that decreasingly values such skills.
"People don't do that sort of thing anymore," Karpacz said. "We believe that scouting prepares you for life because it gives you additional learning. You learn a lot in school, a lot from your family, but there's one more element of development that you get from scouts that you may not get from other areas of your life."
Troop 1 runs its troop so that every scout has the opportunity to participate. The program offers scholarships for scouts in need by raising money through its annual Christmas tree sale and pancake breakfast. Both fundraisers are run entirely by the scouts themselves.
"[At the pancake breakfast], the scouts prepare the food, they cook the food [and] they serve the food," Karpacz said. "No helicopter parents. They do all the work themselves."
This independence is a pillar of the troop's beliefs because part of the Boy Scouts' mission is to help young boys grow to be self-sufficient.
"When you're a leader in boy scouts, you do all the work," Karpacz said. "That's leadership. When you're an eagle scout, you do the planning and the work, and you get that life experience."
An Eagle Scout is the highest of the seven ranks a boy scout can achieve. According to Troop 1's website, "It requires the utmost dedication and many years of hard work by earning required Merit Badges, performing community service, and ultimately, completing one's Eagle Project."
Prospective Eagle Scouts must develop and lead their own "Eagle Project," in which Scouts serve the community.
Das' project is building three mini-libraries to install around town. Other past projects have included making raised garden beds for the Food Pantry, benches for the elementary schools, trailhead kiosks and a gaga ball pit.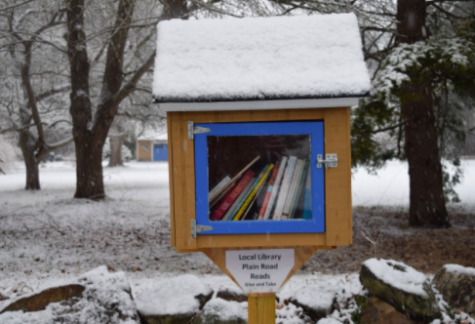 Troop 1 also built the check-in station at the Wayland Town Beach, raised walkways on trails and spent hours helping the town clerk digitize important data.
"We're kind of a secret," Karpacz said. "A lot of people don't know that we do all we do."
Most people, however, are aware of the national organization, Boy Scouts of America (BSA), is currently in crisis. In the past decade, BSA has seen a 26 percent decline in membership. In the past, every boy associated with the Morman Church automatically became a Boy Scout, making up about 20 percent of the Boy Scouts' population, but they recently cut ties.
In the same 10 years, investigations and lawsuits unearthed thousands of Boy Scout documents since named the "perversion files" by the media, as they consist of 7,800 names of scout leaders who molested young scouts. The list dates back to the 1940's.
The files were made public during a 2010 civil case concerning the abuse of six boys by a scout leader in the 1980s. As of now, the boy scouts are facing some 300 cases from men who say they were abused as children.
In order to provide compensation for the victims, BSA filed for Chapter 11 bankruptcy, which will allow them to continue to operate while creating a trust fund to pay victims.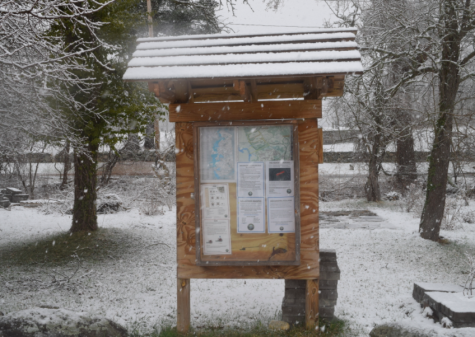 "[The boy scouts] filed for bankruptcy for some awful, awful, awful things," Karpacz said. "Nothing ever happened in Wayland, but it did happen, and it happened elsewhere, and since then, the boy scouts have put in lots of safeguards to protect children. I really believe boy scouts is one of the safest organizations now."
Financially, Troop 1 is completely independent from the part of BSA that filed for bankruptcy. In fact, Troop 1 is also a 501(3)(c) organization called Wayland Scouters Inc., which in basic terms means it's a charity. This is what supports Troop 1 and is actually "quite healthy," Karpacz said.
Nationwide, scouting will continue into an uncertain future, but in Wayland, Troop 1 remains strong and hopes to continue to serve local boys for generations to come.
"We see [the Scouts] as six graders who are knuckleheads, and leave as men with facial hair," Karpacz said. "It's extraordinary. I don't know of any other programs that stay a part of a boy's life like that."