29 Years Later: The Story of the 1991 WHS Boys Basketball Team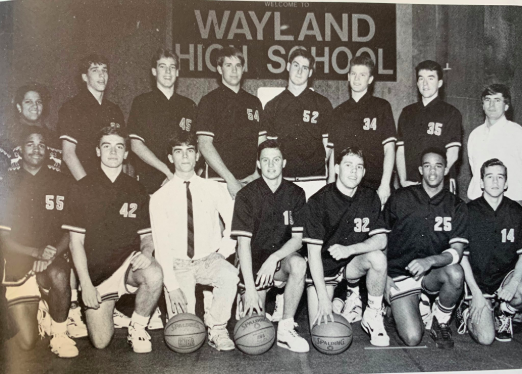 The 1991 Wayland boys basketball team was one of the greatest basketball teams ever assembled at Wayland High School. In the Winter of '91, they won a state championship at the DCU Center, previously known as the Worcester Centrum. Getting to the state tournament is very difficult. This past season, however, Wayland won the sectional finals and had its first state tournament berth since the 1991 team.
An opportunity that arises as teams go deeper into the tournament is the chance to play in larger arenas. The 1991 team had that chance twice: playing in the Boston Garden and Worcester Centrum.
"Growing up in the 80's with Larry Bird and those great teams playing for Championships every year, we got to play on that same floor and use the same locker room," 1991 basketball player Keir Thielen said. "With all that nostalgia and history, it was surreal."
On most successful teams, once you play together, you have a bond. Not only the time spent practicing and playing together, but even the long bus rides, push athletes to connect with one another. On the 1991 team, the athletes started to bond long before high school came around.
"We were a group of kids who started playing together at the town hall gym as third graders, and built from there," 1991 Wayland basketball player, and current WHS Boys Varsity Basketball head coach, Dennis Doherty said. "We are brothers forever."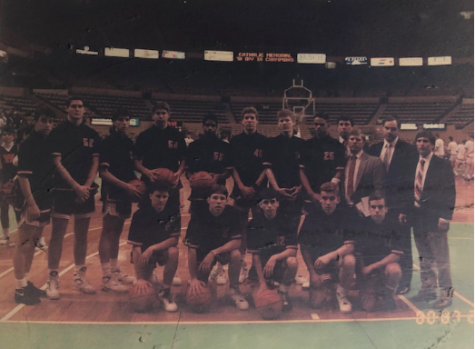 A big reason for Wayland's success was head coach Joe Porrell. Porrell, a former teacher at WHS, coached Wayland for 20 years, winning two state championships, one in 1981, and of course, 1991. During his tenure at Wayland, Porrell won 313 games against 140 losses. During the postseason, Porrell instilled in his players to remain focused during the nerve-wracking situations.
"The tournament games definitely had a more tense feel to them compared to the regular season, but we knew how to stay ultra focused and disciplined because it came natural to us from our experience," Thielen said. "Coach Joe Porell was hard on us but he made sure we were well conditioned and focused on the task at hand."
As many around Wayland know, Doherty wasn't just the starting point guard for Wayland in 1991, but is now the head coach. He recently led Wayland to its first sectional title since that of the team that he played on. While some might think the members on the '91 team wanted to hold onto being the last team to make it to the state tournament, they were supportive of Doherty's group through the whole year.
"During our recent state tournament run, there was a text chain going around, and the '91 team was cheering for the '20 team in a big way," Doherty said. "They wanted to hear all about the team [and] the games. It was pretty cool."
Doherty saw many similarities between his team in 1991 and the team he was coaching this year. They were both resilient and persevered through whatever challenges came their way. Not only that, but each team was together throughout the entire regular season and playoff run.
"Both teams had dedicated basketball players who were friends and genuinely cared about each other," Doherty said. "The focus of both teams was winning, individual stats and goals did not matter. It was all about the team."
While the '91 team was on the minds of many of the families following this year's team, the athletes playing under Doherty did not think much about it. They were trying to make history themselves, and not be distracted by the spotlight that this team had put on them.
"Going in, we obviously knew how long it had been since a Wayland team had brought home a title, but we weren't focused on that," Boys Varsity Basketball junior captain Noah Lee said. "Our focus was beating Hopkinton on March 7, 2020, and not on the 29 year drought."
It is difficult to compare the playing styles of the game of basketball in the nineties versus the current day. Nevertheless, Doherty could teach his players the mentality of playing in the brightest spotlight.
"Doherty had never really talked about his 1991 team in a basketball sense, but has definitely informed us of the bond that team created off the floor," Lee said. "His experience [in] winning a state title has definitely helped as he coached us."
While both teams were very different, they drew the community together. Both of these teams set examples to the future of Wayland basketball about what it takes to have success at the state level.
"The '91 squad wants the '20 team to know that we are very proud of this year's team and all that they accomplished," Doherty said. "Both teams represented Wayland with pride and dignity."
About the Writer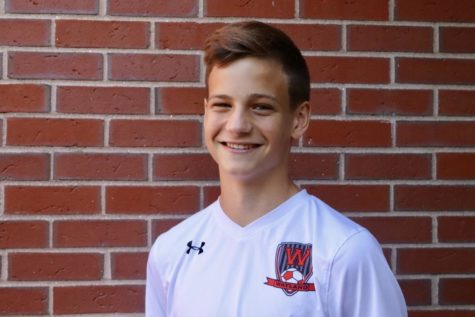 Garrett Spooner, Sports Broadcast Editor
Garrett Spooner, Class of 2022, is a second year reporter and assistant sports broadcast editor for WSPN. He plays for the high school's soccer and basketball...