Coronavirus clashes with the Class of 2020's senior plans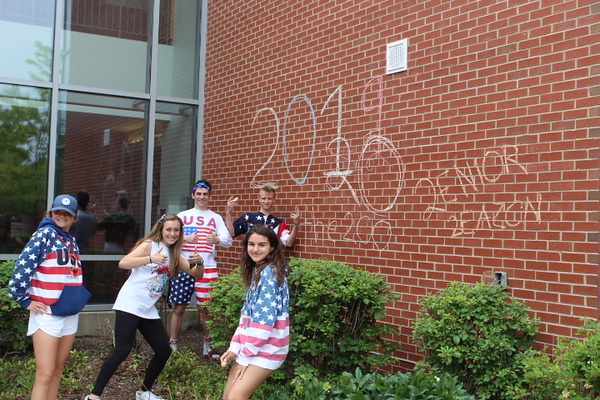 Many students dream of their senior year from the moment they enter high school, but for the Class of 2020, there have been constant uncertainties pervading the second half of the school year, creating a less than perfect ending to the students' academic careers.
Kicked off by the Senior Show and wrapped up by graduation with other fun activities such as the senior cruise in between, an excitement fills the air when the thought of senior spring fills the minds of students. But due to COVID-19, the senior show, currently postponed to late May, is up in the air, and other spring activities may not occur either.
Senior Show directors Fatma Sayeh, Owen Smith, Stone Harris and Emma Kiernan have put in countless hours of work and preparation for the Senior Show. All of their time and effort would go to waste if there was not a show, so the administration is trying not to cancel it.
"It was definitely time-consuming, and we were running around every day," Sayeh said. "We would stay at the high school from 3:30-9 [p.m.] some nights, and then we had a lot of work to do at home as well, so it definitely was draining, [but it] was always worth it though."
While the administration is trying hard to preserve what it can out of senior spring and the Senior Show, it is hard to get a good picture of what COVID-19 will look like in a few months or even a few weeks.
"We are all staying open-minded and positive," Sayeh said. "Administration has been really supportive through it all – Mr. [Lee] Krasnoo has been a remarkable class adviser as well as working hard to help us enjoy the time we have left."
In a meeting last Friday, Senior Show directors and administrators discussed several ideas regarding how to move forward with the event.
"For right now, the show is scheduled for May – if that doesn't happen, then we could potentially make it a movie and sell it online or do some sort of outside drive-in viewing on a projector or something," Sayeh said.
Unfortunately, most of the money for activities like the cruise and the rest of senior week comes from ticket sales for the Senior Show. Therefore, if the Senior Show does not occur, the senior class will have a hard time trying to get the money together for other activities that may not be canceled.
"The Senior Show is a way we pay for a lot of senior week and reduce the price of senior dues, so unfortunately without it, we are really in a hard place," Sayeh said.
However, the Class of 2020's E-Board is working hard to come up with fundraising in case the Senior Show is canceled.
"E-Board is back to the drawing board in figuring out ways to raise money for our senior activities [because] the Senior Show is no longer a stable source of money to put towards our senior week," Sayeh said.
The senior class is no stranger to change as their senior year has been filled with a new administration, multiple deadly viruses and a shortage of sports.
"We've had to deal with new start times, new administration, no fields, no home games, no night games, the entire EEE thing and now coronavirus, which is delaying our sports season and is going to most likely cancel events such as the Senior Show, graduation and senior week," senior Zeke Betancourt said. "Most importantly, we won't be able to spend our last months at school together with our friends."
Overall, seniors are really sad that this year has come to this, and the fate of their last months of school is unknown.
"The thought of not having a graduation and senior activities really shakes us, but we know that what is meant to happen will," Sayeh said. "However, I know that everyone's health is more important, so sadly it makes sense that we would have to sacrifice our senior spring for people's health."
Many seniors are also struggling to grasp the fact that March 12 could have been their last day attending Wayland High School.
"It's not even just missing out on big senior year activities like the cruise, but I am most upset about not getting to spend weekends with my friends laughing and making memories with the people who I've grown up with," senior Julia Pak said.
Although there is lots of uncertainty surrounding the end of the school year, members of the 2020 E-Board are positive they will be able to make do with the situation at hand.
"The uncertainty of the COVID-19 situation is definitely unsettling, but seniors should know we are going to have an event that will celebrate all of our past four years of hard work and accomplishments," senior class president Ciara Murphy said. "We have been through many ups and downs during our high school careers, and it only makes us stronger."
In addition to the 2020 E-Board, the administration is also working tirelessly to ensure that the senior class gets to have their well-deserved senior spring.
"We will do everything we can to plan for these events given our circumstances, and if the timing or nature of the events needs to change, then we will support new ideas and ways of coming together, too," WHS Principal Allyson Mizoguchi said.
While every senior is in a tough position and certainly has been through many tough situations this year, they hope for a light at the end of the tunnel.
"For now, take the time to rest, reflect, create, read and think," Mizoguchi said. "Go for a long run. Compose a new song. Make some new goals for yourself. Sing. Write a letter. Finish a project you've been wanting to complete. Hang out with your family. Make the most of this time, and do your part to stay healthy and safe."