Students adapt to 2020 campaign shifts amid coronavirus pandemic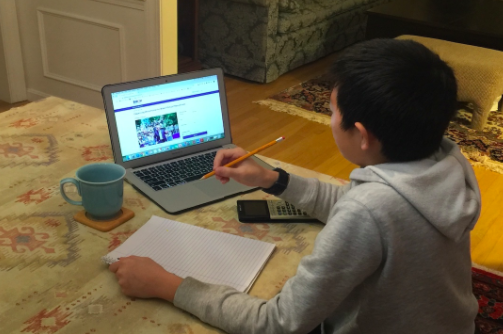 Many WHS seniors and a good portion of juniors will be eligible to vote this November, but the candidates they will be selecting have had to make some drastic changes to their campaigns in the face of the global panic surrounding COVID-19. With the majority of large gatherings now being canceled in order to slow the spread of the disease, students who were planning on attending rallies or town halls for local, state, or federal candidates will now have to settle for online alternatives. The effects that the virus will have on every aspect of the political process will have both pros and cons for everyone involved.
With fears of COVID-19 growing, more people have started to focus less on political matters and more on staying healthy. In fact, the news is so overrun with news regarding the spread of COVID-19 that it's become difficult for access to news regarding politics.
"It's difficult for the candidates to get their message across," senior Will Gardner said. "Especially during a time where there's so much uncertainty and people are worrying about the coronavirus, rather than who they vote for in November."
Despite the ambiguity for some voters, the switch to online platforms won't deter their political stance. However, others may experience trouble.
"It's not going to change who I vote for in November," Gardner said. "But, I think for some voters, it will be difficult to learn about the candidates' messages if they are undecided."
This is an especially big hurdle for those people without access to technology and those who aren't as technologically advanced as others.
"I think it hurts older voters who may not be accessible to a computer or who are not as technologically savvy as millennials or first-time voters," Gardner said.
On the other hand, those people that are able to access information on candidates could gain knowledge that sways them in the direction of a candidate with corresponding political views.
"Social media is such a huge platform for voters like myself who use it all the time," Gardner said. "So, if people are willing to go online and view candidates' rallies on social media, then I think it's valuable."
Since the 2016 election, there's been much speculation on Russia's impact on the ballots. Furthermore, many people won't go to the lengths to discover the real truth behind who online sources are telling them to support.
"There could be risks with hacking," senior Simon Fidlin said. "I feel like people tend to be lazy when doing [research] online."
If ballots to shift to online platforms, this could mean an increase in vulnerability and a greater chance of foreign interference.
"There's going to be more margin for error if voters cast their ballots online," Gardner said. "Especially since foreign interference in our elections could be a massive problem in our country."
Above all, some people feel that the genuineness in a voting pool is of the utmost importance and appreciate this notion of security when voting.
"I like to vote in person because it's in a secure environment and I don't feel like my vote is being jeopardized in any way," Gardner said.
However, despite the obvious drawbacks that online campaigning presents, a silver lining still exists. Now that students have free time and can attend these events from the comfort of their own homes, their participation has the potential to skyrocket.
"I have not listened to any [online campaign events] but I think I would plan to," junior Aiden Zhang said. "What else am I going to do?"
Fidlin agrees that online platforms could make voter turnout rebound from the historically low numbers we see today. In addition to students, he believes that adults in the workforce will now also have the time to get informed.
"Hopefully, more people will be able to vote as [engaging in politics] becomes less time-consuming," Fidlin said.
Zhang doesn't believe that the switch to online platforms will seriously harm any given candidate's ability to attract voters or get their message across. He believes that their words will have the same effect on Americans whether they come from the screen or the stage.
"I think getting a feel for a candidate is less important than looking at what they're proposing on the policy side and I don't think that really changes whether or not you're reading about it on a screen or listening to them talk about it in person," Zhang said.
Overall, Zhang firmly believes that the majority of political campaigns will find a method to work around the coronavirus and its effect on the elections will be negligible. Regardless of whether or not students and candidates are pleased or disappointed with the changes coronavirus has brought to the 2020 election cycle, chances are they're going to have to accept them.
"I think coronavirus is going to last to such an extent that [politicians] will have to adapt to have a stronger online presence or just work around it," Zhang said.