Forced Home: WHS graduates' abroad programs cut short by COVID-19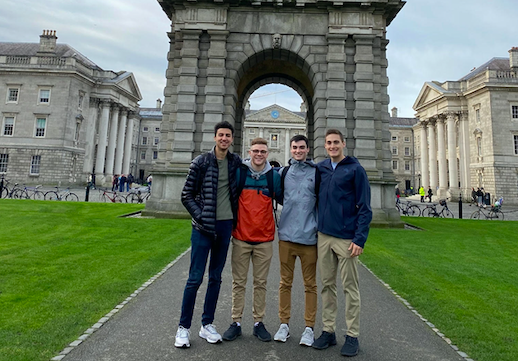 Trump announced last month that there would be oncoming travel restrictions for people coming into America, which caused chaos and panic for many U.S. citizens in European countries. Among the many buying tickets to get home as soon as possible were Wayland High School graduates who were studying abroad. One WHS graduate who was affected was Natalie Roussina, who is now a sophomore at Quinnipiac University.
"I was studying abroad in Athens, Greece," Roussina said. "I was supposed to be there until May 6, and I have officially returned on March 20."
Roussina's program was cancelled due to coronavirus spreading throughout Greece, so her studies were cut by about a month and a half. A WHS graduate who lost even more time was Kieran Ireland, who is now a sophomore attending Carnegie Mellon University.
"I came home three months early," Ireland said. "There was a couple weeks of speculation that we were going to go home. One night, at around 12:30 a.m., we got an email that the program was cancelled."
Ireland was studying abroad in Paris, France, and he lost three valuable months due to his program getting cut short due to the spread of the coronavirus. Because many travelers were rushing home for safety precautions, many airports were chaotic, but Ireland did not face the chaos during his trip home.
"Surprisingly enough, the airports weren't terrible," Ireland said. "Apparently the day before we were at the airport and the days after we were there were really crazy, so my friends and I really lucked out. It was still a bit chaotic, but it was alright."
Unlike Ireland, former WHS student Brendan Ferrick, who is currently a junior at Stonehill College, faced many difficulties at the airport on his flight home. Ferrick was studying abroad in Dublin, Ireland. He was supposed to be there for a total of four months, and his trip was cut off right in the middle.
"The airport process was very stressful," Ferrick said. "Dublin airport has this pre-clearance, pre-check thing where you go through the U.S. customs while you're still in Dublin. That took us about three-and-a-half hours. We were in a giant line with a ton of other people trying to get to America mixed with people from just Ireland but also people who were taking connecting flights from all over Europe into Ireland knowing that the travel ban was not in effect there."
Ferrick's abroad program was suspended roughly 24 hours after the president announced that all travel from Europe to the U.S. would be restricted, excluding Great Britain and Ireland. Ferrick's program suspension caused cancellation of several trips he was supposed to embark on in the coming months.
"We definitely missed out on a lot [having to go home]," Ferrick said. "Two of my best friends were studying in Rome, and they had to go home earlier so that put a damper on the overall mood. We were supposed to go to Barcelona, Amsterdam and Budapest for the remainder of our time there, but those three trips got cancelled."
For Roussina, potentially being stuck in another country caused her to have anxiety and worrisome thoughts.
"A lot of anxiety came with [being quarantined]," Roussina siad. "Anxiety about if I would even be able to get home or if I would just be stuck in Greece. It was just not pleasant."
Along with the anxiety, Roussina mentioned that she lost a lot of money from having to book new flights home multiple times.
"When they told us that we had to leave within 48 hours, I had to change my ticket again and pay extra money," Roussina said. "So, it's also a huge financial burden."
While losing a part of their trip abroad is definitely upsetting, the students understand that it was a necessary precaution to take during this COVID-19 crisis.
"Looking back, obviously I was upset in the moment that I had to leave, but safety first in a lot of these situations," Ferrick said. "Obviously, I was upset, but it was probably the right call."