Colleges drop standardized test requirement due to COVID-19 outbreak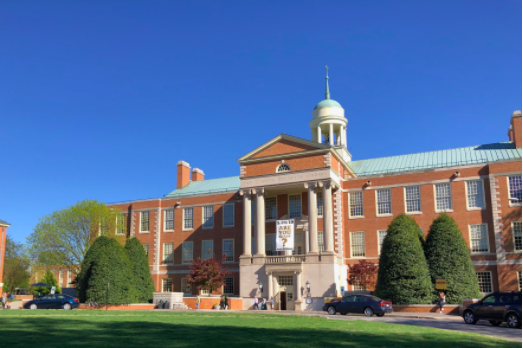 Colleges across the United States have begun to switch over to a test-optional policy because of the coronavirus outbreak. Due to COVID-19, the SAT and ACT have cancelled upcoming testing dates in fear of spreading the virus. The cancellations have made it difficult for the Class of 2021 to take the standardized tests after preparing for months on end.
Junior Aydan McGah was planning on taking the ACT in April, but the date was quickly cancelled after numerous regulations were put into place because of COVID-19.
"I had a tutor to help me prepare, but I ended up canceling our sessions for now since it wasn't worth paying for it months in advance of the new date," McGah said. "I'm upset that some schools are becoming test-optional because I've been studying hard for the ACT and have put a lot of time, effort and money into it, hoping to do well."
Similar to McGah, junior Luca Norian was hoping to take the SAT in March after meeting with his tutor weekly for the last few months, but Norian believes that all colleges should follow the test-optional policy even if the coronavirus outbreak hadn't happened.
"I think the tests were already skewed towards more wealthy people, and it's unfair to disadvantage people who can't afford tutors," Norian said. "Schools should already be test-optional, but especially with the coronavirus occurring, there have been a lot of job losses across the U.S., which means it might be even more difficult for kids to afford to pay for the test and tutors."
Like Norian, junior Emmie O'Shaughnessy, who was planning to take one of the standardized tests this year, also sees problems with inequality in the college process.
"Personally, I think that the college process is unfair in general, and this option is definitely going to relieve stress off of some students," O'Shaughnessy said. "Many students pay a lot of money for tutors and college coaches, but not all students have that option. I think that this option will be of benefit for many families."
Besides the fear of spreading the virus, many colleges have dropped the standardized testing requirement because the Class of 2021 will not have as many opportunities to take the test. Junior James Waldron believes that colleges going test-optional will benefit all parties.
"For those who perform well on standardized tests, they could still submit their scores, but those who don't would not be penalized for having a bad score," Waldron said. "A couple of the schools I'm applying to have recently become test-optional, although some were already test-optional before the pandemic."
Unfortunately, many juniors don't know when they will be able to take the SAT or ACT. Although the testing dates for this summer have yet to be cancelled, many students assume they will be cancelled.
"I'm now planning on taking the June and September ACT, but I am worried that the June one will also get canceled," McGah said. "If that happens, I'll take the July one instead."
Instead of meeting with tutors or teachers, studying books or going over flash cards like many former high school juniors, the Class of 2021 has shifted its focus, along with the rest of the world, to staying healthy and safe. With the uncertainty surrounding COVID-19, O'Shaughnessy expects the Class of 2021 to be at a disadvantage with time to prepare for standardized tests.
"COVID-19 has affected the class of 2021 significantly with college preparations," O'Shaughnessy said. "My March, April and May tests were all either canceled or rescheduled. Although everyone understands that these cancelations are necessary, it is a worry that our class won't have the same time to prepare [as] the other grades."
Waldron worries that not knowing when he will take the SAT next will negatively affect his studying habits.
"[The cancellation of testing dates] also gives me more incentive to study less at the time being, as I'm not sure when the next test will be," Waldron said.
Alternatively, McGah feels that instead of colleges going test-optional, there should be a more flexible schedule to accommodate the Class of 2021's needs.
"Even though I understand [the cancellations], I don't think I'm in agreement with schools dropping the tests because we still have time to take them," McGah said. "I think a better solution would be to make more testing days available to students."
Colleges switching over to the test-optional policy can be seen as unfair to prior classes, since they did not have the option of not sending in their test scores. Norian believes that the Class of 2021 is at a disadvantaged compared to previous grades.
"The Class of 2021 does not have as many opportunities to take the SAT or ACT as previous classes had," Norian said. "We should be able to have equal opportunities regarding standardized testing when it comes to the other grades. I would much rather be in their situation than in mine."
In light of the current situation, Norian feels that these changes are relevant, but not the most important or pressing subjects at this time.
"Kids should be focusing on other things right now than the SAT or ACT," Norian said.
Since the situation regarding COVID-19 is ever-changing and people are experiencing its effects from all sides, McGah believes that flexibility is the best way to handle the situation.
"Although it's not fair that different grades have had different requirements, I think this is unavoidable in the current situation and all grades have been affected in different ways," McGah said. "We have to be flexible and see what happens since no one knows for sure when the virus will end."