COVID-19 complicates athlete's recruitment process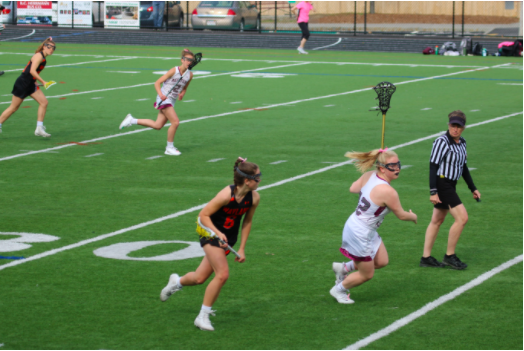 High school athletes are now facing issues with the college recruitment process as a result of the cancellation of several sports seasons, tournaments and camps in response to the coronavirus pandemic. Athletes and coaches typically rely heavily on these opportunities, as both parties are commonly introduced to one another through different parts of the recruitment process.
"Unfortunately, my entire AAU [basketball] season has been canceled in addition to several camps this summer," boys varsity basketball captain junior Noah Lee said. "[This is] tough because so many college coaches watch high school players through AAU and college camps."
Junior Ella L'Esperance, an attackman and midfielder for the girls varsity lacrosse team, experienced similar issues to Lee.
"The junior year sports season is huge for coaches to watch and so are tryouts for selective teams," L'Esperance said. "One of the most important tryouts is for the National Tournament, and those are typically held in May. It's really important because some of the best lacrosse programs are typically there."
With the showcasing talent in front of coaches is no longer a possibility, athletes have taken different steps in order to stay in contact with programs.
"I have been emailing different coaches and having Zoom calls with them because I am no longer able to attend any ID camps or Junior Days for the schools I am interested in," varsity football linebacker junior Nick Dresens said.
Much like Dresens, L'Esperance has been actively trying to stay in contact with different programs while in quarantine.
"I have had video conferences with a bunch of coaches and players while also calling and texting people," L'Esperance said. "Fortunately, the schools I am looking at have been very understanding and have kept me updated consistently throughout this weird time."
Similar to the admissions process for a school, the recruitment process is likely to be significantly different this upcoming year. Different coaches and programs have already been much more lenient in the process.
"Many coaches have asked us to send more films from our previous seasons due to the lack of exposure we will have this spring," Lee said. "Coaches have also reached out and have been willing to talk us through the process."
Regardless of how the recruitment process transpires for each athlete, there's no doubt that there will be complications, both good and bad, for different individuals. One of the most prevalent issues that has risen is the possibility of an athlete being denied the opportunity to play in college as a result of this year's differences.
"This pandemic has taken away so many events from us, but for it to take away someone's hard work and goals is wrong," Lee said. "So many athletes have worked their whole careers to pursue playing at the next level, and for that to be taken away just because of something out of their control is heartbreaking."
Much like Lee, L'Esperance believes it would be a hard pill to swallow if her career were to end so abruptly at the hands of the coronavirus. However, she also sees this time as an opportunity like no other.
"I think that [ending my career now] would be really hard," said L'Esperance. "But if someone is denied a spot on a sports team, I believe a part of that has to be on the player. Coaches have been very understanding with this situation and players should adapt, much like how they are conditioned to on the field. You can either use COVID-19 as an excuse for why you didn't succeed, or how you can adapt and overcome."