Club sport seasons postponed due to COVID-19
The COVID-19 outbreak has canceled or postponed all professional, collegiate and high school sports, and club sports are no exception. Though often overlooked, club sports can be an essential piece to an athlete's growth. Club seasons are helpful for an athlete looking to work on their game or to potentially get noticed by a private school or college. While different athletes have different motivations to play club, they all will be affected by this lost season.
Sophomore Aidan Moretz is one of a few WHS varsity boys hockey players taking time in the spring to work on their craft. For him, the season would've been an opportunity to try things he wouldn't normally do, and hopefully add to his skill set for the winter season.
"I was going to play defense in a local spring league, which was going to be very casual and more about building chemistry since I was going to play with a few other kids from the high school team," Moretz said. "The point of the league was to work on things that you would normally not do during the regular season, like trying out different skill moves and skating techniques."
Playing sports is one of the greatest opportunities for people to make lifetime connections. Moretz recognizes this, and while practicing and reinventing his game was going to be a priority, what will be missed most is playing with his teammates.
"As of right now, the season is canceled, which is really too bad because I love playing hockey," Moretz said. "On top of that, I love interacting with my teammates and having an overall good time with them, which obviously isn't possible at the moment."
Moretz is not the only athlete who will miss competing alongside their teammates. Sophomore James Danforth, who was supposed to be the starting as shooting guard for the club basketball program, the Boston Warriors, is disheartened about missing an opportunity to improve his game with his friends.
"It honestly is kind of a bummer because it was something I was looking forward to for a while," Danforth said. "Now I can't play with my friends on the team, and I won't be able to compete against anybody nor receive the benefits from doing so."
Moretz's season was canceled before it even started. However, that could feel more welcome compared to what happened to Danforth, who only just played in his first practice before the season came crashing down. Danforth is not very hopeful that the season will continue either, for he fully expects the postponed season to become canceled.
"As of right now, the season is just postponed," Danforth said. "I fully expect them to cancel it at some point soon of course, especially since school was canceled. We only had one practice before it shut down, so it was just ramping up but never got to start."
One of the most popular club sports in the spring regardless of gender or age is soccer. WHS boys varsity soccer fullback, sophomore Jonny Goldin, was supposed to play as a winger or stringer for the club soccer program, FC Stars, but has since seen his season get canceled as well. However, unlike a lot of athletes at the moment, he still hopes the club season could eventually be played.
"The season is pretty much canceled, but there is a slight chance that it will be postponed to the summer," Goldin said. "But even then the season may be cut shorter, though it would definitely be worth playing either way."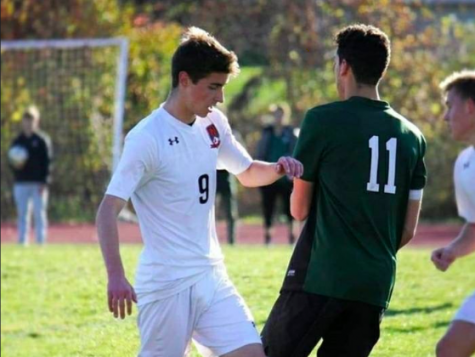 Goldin has missed time due to a femur injury, and the spring club season would have marked his return. Now he will have to reacclimate during his fall season at WHS, which may take time.
"Without the season, my chance to return to soccer from my femur injury has been pushed back," Goldin said. "Since there will probably be a fall season, it may take a bit for me to get back to full form. But besides my injury, I was also was looking forward to a season with the boys, which won't happen now."
This pause in sports and life itself will affect athletes even if they don't play a spring or club sport. When next season arrives, many will be at least slightly out of shape and have an altered mentality.
"This whole situation hopefully won't affect the high school season next year," Moretz said. "But everyone will probably be less prepared skill-wise and mentally. I know at least for me, the whole situation makes it harder for me to improve my game for next year."
This fitness concern is reasonably shared with most athletes dealing with this break from sports, for players are feeling less motivation and drive to work for something that may not even happen. This missed opportunity to get better will affect an athlete's level of self-confidence and doubt. Whether from doubt or concerns surrounding a lack of practice before the new season, many athletes are sure that their next season will be affected.
"I'm pretty sure it's going to impact my winter season next year because this spring was definitely going to make me a better player," Danforth said. "Now I might not have as much of an important role on the team come winter than I would have if this season [had] played out."
Even summer club sports are feeling the negative effects of the virus. Sophomore Alex Mele, defender for the WHS boys varsity lacrosse team, also has to deal with the possibility of the summer season being canceled.
"I am supposed to play as a close defender for 3D New England Lacrosse club," Mele said. "As of right now, most practices and tournaments are not yet canceled but instead postponed. The status of the season is very up in the air."
Ultimately, athletes must make the best out of the situation which is out of their control. In such a trying time, players have to remain motivated to minimize negative results. In Mele's eyes, the extent of the adverse outcome is up to how the players react.
"I think this will have an impact on next season as well, for some people may not play the sport much from now till next year and could lose interest and motivation to keep working," Mele said. "For most people, it's going to depend on how they want to react. Some people will take advantage of this time to get better and work as if they are in season, and others will not."