Born This Way Foundation: stories to create a kinder world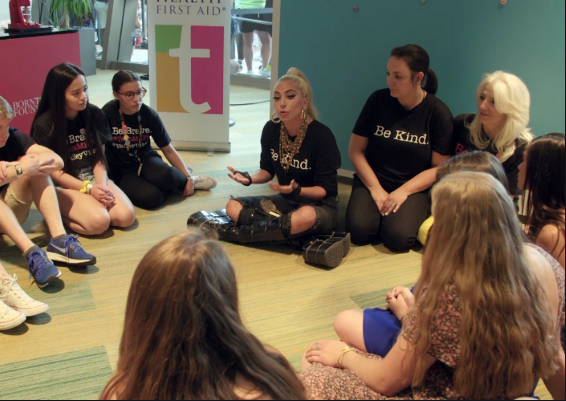 "There's nothing wrong with loving who you are," sings Lady Gaga in her studio album, Born This Way (2011). Named after the album, Born This Way Foundation was created in 2012 by Lady Gaga and her mother, Cynthia Germanotta, to create a kinder and braver world.
BTWF is committed to supporting the mental health of young people between the ages 15-25 and working with them online and offline. Although the foundation's programs are built for a specific age range, it believes that everyone's emotions are valid regardless of age.
For the past eight years, the foundation has been building youth-focused programs, campaigns with other nonprofit organizations and young people in the communities that Lady Gaga tours. The programs and campaigns connect the youth with resources and services, create safe spaces, promote the learning of life skills and provide opportunities to improve their communities.
"The foundation has three goals," BTWF's executive director Maya Smith said. "Every day we go to work to do three things: first is to make kindness cool, second is to validate the emotions of young people around the world, and third is to eliminate the stigma around mental health."
The foundation believes that inspiring people to be kind is the key to building a more vibrant and productive world. To support young people online, the foundation created a digital platform, Channel Kindness, where young people can share their experiences of kindness, bravery and resilience within their communities.
BTWF's co-founder Lady Gaga, who has an interest in the empowerment of the youth, looks forward to inspiring the youth and establishing a standard for bravery and kindness through Channel Kindness.
"It's important for my daughter that young people's voices be heard and that they have an opportunity in their communities to implement kindness and bravery," Germanotta said. "Through Channel Kindness, we get to experience that and see how they've implemented it in their everyday lives."
The foundation believes that kinder communities can form once people are kind to themselves, a process that can be done in different ways.
"When you are kind to yourself, you're also kinder to others because you recognize that you have value, and you matter, and you deserve to be taken care of," Channel Kindness editor Aysha Mahmood said. "By taking care of your mental health, whether that being meditation, going outside, writing a journal, [or] talking to friends, we encourage you to be kind to yourself in that respect."
At its core, the foundation encourages people to be kind to others within their communities to create a kinder climate.
"Our research shows that people who say their communities and schools and workplaces are kind, to have better mental health," Mahmood said.
Especially for Generation Z, those born between the late 1990s and early 2010s, the foundation can remind them to show an act of kindness at their schools.
"When your school's kinder, people feel a lot more comfortable being there and feel a lot more accepted," Mahmood said. "You can be kind to your classmates [and] teachers by saying thank you, [to] your school by picking up litter that we see on the sidewalk, [and to] school cafeteria, classmates and friends by offering to sit next to somebody who's sitting alone."
To inspire more audiences, the foundation plans to publish a book on Sept. 22. 2020. The book contains a collection of 51 of the numerous stories from Channel Kindness over eight years.
"We're hoping that this book does what we all want to do, which is spread kindness, hope, and love during this uncertain time," Mahmood said. "We know that inspiring stories and amplifying these voices really make a difference in this world and bring us one step closer to creating a kinder and braver world."