WHS eSport Team Starting Recruitment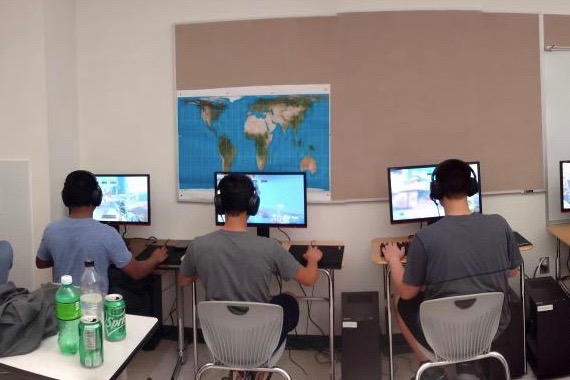 Although the fall season is bound to look quite different, the Wayland High School eSport team will be in full swing and is looking for new members. While the League of Legends team might not run until students return to campus, the Overwatch team will be in session during the fall and spring season.
The team is in its third year at WHS, and it was born when two students went to faculty member Mark Nolan looking for an opportunity to play League of Legends "under the banner of Wayland High School." The team has since grown, incorporating an Overwatch team spearheaded by junior Lucas Tang, who captains the Overwatch branch.
"I love Overwatch so much as a game because there's always room to improve," Tang said. "The thinking aspect of the game is such a good part of being good at the game, but it's so underdeveloped. How well are you able to think under pressure? You need to be able to process the information very quickly."
Both teams were active in the fall and spring seasons of last year, both making it to the playoffs in their respective tournaments in the fall. In the midst of the COVID-19 outbreak in the spring, the League of Legends team "fell apart" due to the need for excessive communication as well as equipment difficulties.
However, the Overwatch team kept it together and played throughout the spring season. This year, they're looking for more members to join their group.
The team will be playing through a Massachusetts league called PlayVS and will compete against other schools in the state. In the past, the WHS team competed in a different league, but they feel PlayVS is more organized and offers more opportunities.
"We'll be able to play in tournaments which allow for scholarships…if you win [the] grand finals you get like $5,000 in scholarships for each player, so that's pretty impressive," Tang said.
The season will kick off with matches that are paired based on a team's win/loss record, so teams play against opponents of a similar level. If a team makes it to the playoffs, they enter an elimination bracket and fight their way to the finals. Junior Guery Ortega plays on the Overwatch team and believes these games provide a good competition
"Gaming definitely has a competitive side to it," Ortega said. "There are tournaments held across the nation for video games already. While it may not be as physically active, it still requires concentration, strategy, and skill."
Games in the regular season will take place on Wednesdays at 4 P.M.
"I'll receive an email and a phone number for another teacher at another school," Nolan said. "So that way we can get in contact and communicate with each other. The league itself will set up the game with all sorts of predefined settings to make sure the game is played officially and fairly. Students will enter a code and jump right on, and then they start the game."
While eSports certainly has its moments of high adrenaline, the overall environment of the Overwatch team is laid back.
"We're just a bunch of [people] trying to have fun," Tang said. "I'm good friends with a few of the people on the team. A lot of the people on the team are there because we have a lot of the same interests, so we became friends."
"The team is actually pretty comfy and lax, thanks to Lucas Tang," Ortega said. "Everyone brings their best to the table, and we work from there."
Team members believe the eSports team is a great way to get involved in a favorite activity.
"I joined the eSports team because when my friend approached me asking if I'd like to, I saw a great chance to take something that I enjoy and hone it into a skill," junior Donovan Edwards said.
He encourages anyone thinking about joining the eSports team to go for it.
"To those looking to join the eSports team: do it! Go for it!" Edwards said. "We always welcome new members; skill means nothing here."