Warrior Weekly: Best NFL veterans on new teams
While we are only a quarter of the way through the NFL season, there has been plenty of time for players to surprise and disappoint us. We have seen a few quarterbacks that have shocked the league, and others that have not lived up to their high expectations. These are among the biggest surprises and disappointments through the first four weeks of the NFL season.
Disappointment: Kirk Cousins – Minnesota Vikings
Last year Cousins was one of the best passers in the league. He ranked eighth in touchdown passes, and was tied for 23rd in interceptions. He was top five in both completion percentage and passer rating, leading a top ten offense in the league. But so far this year, he has seen a dramatic decline in his play. Cousins is tied 13th in touchdown passes, while also being tied first in interceptions, averaging two per game. His completion percentage dropped by 10%, from 69% to 59%, while also seeing his overall passer rating drop by well over 30.
There is no clear reason for his decline. The biggest offensive loss this offseason was when they traded away Stefon Diggs, but they drafted a very talented receiver named Justin Jefferson who seems to have replaced him perfectly. The offense has also seen the return of Adam Thielen, who was injured for six games last year, and Dalvin Cook is still the teams running back. The most likely reasons could be the new offensive coordinator, Gary Kubiak, or the increased pressure he has faced this season. But even then, Kubiak is a very experienced coach who usually gets the best from his players, and is also sacked at the league average. With all things said, Cousins seems to be holding this offense back.
Surprise: Josh Allen – Buffalo Bills
Some are not surprised about Allen's season so far, as the potential was clear to see. But having the potential to be great versus actually being great are two very different things. After two seasons of being one of the league's worst quarterbacks, so far this season, only Russell Wilson has performed better. At the time of writing, Allen has 10 touchdowns and one interception with a 71% completion percentage and a 124.8 passer rating. He is already halfway to his 2019 touchdown pass total, and almost increased his passer rating by 40.
Devin Singletary is having another solid season at running back, and the offensive line seems to have improved once again. But the difference maker seems to be their receiving core. Buffalo's top two receivers last year, John Brown and Cole Beasley, are still playing well on the Bills, while they also added superstar receiver Stefon Diggs. While Diggs definitely is impactful, him alone is not enough of a reason for Allen's success, nor is the improvement at the offensive line. So this jump in play is definitely somewhat of a surprise, even to those that thought he would have a career year.
Disappointment: A.J. Green – Cincinnati Bengals
Everything was in place this year for Green to return to his previous self. He didn't have to carry the receiving core, as he had in years past, due to Tyler Boyd stepping up and taking the pressure away from him. Meanwhile you had Mixon, who was also struggling, but not to the same extent as Green, controlling the ground game. He even is working with the best quarterback he has had since before his injury woes began.
But so far, Green is performing the worst he ever has. He has no touchdowns, 116 yards, and his longest reception is 15 yards. His averages paint a similar picture. He has had 80 yards per game for his entire career, but this year the average has dropped to 39. His catch percentage also dropped by 13%, and his yards per reception dropped below 13 for the first time in his career. He is averaging more targets than ever, yet he has failed to produce with the new opportunity. Burrow will most likely stop even trying, as he only has a 58 passer rating when targeting Green, compared to his 89 overall passer rating.
Surprise: Clyde Edwards-Helaire – Kansas City Chiefs
Almost every pre-draft report placed Edwards-Helaire in the third to fifth ranked running back range. No one thought he would be the best running back in the draft, yet the Chiefs took him with their first pick, 32nd overall, making him the first running back selected in the 2020 NFL draft. Many thought this was a bad pick, and the few that thought he would be good, didn't think he would be a key part of a pass-heavy offense.
But Clyde Edwards-Helaire has turned into one of the best players on the entire offense, only overshadowed by Patrick Mahomes. He is currently seventh in the league in rushing yards, ahead of guys like Ezekiel Elliot and former Chief, Kareem Hunt. Edwards-Helaire also has 100 receiving yards, which is seventh among all rookies. An already great team seems to have found a diamond in the rough, with Clyde Edwards-Helaire seemingly the frontrunner for the Offensive Rookie of the Year award.
Disappointment: New Orleans Saints
So far, the most disappointing team of the season seems to be the Saints. The team only lost three games last year, but has already lost two of their three games this year. Other than the Packers, they haven't exactly faced anyone they should have lost to. Even in the case of the Packers game, the Saints probably could have won that too. Their offense dropped five places, and their defense dropped 15.
New Orleans has been dealing with injuries on both sides of the ball. On offense they lost Michael Thomas, who is arguably the best receiver in the league, but that is not exactly a perfect reason why their offense has dropped so far. On defense they lost a few guys to injury as well, but it's still not enough to make up for the fact that they've become one of the worst defenses in the league. They will probably turn things around, most likely when the injured players return, but they will not be as strong of a team as we once believed them to be.
Surprise: Robby Anderson – Carolina Panthers
Robby Anderson came into the league undrafted in 2016. He signed with the Jets, and was arguably their best receiver for the four years he played there. Despite having a poor quarterback all four years, two bad head coaches and a constantly evolving team, he still managed to put up modest numbers. This caught the attention of Carolina, who signed him to a two year, $20 million contract this offseason.
This was considered a slight overpay at the time, but now it looks to be a complete steal. Anderson already has 278 receiving yards, which is sixth most in the league. He has been targeted 23 times and has only failed to catch three, none of which were drops. Anderson has filled the void that McCaffrey left after he got injured in week two, and will most likely continue this production even when McCaffrey gets back.
Leave a Comment
Donate to Wayland Student Press
Your donation will support the student journalists of Wayland High School. Your contribution will allow us to purchase equipment, cover our annual website hosting costs and sponsor admission and traveling costs for the annual JEA journalism convention.
About the Contributor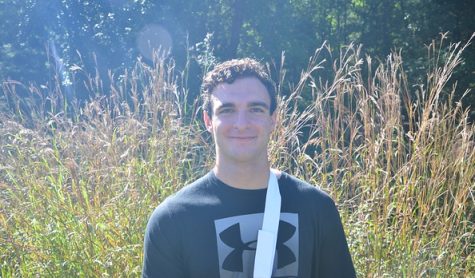 Dante Coppola, Co-Sports Editor
Dante Coppola, Class of 2022, is the head sports section editor for WSPN, and is in his second year with the publication. He plays lacrosse and football...