Warrior Weekly: Who is on the market for 2020 MLB free agency?
With the Los Angeles Dodgers claiming the 2020 World Series, the MLB free agency is among us. With this year's free agents full of top tier players, WSPN's Max Brande gives an in-depth breakdown of the top five free agents in MLB for 2020 and predictions for where these players might end up.
George Springer (Houston Astros) – OF
George Springer has been with Houston since his rookie season in 2014, but in his first year of free agency, it's time to take his talents elsewhere. The Astros may look to pose an offer out to Springer, but it's hard to think of a scenario where he would choose to stick around. At 31 years old, Springer looks to take a step into the next chapter of his career as he explores free agency. Given Springer's consistent batting average above .260, he needs a team where he can immediately step into the lineup and have an impact both with a bat in his hand and on the field. With Jackie Bradley Jr. more than likely on his way out of Boston, center field opens up really nicely for Springer. The addition of Springer would give the Red Sox a lot more options in the outfield, with Martinez, Verdugo, Perazza and now the potential addition of Springer.
Prediction: Boston Red Sox
J.T. Realmuto (Philadelphia Phillies) – C
Realmuto, one of the most prized free agents this offseason, is going to be looking to make some big time money moves. The 2019 NL Silver Slugger has been with the Phillies since 2019, and the Miami Marlins before that in 2014. Batting at .266 in 2020 with 11 homers, along with one of the most lethal arms in the league, Realmuto finds himself on many radars going into 2020 free agency. The options for Realmuto are endless right now, as his future is quite up in the air. While there are many options for Realmuto, the top three seem to remain in the NL East: Mets, Nationals and a potential resigning with the Phillies. The only other team that could pose an opportunity for Realmuto is the New York Yankees, especially with DJ LeMahieu now on the market. The Mets have a ton of money to spend at the moment and given that they already tried for Realmuto back in 2018, they seem to be the most likely pick. Replacing Wilson Ramos in that lineup would put him next to the likes of Luis Guillorme, Pete Alonso, Robinson Cano, Todd Frazier and company. Look for Realmuto to bust into the four or five spot on this lineup if he signs with the Mets.
Prediction: New York Mets
DJ Lemahieu (New York Yankees) – 2B
DJ Lemahieu has proven himself to be one of the league's top players. LeMahieu is currently one of the Yankee's most important assets, as he helped the Yankees to another successful campaign that ended shortly in the ALDS. Nonetheless, LeMahieu is hands down one of the league's premier second basemen, and the Yankees can not afford to lose arguably their best player. While perhaps a bold statement as LeMahieu may look to sign a multiyear deal, It is looking like LeMahieu may also explore the option of accepting the Yankees' qualifying offer of one-year, $18.9 million. It's up in the air for LeMahieu right now, but the potential of signing back with the Yankees is certainly not off the table.
Prediction: New York Yankees
Trevor Bauer (Cincinnati Reds) – RHP
This NL Cy Young Award finalist is one of the best starting pitchers in the league and is on the market for free agency this year. With an impressive ERA of 1.73, and 5.1 hits per nine innings, Bauer is the best pitcher in the NL available this year. At just 30 years old, Bauer finds himself in his prime while looking to take the next step in his incredible career. Bauer's future is one of the most unpredictable in all of the MLB right now. He could honestly go anywhere if they are willing to pay him. Bauer expressed that he wants to win and wants to go somewhere that is contending for a World Series. Given his enormous skillset, he shouldn't want it any other way. Look for Bauer to make a major signing with a slew of potential teams. The Dodgers have a lefty heavy starting lineup that would heavily benefit from a righty like Bauer, and if the Yankees play their cards right with Tanaka and LeMahieu, they could potentially top off their pitching rotation with Bauer. The Braves and Twins could always use some more pitching, and they have the money to sign Bauer. It would be quite remiss to count out both the Chicago Cubs and White Sox as they both could use another ace.
Prediction: Minnesota Twins or Atlanta Braves
Marcell Ozuna (Atlanta Braves) – OF
Marcell Ozuna proved himself to be one of the Braves most vital outfielders during this season. Being just 30 years old and playing his best baseball right now, this is a player that is going to get a multi-year mega buck deal that will shape the rest of his career. Ozuna came to Atlanta from St. Louis last year on a one-year deal to prove his worth, and he did just that. With 18 HR in 228 at bats along with a .338 batting average this past season, Ozuna is one of the hottest players on the market. If not for his teammate Freddie Freeman, we may be talking about an MVP candidate in Marcell Ozuna. To be perfectly honest, this seems like the scenario where if the Braves are willing to pay him enough money, he may very well stick around in Atlanta. Atlanta is in a good spot to compete for a World Series right now, and if they are willing to pay Ozuna what he desires, he may very well stay put. It comes down to the money for Ozuna, like it does for most star free agents. Atlanta came awfully close to the World Series this year, and are showing no signs of slowing down as they are simply stacked up and down. If the Braves are willing to pay for Ozuna, which it's looking like they may, then this may be a free agent who isn't exploring the market for much longer.
Prediction: Atlanta Braves
Leave a Comment
Donate to Wayland Student Press
Your donation will support the student journalists of Wayland High School. Your contribution will allow us to purchase equipment, cover our annual website hosting costs and sponsor admission and traveling costs for the annual JEA journalism convention.
About the Contributor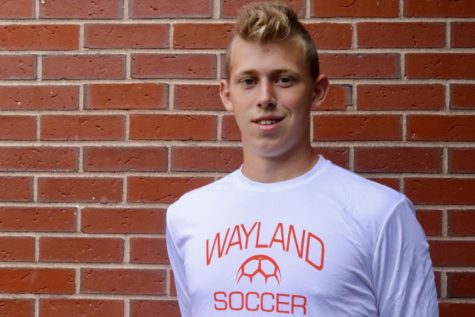 Max Brande, Staff Reporter
Max Brande, Class of 2021, is a third year reporter for WSPN. He plays Soccer and Hockey for the school, along with club soccer outside of school. Outside...