Elementary teacher Maureen Devlin retires due to COVID-19 concerns
After considering the health implications associated with COVID-19, some teachers felt the need to retire in order to stay healthy and safe. One of these teachers was Maureen Devlin, who taught for 34 years at both the Happy Hollow School and the Loker School.
"I took great interest in the school system's plans for the 2020-2021 pandemic school year," Devlin said. "[But] since I have a few underlying health risks related to the coronavirus, I decided that it was not worth the risk of contracting the virus via in-person teaching this fall."
For most students, the idea of teachers retiring due to health concerns seemed a possibility, but they never expected retirement from such a long-time teacher in the Wayland school district.
"I didn't know Mrs. Devlin was retiring, and I was so sad when I heard," senior Aydan McGah said. "I was mostly thinking about how sad it is that younger kids won't get to experience her as a teacher when they reach fourth grade."
Devlin was a mainstay in Wayland, teaching both first, fourth and fifth graders while at the Loker School and the Happy Hollow School. However, it wasn't always her plan to stay in Wayland for so long.
"I thought I'd teach in Wayland for a few years then travel and teach in various places around the world," Devlin said. "However, once I met the terrific teachers, families, and students in Wayland, I decided to stay."
Her decision to stay wasn't just due to teaching – she wanted the best for her family as well.
"In those early years, I [also] got married to my husband, Mike, and had my three sons, Ryan, Matt and Sean, who all got great educations in Wayland's public schools," Devlin said.
While at Happy Hollow, Devlin soon became a fan-favorite; many students hoped to have her as a teacher while in elementary school. This is likely due to not only her teaching style but her character as a whole.
"[Mrs. Devlin] was an amazing teacher," senior Charlotte Salitsky said. "She was so engaging even in subjects that I didn't find fun or interesting as a fourth-grader, and she always mixed up class to let us have fun. She was an amazing teacher."
While in the classroom with Devlin, students created memories that they still remember to this day, which is a testament to the impact she had on students.
"I still remember that one day she decided to stop regular class so that we could spend the whole day having a pajama read-a-thon," McGah said. "I remember bringing in huge stuffed animals, and all day we were reading in our pajamas. It was so fun, and it was a great way to get us excited about reading."
Similarly, Salitsky recalls the fun and educational activities Devlin provided in her classroom.
"I remember doing really fun and creative projects that were really important for kids that age," Salitsky said. "We did things like the endangered species project, made a website with all of our writing projects and made videos showcasing different spots in the classroom."
There's no doubt that Devlin will be missed by her students, not only in the Wayland schools but in the Wayland community as a whole.
"Happy Hollow lost a great teacher," Nancy Funkhouser, a mother who had two of her sons in class with Devlin said. "Mrs. Devlin was very good at tailoring her teaching style to the needs of each individual student so that the student could succeed. There aren't many teachers as caring as [Mrs. Devlin]."
As for Devlin herself, she plans on spending more time with her family now that she's retired from teaching, but her traits of selflessness and compassion that Wayland valued are still prevalent in her everyday life.
"My mom and dad are both 9 [and] they live in their own home," Devlin said. "I want to be able to help them out a bit more. I also have a few personal goals that I'm working on–goals that I wasn't able to achieve while teaching."
About the Writer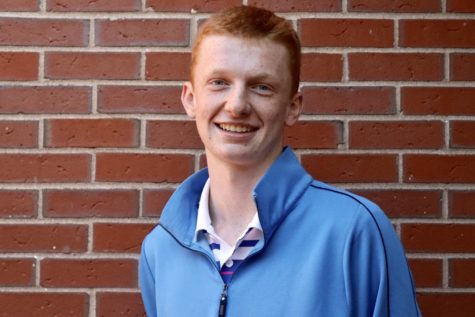 Jimmy Paugh, Business & Marketing Manager
Jimmy Paugh, Class of 2021, is the Business and Marketing Manager for WSPN. He is a captain of the varsity golf team and the varsity hockey team. Outside...