Warrior Weekly: NBA draft preview
This year's NBA draft is right around the corner, signaling the start of what will be a hectic offseason. Unlike prior years, there is no drastic change in talent as we go down the draft lottery. Here is what each lottery team will be looking to do in this year's draft.
1. Minnesota Timberwolves
The Timberwolves have consistently underperformed, struggling to meet expectations. The team now looks to add to their young core centered lineup around superstar center Karl-Anthony Towns and D'Angelo Russell. Malik Beasley's contract is up, meaning nothing is in the way of them selecting a shooting guard like Anthony Edwards, who many believe is the top player in the draft. They will likely look for a trade down or for a veteran leader, which opens the door for other teams (Hornets, Pistons, Spurs) to potentially trade up.
2. Golden State Warriors
Like the Timberwolves, the Warriors will look to trade this pick for the final piece to a potential championship contender. The guard pairing of Stephen Curry and Klay Thompson will be back in full force, and Andrew Wiggins looks to be consistent at the three. A trade would likely center around a veteran big man, but if they can't find one they would be pretty happy drafting a center like James Wiseman. Wiseman, despite only playing three collegiate games, is the top-ranked center prospect and would fit in with the Warriors well-renowned floor spacing.
3. Charlotte Hornets
The Hornets are in a strange spot. They have some decent young pieces, but none are groundbreaking enough to build around. Their priority will be to try and trade up, especially since the top two teams will likely be willing for the right price. However, since they don't have any talented veterans either, they will likely be stuck at the third pick. The Hornets will take the best prospect available, which would probably be Lamelo Ball, meaning they would trade away either Terry Rozier or Devonte' Graham to make room in their starting lineup later as well.
4. Chicago Bulls
The Bulls have something special cooking. Under the right coach, they would have a scary young lineup with Coby White and Zach LaVine as the guards and Lauri Markkanen and Wendell Carter as versatile big men. That leaves the small forward position vacant. Lucky for them, Deni Avdija, the best small forward in the draft, is projected to be taken around the fourth pick. They could trade down if they have assurances that he will fall in the draft, but either way, he seems like the most likely target.
5. Cleveland Cavaliers
The Cavs are likely to stay put and will be content with whoever falls to them, barring it's a guard. Obi Toppin has been heavily linked with Cleveland and would replace Kevin Love, who is likely to be moved this offseason.
6. Atlanta Hawks
The Hawks want to start winning as soon as possible. They have plenty of young talent on the team, some of which will be part of the process while others will be trading pieces. The sixth pick is one of those trading chips and is likely to be moved for an established player to lead the inexperienced team going forward.
7. Detroit Pistons
The Pistons are likely to go all-in on a rebuild and need to add some young talent. All they have in that department is 24-year-old shooting guard Luke Kennard. They do have some potentially appealing veterans like Derrick Rose and Blake Griffin that they could dangle in front of both the Timberwolves and Warriors to trade up. At this point, they could use anything since the only unlikely option is Anthony Edwards.
8. New York Knicks
The Knicks have reported interest in guards Tyrese Maxey and Lamelo Ball, which means they will likely trade up or down depending on which path they choose. Julius Randle would be a nice pickup for the Warriors, so Golden State may be up to a deal for the second pick. Either way, it seems that a guard pick is a likely selection with Ball being the best fit as they already have a young shooting guard, RJ Barrett.
9. Washington Wizards
One player has repeatedly been mentioned when talking about the Wizards selection, Onyeka Okongwu. Okongwu is a power forward/center out of USC and appears to be Washington's main target. It makes sense need-wise too as they already have two star guards and two talented young forwards. The biggest need for the team is rim protection, and Okongwu has constantly been viewed as one of the best rim protectors in the draft. If the Wizards don't trade up and go full rebuild, Okongwu would be the likely pick at nine.
10. Phoenix Suns
The Suns will likely not move up as they just aren't in the position to do so. They could try to trade the pick for a veteran, but there has been little reported on that topic. What has been disclosed is that they've had their eyes on two point guards, Tyrese Haliburton and Kira Lewis. They're looking to find a young playmaker to develop with All-Star shooting guard Devin Booker and will likely just take whichever point guard falls to them at ten.
11. San Antonio Spurs
The Spurs have been connected to multiple players at multiple positions. Some say they'll trade up for Avdija, using DeMar Derozan or LeMarcus Aldridge as trade bait. Talk about Haliburton or Killian Hayes also popped up, but San Antonio has plenty of guards already. Isaac Okoro may be the likeliest option as he's a forward and could easily fall to 11th.
12. Sacramento Kings
The Kings have a solid young team, like the Hawks, and I would expect them to trade for a veteran if there wasn't news that they were interested in a specific prospect. Saddiq Bey has come up in some rumors and could potentially be the man chosen. But Sacramento may have the most uncertain draft out of any team.
13. New Orleans Pelicans
Forward Aaron Nesmith is the 13th ranked prospect and is projected to go to New Orleans on a handful of mock drafts. The Pelicans have a lot of young talent, so a trade including this pick is on the table. Similar to Sacramento, they have multiple options to choose from.
14. Boston Celtics
The Celtics have been linked with trading at some point in this draft. They may try to combine their three first-round picks to trade up, which would likely be for a guy like Okongwu. If they stay, sources point to them drafting power forward Precious Achiuwa. He's a work in progress on the offensive end but is very talented at rebounding and defending. Then there's the option of trading out for an established player, who would also be a big man like Myles Turner. The most likely situation will involve Boston trading up with the Celtics recently being linked to the Hawks sixth pick.
Leave a Comment
Donate to Wayland Student Press
Your donation will support the student journalists of Wayland High School. Your contribution will allow us to purchase equipment, cover our annual website hosting costs and sponsor admission and traveling costs for the annual JEA journalism convention.
About the Contributor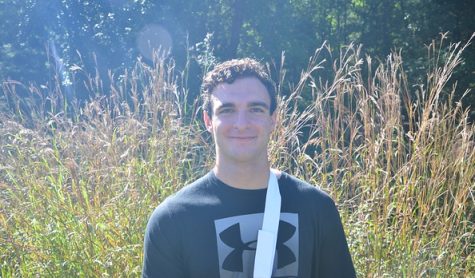 Dante Coppola, Co-Sports Editor
Dante Coppola, Class of 2022, is the head sports section editor for WSPN, and is in his second year with the publication. He plays lacrosse and football...