WHS students power the growth of thrift shopping
Thrift shopping, or shopping that brings new life to secondhand clothing and other goods, has been rising in popularity among consumers and WHS students. According to a 2020 resale report by ThredUP, a prominent online thrift store, at least one in three Generation Z shoppers are expected to buy second-hand clothing, which would be a 46% growth from 2017.
Out of 64 respondents to a WSPN-conducted survey among WHS students, 55 have gone thrift shopping before. Additionally, more than half of the respondents preferred to shop at thrift stores than at retail stores.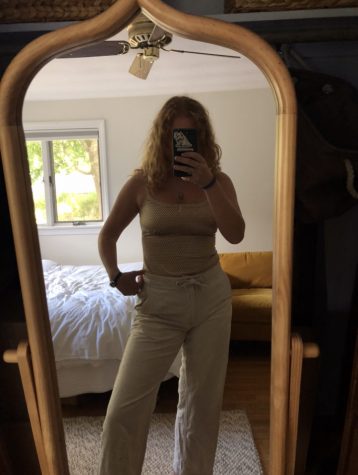 "I think that many WHS students go thrifting because it is a cheaper option for shopping," senior Emmie O'Shaughnessy said. "I enjoy the wide variety of what can be found inside of thrift stores. It can be really fun finding something you love or just experimenting with different styles in general."
Thrift shopping brings the unique aspects of creativity and entertainment to shopping. Unlike retail stores that focus on selling specific items, thrift stores house items ranging from clothes, books, furniture and even glassware. The wide variety of items offered at thrift stores can easily turn shopping into a scavenger hunt, rewarding the shoppers with unique items hidden along the racks.
"I usually shop for the clothes, but occasionally I find a nice accessory or book in the store," O'Shaughnessy said. "One tip I have is to keep an open mind. On the racks, some things may not seem like your style, but you would be surprised at the amount of stuff you end up loving."
Thrift shopping is both fun and environmentally beneficial. The clothing industry is known to have a massive detrimental impact on the environment. Major clothing stores such as Forever 21, H&M, Zara and Urban Outfitters fall into the category of fast fashion retailers, which is a term for rapid mass production of cheap clothing to keep up with the monthly trends. Fast fashion raises environmental and ethical concerns as 85% of all garments wind up in landfills each year. Thrift shopping may be on the rise as a sustainable fashion movement for the future in response to this.
"The fashion industry is one of the largest polluters, and there are a ton of unethical production practices in the industry, so I try my best not to support it," senior Charlotte Salitsky said. "[Thrifting] is good for the planet because it gives existing clothing a longer life, rather than creating a demand for cheaply made new clothing."
In agreement with Salitsky, senior Maya Baranovsky believes that thrifting is a great alternative to fast fashion that doesn't contribute to negative environmental effects.
"The fashion industry is [also] the second largest polluter of clean water globally, and I think more and more people are turning to thrifting as an awesome way to protest and fight against it," Baranovsky said. "Aside from the fact that nearly all retail companies waste a lot of resources, many exploit their workers by giving little pay and offering barely any labor protections."
"
When people buy used clothes more often, there's less demand for mass-produced pieces, so it's more environmentally friendly. Thrift stores make it easier for people to afford clothes while also helping the environment."
— Senior Madeline Maurer
Along with thrift shopping, donating clothes to thrift stores may be another way to save the planet. Senior Madeline Maurer, who has been donating her unwanted clothing to a local thrift store, points out that thrift shopping can lead to a sustainable fashion movement against fast fashion.
"Thrifting inherently counteracts fast fashion because it lets people recycle pieces and normalizes using what's already available, rather than buying new items all the time to keep up with current trends," Maurer said. "I think it can even help people develop their style because when you go thrift shopping, there's a ton of options, and you're more picking what you really like instead of being restricted to what's trendy."