Fashionistas of the Month: Ryan MacDonald and Sofia Barris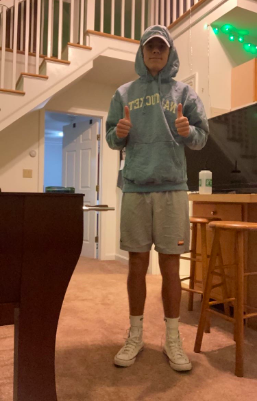 Fashionistas of the Month: November Edition
Name: Ryan MacDonald
Grade: Junior
Favorite store: "My favorite store is Foot Locker because I like shoes, and I think they put the whole outfit together."
Online shopping or in-store? "I prefer in-store because you actually get to see what you're buying in person and most likely won't have to return it if you end up not liking it or if it doesn't fit well."
Fashion icon: "My fashion icon is Pete Davidson because his style got [him to date] Ariana Grande."
Outfit: "My outfit is a blue fish taco hat from Vineyard Vines, a blue Nantucket hoodie from Beantown Apparel, grey Nike shorts, white Nike socks and white Converse."
Favorite season: "My favorite season to dress for is fall because you can dress warm and cozy, but you can also wear shorts and t-shirts."
Design time: "I pick my outfits the night before I lay them out on my floor, so when I get up, I can shower and get right into them."
Favorite article of clothing: "My favorite article of clothing is hats because then I don't have to brush my hair."
Style word: "If I could use one word my style would be unorganized, because honestly, I don't know how to match clothes."
Advice for the fashion-challenged: "My best fashion advice would be to use your clothes as a way to express yourself and give people a statement without using your voice, kind of a "show don't tell" type of thing."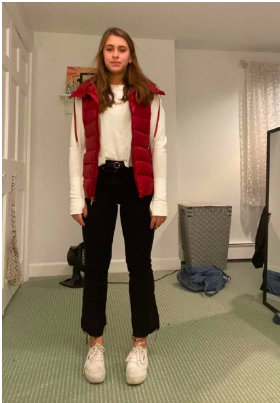 Name: Sofia Barris
Grade: Junior
Favorite store: "My favorite store is Free People because it has all the basics along with unique pieces that expand my style."
Online shopping or in-store? "I prefer online because the mall is my least favorite place on earth."
Fashion icon: "My fashion icon is Hailey Bieber because she wears comfortable clothes that look good."
Outfit: "This outfit is something I would wear out. The jeans are from Zara, the shirt is from Free People and my shoes are Superga. My vest is the brand Happy Lucky."
Favorite season: "Winter because I love comfy clothes. I also think jackets and hats add a lot to an outfit."
Design time: "Usually I will pick out an outfit in my head the night before, but sometimes I just have to quickly decide in the morning."
Favorite article of clothing: "My favorite article of clothing are shoes because they can completely define and change a look."
Style word: "If I could use one word to describe my style, it would be salty."
Advice for the fashion-challenged: "My best fashion advice is to not worry about what other people think and to have confidence in what you wear."
Leave a Comment
About the Contributors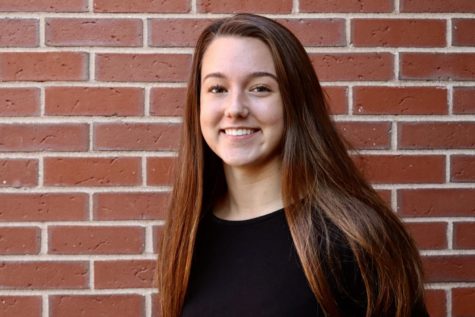 Haley Melvin, Copy Editor
Haley Melvin, Class of 2022, is a second year reporter for WSPN and a first year editor. She plays AAU basketball and is a captain for the high school's...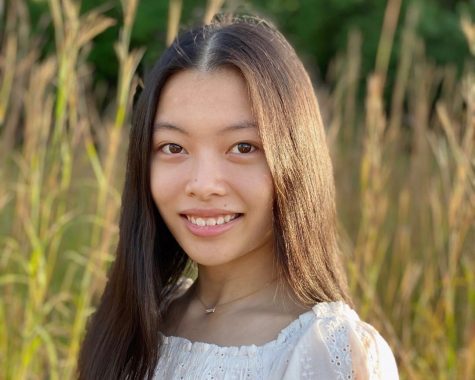 Elizabeth Zhong, Graphic Designer
Elizabeth Zhong, Class of 2021, is this year's graphic designer for WSPN. She is the president of Student Council, co-President of the Tri-M Music Honor...