Who said no dogs at school? Meet Ricki, the WHS therapy dog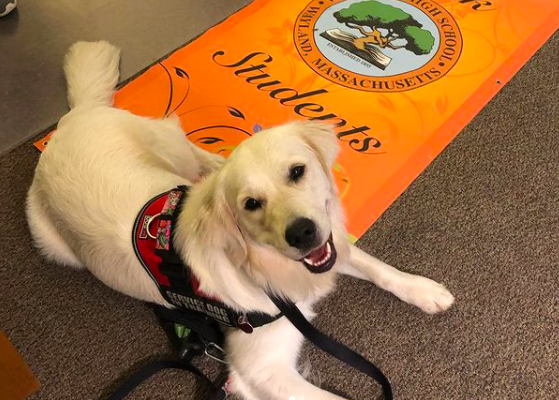 High school can be a high-stress environment: between tests, essays, the SATs, Driver's Ed, college applications, plus COVID-19 this year, students may be feeling the stress now more than ever. But Ricki, the WHS guidance department therapy dog, is up to the task. She is always here to combat the stress and anxiety of high school life in and around these unprecedented times.
So if you're feeling stressed, pay a visit to the guidance office and meet Ricki. She is a therapy dog in training from the organization Golden Opportunities for Independence and she is being trained by the head of the guidance department, Marybeth Sacramone. Her training makes her just what you may need to ease your anxiety.
"Students come to the office to see their counselor or make an appointment and Ricki seems to be our perpetual greeter," Sacramone said. "She then joins some of us in our sessions with students and gets adored while she lowers the heart rate and anxiety of students and faculty."
GOFI, the organization that placed Ricki at WHS, has been an invaluable resource during her training and transition to the school.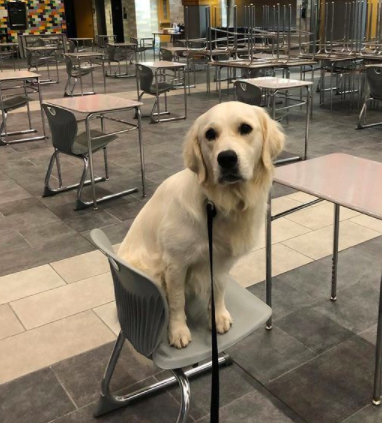 "They do an incredible job of matching the right dog to the right situation," Sacramone said. "It is a tremendous organization that trains dogs to support many different people and organizations—from people with physical disabilities, veterans dealing with PTSD, children with mental health issues and autism spectrum disorders. GOFI also places many dogs with police and fire departments to help connect with the people in their communities."
After receiving Ricki from GOFI, Sacramone has taken up the job of training her. Sacramone and Ricki train at stores, malls, hospitals, grocery stores, and in other public places, so that Ricki can adjust to crowded settings.
"Service dogs need to be fully aware of all kinds of surroundings, sounds, and different types of people, and to remain calm and composed in unpredictable situations," Sacramone said.
Training a service dog or therapy dog can take years. While Ricki is still in training, Sacramone has plans for how she can further help the community once Ricki is certified.
"While in training, Ricki is acting as a therapy dog here, but she is going through the full service dog training so we can go to other places to support people outside of WHS too," Sacramone said.
Ricki remains calm and composed, and as a result supports students by easing their nerves and anxieties.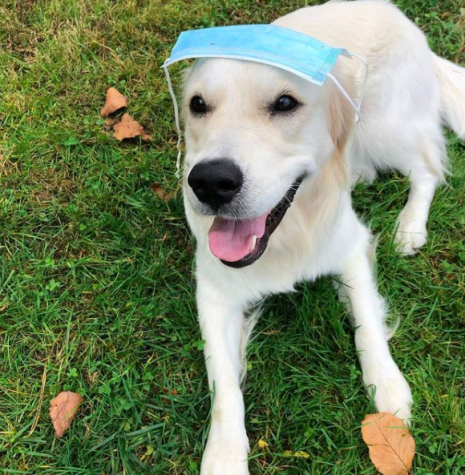 "Here at Wayland, our experience has been that our therapy dogs have helped students with anxiety, depression, and/or dealing with current or past trauma," Sacramone said. "So students sometimes will just check in to reduce their anxiety, or rest on the floor with the dog."
"Oftentimes when students are talking about difficult issues in the office, they are able to concentrate on the dog, not the counselor, when discussing an issue, making it easier to get through the difficult time and conversations," Sacramone said.
Due to benefits like these, the WHS community as a whole has embraced Ricki, including the guidance department counselors, students, teachers and administrators.
"Animal Assisted Interventions are becoming more and more popular, and we are glad that our administration has embraced having a therapy dog or service dog here at WHS," Sacramone said.
Ricki helps teachers and students alike. Indeed, both groups face their own separate challenges that can serve as sources of stress and anxiety.
"[We] have teachers who like to take a break with Ricki," Sacramone said. "Our teachers work very hard and having something else to concentrate on and to take a break from the stress of the day is also helpful to adults."
Ricki aims to do a lot of good for the WHS community. By helping both students and teachers combat their issues, she allows the entire school to become a happier space to learn and work. As her training continues, Sacramone hopes to take Ricki out of the guidance office for community outreach around the school.
"It is not unusual for a teacher to send a student down to guidance for a break to be with Ricki," Sacramone said. "As Ricki continues her training, we hope to visit more classrooms and be even more visible around campus."
"A service dog or therapy dog can allow a student to focus on something else for a while, rather than on the difficulty they are going through," Sacramone said.
Leave a Comment
Donate to Wayland Student Press
Your donation will support the student journalists of Wayland High School. Your contribution will allow us to purchase equipment, cover our annual website hosting costs and sponsor admission and traveling costs for the annual JEA journalism convention.
About the Contributor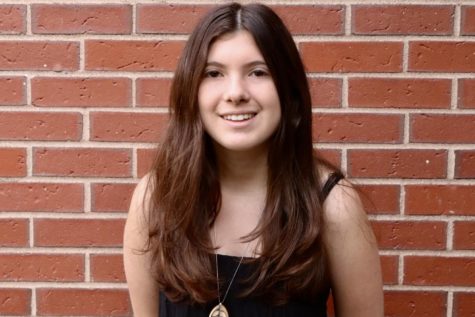 Alyssa Dickstein, Arts and Entertainment Editor
Alyssa Dickstein, Class of 2021, is a third year reporter and second year editor for WSPN. She writes for the publication's columns "The Good News"...