Athlete of the Month: Eric Zhang
This year, fall athletics were in jeopardy due to COVID-19, but most WHS teams were able to complete in a drastically altered season. Some teams saw major rule and policy changes that completely changed how the season was played, which was especially the case with soccer. Senior Eric Zhang, a starting center back on the boys varsity soccer team, was a key component to pushing the team forward through the end of the season and into November's playoff matchup.
While Zhang only plays soccer for Wayland High School, he does have a history in other sports. For him, the choice to prioritize soccer was simple.
"I swam and played tennis when I was younger, but I quit both before I got to high school," Zhang said. "I didn't enjoy either as much as soccer and quit them to focus on soccer."
Zhang began soccer at an early age with the youth soccer program in Wayland. He would join his first club team, Global Premier Soccer (GPS), where he would start and finish his club career.
"I started playing soccer when I was 7 years old with the town program," Zhang said. "I've played club soccer every year since I was 8 years old. [I was] on GPS [for] two years in the beginning and two after Valeo, Kings [for] four years after leaving GPS, and Valeo [for] two years after playing Kings."
To play a sport for as long as Zhang has, you need to have a deep appreciation for the game. That passion Zhang has seems to come from his dad, who also has a history with the sport.
"My dad plays soccer so that's why I started playing soccer when I was younger," Zhang said. "He's driven me to pretty much every practice and watched every game."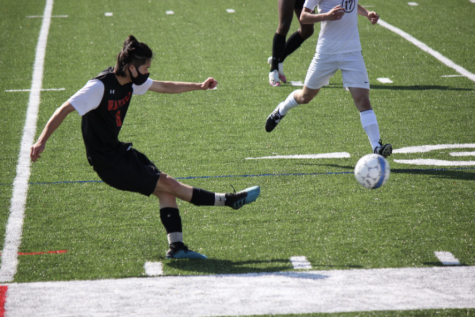 Zhang has a history of playing in the midfield position, though he switched to defense midway through his high school career. He has thus adapted his playstyle to fit that new position, taking inspiration from professional center backs in the process.
"I'd say I'm a pretty conservative player," Zhang said. "Offensively, when I have the ball I rarely do anything fancy. Defensively I play to my strengths like my speed and raw defending. If I had to compare to a pro it would be Varane or Alaba. Varane because he's quick but quite passive and conservative. Alaba because he has the skill set of a midfielder, he's quick, and is physically weaker than most defenders."
After using his junior year to adjust to his new position, Zhang was tasked with being the middle center back in a three-back formation. He embraced the role, and became an important piece of the defensive unit, especially as the regular season came to a close. Even though he didn't meet his expectations in the "Corona Cup", Zhang was satisfied with how he closed out the regular season.
"I played pretty well during the last few games of the season," Zhang said. "Though I'd say I played pretty badly during the Corona Cup. I made a lot of mistakes and one of them led to the first goal for Concord-Carlisle."
Zhang's aforementioned move from midfield to center back was a bit difficult for him. It was hard to adjust at first, and he had to change his mindset on how he thought he was supposed to help the team.
"When I moved to varsity, I moved from a midfielder to a defender," Zhang said. "It was probably due to a shortage of defenders and an abundance of midfielders. No one wants to play center-back. You simply don't get a lot of recognition and you missout on being able to dribble, shoot and the other more fun aspects of soccer. So getting into the mindset that I had to do my job and could only do my job was hard at first."
"
I had a little trouble, in the beginning, adjusting to the varsity level. However, I think I quickly found my footing quite well. I was able to cement my spot as one of two starting center-backs.
— Eric Zhang
Yet that's not even the only adversity Zhang has had to transcend. Ever since he broke his ankle in eighth grade, Zhang has had to deal with recurring pain that would begin as each season drew to a close.
"I broke my right ankle in 8th grade so I didn't play and it's come to haunt me," Zhang said. "Near the end of each season it starts to act up and I have to skip practices and even games. In my junior year, I missed the first playoff game [because of it]. My senior year I didn't shoot or pass the whole season so it wouldn't act up."
Despite the lingering effects of the injury, and with Zhang still relatively new at his position, he feels he finished out his senior season strong.
"It's hard to critique yourself but I think I played pretty well this year," Zhang said. "No goals or assists – those are pretty hard to come across as a center-back. I'd say my best attribute was just raw defending, especially 1 vs 1, and considering the COVID-19 rules made it really hard to defend."
While he doesn't know what will come next in his soccer career, Zhang more than managed to push through the challenges that affected fall athletics. He even has EMass and All-State honors to show for it.
"If I'm being honest, I got quite lucky as a lot of things went my way," Zhang said. "There was less competition due to COVID-19, we played a formation that played to my strengths and minimized my weaknesses, and the fact that defenders are more of a rarity compared to midfielders or forwards. However, I'm happy I got recognized and am thankful."
Leave a Comment
Donate to Wayland Student Press
Your donation will support the student journalists of Wayland High School. Your contribution will allow us to purchase equipment, cover our annual website hosting costs and sponsor admission and traveling costs for the annual JEA journalism convention.
About the Contributor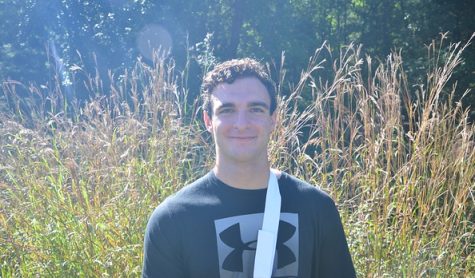 Dante Coppola, Co-Sports Editor
Dante Coppola, Class of 2022, is the head sports section editor for WSPN, and is in his second year with the publication. He plays lacrosse and football...