Fall sports complete improbable season with modified playoffs
Even with fall sports constantly battling the possibility of getting shut down, almost every team managed to finish out the season. Besides field hockey, which halted due to COVID-19 exposure inside the team, fall athletics were otherwise able to compete in some form of playoffs.
Cross country would normally compete in a meet with all of the DCL Small teams after the season ended, and would even potentially go to states. But states were canceled, and the members competing in the DCL were reduced.
"In between the regular season and states, we had the DCL [meet]," boys cross country senior captain Liam Duffy said. "Sadly, states were canceled due to COVID-19, but I think we raced well in the DCL [meet] and given the opportunity we might have made it to states."
Only three teams were in the cross country's DCL meet, far off from the normal amount. Many of the teams had to end their season early, hence the reason why there were only a few left to compete in the first place.
"We had a DCL end of season meet with Weston and Cambridge Rindge and Latin that was for varsity only," girls cross country senior captain Ava Korzeniowski said. "During a normal season, there would have been far more than three teams participating in the final meet. Normally the whole DCL Small would participate in the race. Because of COVID-19, many of the teams ended their season early."
There were some major changes with how cross country operated this season. From an individual perspective, the biggest addition was the constant requirement of wearing a mask.
"The biggest and most controversial change to the game was that in the majority of our races, we had to wear a mask while we were running," Duffy said. "Those circumstances were definitely not ideal."
The changes to cross country's playoffs did not stop there, as the formatting also saw significant changes. The most notable change was that instead of all runners going at once, only two ran at a time.
"The format also differed from what we were used to," Duffy said. "Instead of all runners running at once and pacing off each other, we ran two at a time, one runner from each team. This made it difficult when it came to runners on the team with similar speed because they could no longer pace off each other."
Boys cross country performed well heading into the DCL [meet], and on the whole, kept their momentum.
"I think overall we did very well," Duffy said. "We had some very steep competition this year and for the most part, we won. We don't talk about Concord-Carlisle [though]."
The final meet for girls cross country did not exactly go the same way as the boys did. The format and protocol changes appear to have taken the athletes out of their comfort zone, which affected their overall performance.
"This race was bad because we could only start a few people at once rather than having a mass start," Korzeniowski said. "The distance created during a staggered start makes it difficult to compete with people because you spend the majority of the race alone, so there is no drive to run faster."
Both teams were able to take the constantly changing schedule in stride, adjusting whenever there was a cancellation or postponement of a meet. Their coaches were an important piece of keeping this momentum, as they set the example for the rest of the team to follow.
"Our meets would get canceled or moved or the setup would change or the course would change and the whole team seemed to just roll with it so well," Duffy said. "Our coach was a great example for us in how to handle the situation with determination and confidence."
Unfortunately, the golf team saw their team playoffs get canceled, which came as a bit of a surprise to some players. But luckily, it was replaced by a different event.
"[The] news was very disappointing for all of us, but only for a short period of time," golf senior captain Joe Tardif said. "[When] the MIAA announced their cancelation, the National High School Golf Association announced that they would hold an event in place of the MIAA state tournament."
The event was for individuals only, meaning not everyone from the Wayland High School team participated. That was not the only tournament brought in to replace the canceled playoffs, as the DCL also decided to bring back the DCL playoff tournament for individuals.
"The tournament was in partnership with Shaker Hills Country Club and was an 18-hole stroke play event for the top 100 players in the state," Tardif said. "[In addition] to the Tournament at Shaker Hills, the DCL decided to bring back the DCL playoff tournament. This was another 18-hole individual event held at Quail Ridge GC. After the MIAA announced their cancellation, we ended up with more playoffs than usual. It was still a bummer how we could not compete for an official team title, but oddly enough, we were able to have more playoffs than usual this year."
After how smoothly the DCL tournament went, there is hope it stays around even after COVID-19 finally passes.
"I really liked the DCL tournament," Tardif said. "I don't know why it stopped actually. Our usual playoffs are very highly contested, and a very large event, but the DCL playoffs that were brought back this year were definitely a high of my season. The tournament felt more local, and I knew almost every competitor in the field."
All the Wayland golf players that went to the tournament were seniors, and while that is something like a send-off for their final high school season, it may leave next year's team a bit less experienced than they would have liked.
"Next season I think the playoffs will be hard for our team," Tardif said. "Golf only sends a couple [of] players to the postseason every year, and this year the only golfers who went were seniors so next year we will have a lot of young talent that will need to mature a bit before they move on to a bigger scale tournament."
Both boys and girls soccer had to deal with drastic changes to their game throughout the regular season. The rules did not get any better or worse for playoffs, though the format saw a considerable amount of change.
"This format was just a much smaller scale, and also grouped us together in our league," boys soccer captain junior Ben Chen said. "Usually during the state tourney season, you travel all over the state, playing towns you would never play during the regular season. This year, we [only] played the teams in our league."
"
I definitely prefer the traditional playoff format since you get to play more games and play different towns you wouldn't usually play during the regular season. Also, the experience of playing at big venues like [the] Manning Bowl is unforgettable."
— Ben Chen
The league consisted of a pool of four teams: Wayland, Weston, Waltham, and Cambridge Rindge and Latin. Both teams competed against Cambridge for the first playoff game, though it did not go as well for the boys team as they would've liked.
"We only played one tourney game this year since we lost to the eventual champions, Cambridge Rindge and Latin," Chen said. "We played a hard-fought game, but [we] unfortunately had some mistakes that led to our loss."
The girls game was just as competitive, with the game having to go into penalties to finally decide the victor. The playoffs had to end there for them as well, but for a different reason.
"Our first playoff game was against Cambridge and we won in penalty kicks," girls soccer senior captain Natalie Wong said. "Then we were supposed to play Waltham in the finals, but Waltham was a red-zone town, so we weren't allowed to play them. Instead, we had a scrimmage against Weston that we lost 3-2, but it was a really close game, and they scored in the last couple [of] minutes. For both games, everyone worked really hard and we definitely played competitively in both games."
A game that takes penalty shots to win is exciting in its own right. However, that victory became even more satisfying since the team did not even have their normal, starting goalkeeper available for the game.
"In our game against Cambridge, our regular keeper, Maddie Yaffe, was unable to play," Wong said. "This meant that Kyra Spooner, who is a freshman, had to step up and play for us. She performed really well in a high-stakes, high-pressure game. She had some key saves during the game, and then when we went to PKs she made two great saves to give us the win. I was really impressed with the composure and skill she showed in that game."
Even with the disappointing finish, the fact that they finished the season off strong is an accomplishment in itself. Now the two teams will look to use their performance in the season and prepare for the next.
"We can build off of what we had going from this past season since we have a ton of guys returning and a huge senior class," Chen said. "We just have to take it day by day, getting stronger, getting more skilled and getting ready to bring some titles back to Wayland."
A strong work ethic was perhaps more crucial this season than in a typical soccer season. Maintaining a high level of commitment in the face of such uncertainty is something they are proud of.
"I am really proud of our team for working really hard, especially when we didn't know whether or not we were going to be able to play again," Wong said.
Leave a Comment
Donate to Wayland Student Press
Your donation will support the student journalists of Wayland High School. Your contribution will allow us to purchase equipment, cover our annual website hosting costs and sponsor admission and traveling costs for the annual JEA journalism convention.
About the Contributor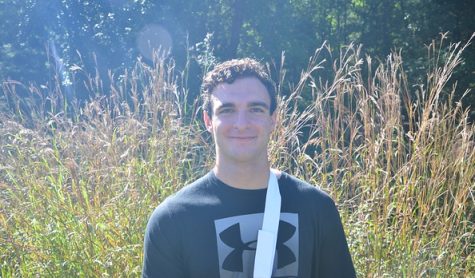 Dante Coppola, Co-Sports Editor
Dante Coppola, Class of 2022, is the head sports section editor for WSPN, and is in his second year with the publication. He plays lacrosse and football...