Empty stands: Winter sports across the DCL to be held without fans
An important aspect of high school sports are the loud, crazy fans that show up every game to watch their hometown school play. This year, there will be no deafening cheers or even restless boos from opposing crowds.
All fans will be banned from winter sporting events throughout the DCL due to the rising COVID-19 cases in the state, a change from the fall where limited capacities were allowed at most events.
"The rules that were put out, you have to keep everyone 25 feet away from the students [who will] be spaced out," WHS athletic director Heath Rollins said. "So we actually aren't setting up benches for basketball games, but the [players] will sit in the bleachers spaced out six feet apart. That pretty much eliminates everything but having people on the back court watching the game."
Having no spectators at events this year will provide a different atmosphere for the athletes. For sophomore hockey player Ryan Desmond, finding motivation will be a unique challenge presented by the decision.
"I think the fans sometimes gave us extra motivation during games but could've given other players cold feet and made them extra nervous," Desmond said. "We just have to motivate each other. It has to come from within our coaches and team."
Parents will no longer be able to watch their children play in person. For parents of seniors, this is especially difficult.
"Not being able to watch your child play in their senior season, that's tough," parent David Gavron said. "It's so fun sitting in the stands, hanging out with the parents and watching the girls play."
Although not being able to watch is challenging for parents, Gavron believes that it is a minor consequence for athletes to be able to have a season. In the end, Gavron feels that sports are for the players, not the parents.
"We are lucky that they get an opportunity to play. It's different, but I think [basketball] is for the girls, not for the parents," Gavron said. "It is most important to get the students out playing sports."
Coming into the season, there were a lot of questions about the safety of playing winter sports. Although no fans is a difficult outcome, Rollins believes that it is one worth taking so that athletes get the chance to play.
"We have started meeting in March weekly with a COVID-19 task force and they have been telling us to be prepared for this surge," Rollins said. "We just have to be diligent and as safe as we can. Our main goal is to get participation for students."
Although fans will not be allowed inside for now, the DCL has left the idea open to start to allow fans if COVID-19 cases start to drop.
"It is easiest to start that way and as the [case] numbers drop and it becomes feasible, we will look at what places it is easiest to have fans in," Rollins said. "We are looking at one participant per person when the time comes."
The financial implications of these decisions are not to be dismissed. Schools only have a certain amount of money that they can put towards athletics, and a share of that comes from the fans themselves.
"Really, our expenses are lower this year which is why we reduced athletic fees," Rollins said. "When we have games on Saturdays there is also that cost that we need to recoup, so it offsets the budget but it is quite minimal."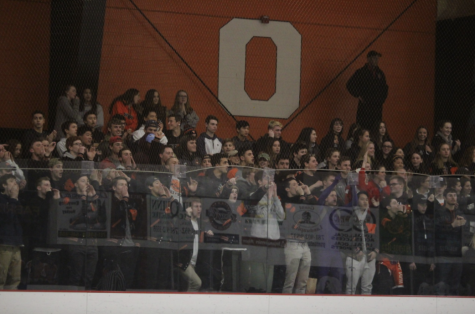 Regardless of the many perspectives on this issue, what can be agreed on by many is that fans are always a positive addition and they will be missed this season. So many memories come from fan experiences, but those memories might have to wait a while.
"The best part of having fans was the atmosphere, seeing everybody there who were all cheering for you," Desmond said. "I will miss home games when everybody showed up, those were always the best feeling."
Leave a Comment
Donate to Wayland Student Press
Your donation will support the student journalists of Wayland High School. Your contribution will allow us to purchase equipment, cover our annual website hosting costs and sponsor admission and traveling costs for the annual JEA journalism convention.